Original URL: http://www.theregister.co.uk/2009/07/24/review_digital_video_recorder_digital_vision_gigo_dv_dtr1/
Digital Vision GiGo DV-DTR1 USB PVR
Heir apparent: granny's new VHS?
Posted in Personal Tech, 24th July 2009 08:02 GMT
Review "Today's digital VCR replacement" is how the UK manufacturer Digital Vision describes its new GiGo Freeview set-top box. Designed to sell for less than £70, the device is a granny-friendly PVR with an unusual feature that will appeal to geeks (at least to this one). Unlike the majority of PVRs on the UK market, the GiGo records TV in a way that makes the data readily transferrable to your PC for editing and re-encoding.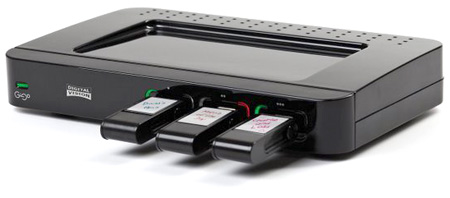 Digital Vision's GiGo DV-DTR1 USB PVR
This is because it's a PVR without a hard disk drive. Instead, it's equipped with three USB ports, so that programmes can be directly recorded to USB flash drives. Alas, drives aren't supplied but, as the GiGo records MPEG-2 files, a typical movie takes up 2-3GB, so a minimum 4GB drive is recommended.
You'll also need the flash to be the high-speed transfer type, and formatted as FAT32. Flash memory discounts down to around a quid per GB these days, but the media is still significantly more expensive than VCR tapes. However, the quality and reliability is orders of magnitude better, and of course USB flash drives are a lot more manageable.
The ideal Freeview STB would include a large hard drive and an Ethernet connection that made the drive and its contents network accessible. The poorly-received Archos TV+ would have fitted the bill had Archos remembered to include a Freeview tuner. The Humax Foxsat-HDR comes with a (currently unused) Ethernet connector, but also has a working USB socket that can be used to transfer data off the hard drive. But it's a satellite receiver, not a Freeview device, and at nearly £300 costs more than four times the price of the GiGo.
As a Freeview STB, our re-release review model unfortunately lacks the refinement of Freeview+ but Digital Vision reports that this will be featured when it hits the shops. There's only a single tuner, so you can't record to one Freeview channel while viewing another. However, you can still watch a pre-recorded programme while recording a second programme.

Bare essentials: no HDMI nor separate digital audio interfacing
Rear connections are minimal and you'll search in vain for HDMI and digital audio. But there are two SCART sockets: one for attaching a legacy VHS machine, the other for output to the TV. The TV SCART socket offers RGB, composite or S-Video output. The VHS socket gives newcomers to digital an option to continue recording onto their old VHS machine. Unfortunately it can't be used to digitise legacy VHS tapes across to a USB flash drive.
The GiGo includes an eight-day electronic programme guide, although the large text – useful for the senior citizen – only shows two or three programmes at a time across the screen for each channel. Selecting a programme in the EPG and pressing the record button on the chunky, comfortable remote control adds that programme to the recording schedule.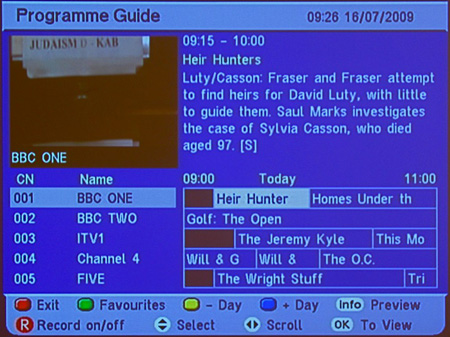 Large-text EPG to suit old-style CRT TVs, but with limited programmes per screen
You'll need to allocate the recording to one of the three USB devices, and you'll get clearly displayed info on the total and remaining capacity of the chosen device, with a warning if there's insufficient room. Unfortunately, the current firmware doesn't allow you to bridge a recording across two or more USB devices.
Recordings can be renamed or erased through the menu system, which also has provisions to completely reformat USB flash drives. A clear, easy to read tabbed menu system provides full information about the status of each of the three USB ports, and retains EPG information about the recorded programmes. The GiGo can also copy recorded programmes across from one USB device to another.
As well as pen drives, the USB sockets are designed to support USB hard drives, as long as they can provide their own power without drawing on the GiGo. Outside this specification, our tests with a portable 500 GB Seagate FreeAgent Go drive, which is powered from the USB socket, were encouraging but not conclusively convincing.
It was possible to record to the drive successfully, the resulting files playing back perfectly on a PC, but the GiGo struggled to play back or wind through these same files itself, occasionally dropping out and reverting to on-air mode. So, USB-powered hard drives appear to be fine for making recordings for playback or processing on a PC, but won't turn the GiGo into the equivalent of a hard-drive PVR.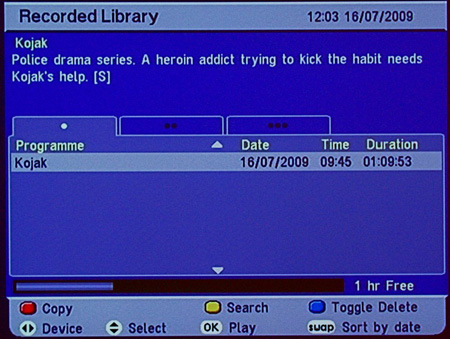 Three tab display for each of the three USB flash drive sockets
The device under review was a preproduction model so this may change with subsequent firmware updates. Users will be able to do these upgrades over the air, or from Internet downloads delivered through one of the USB connections. Storage aside, the picture was perfectly acceptable even with the composite output and the device runs cool, so it can be placed just about anywhere.
If you're a projector aficionado you'll already have divided the world of remote controls into those that are strong enough to bounce their signals off a wall, and those that aren't. LCD/Plasma watchers tend to keep their set top boxes and other feed equipment in the same line of sight as their screen, so IR devices only need to be able to work directly.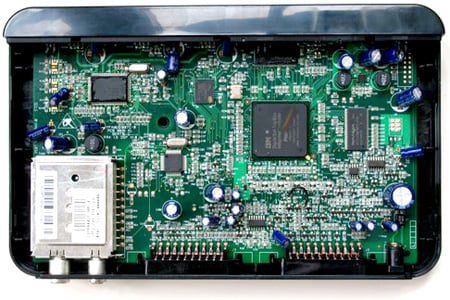 Internal affairs: the CPU is an IBM PowerPC variant
We projector buffs typically have all our kit behind us, but still expect to be able to control it by pointing remote controls in the direction of the screen. The bad news for us is that the GiGo remote IR signal doesn't bounce, so we'll need to brush up on our over-the-shoulder action.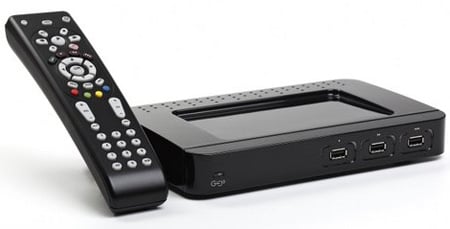 Solid-feeling remote control, but it won't 'bounce'
Digital Vision has done a good job providing a basic Freeview box that makes recording and playback simple. Granny should find USB flash drives a lot easier to juggle than either VHS tapes or DVDs. A hard drive would be even easier, of course, and we understand that future devices from Digital Vision will include this option.
Verdict
The GiGo, despite its unfortunate name – as there's nothing "garbage in, garbage out" about it – is certainly a good bet for the more computer-savvy user who wants a Freeview set top box that allows transfer to a PC. And for everyone else, as an easily maintained, no-moving-parts VCR replacement, the GiGo seems hard to beat. ®
More TV Recorder Reviews...

Humax Foxsat-HDR

SiliconDust
HDHomeRun

Elgato EyeTV 310

Emtec
Movie Cube S800