Original URL: https://www.theregister.co.uk/2009/07/23/uks_oldest_tv/
Blighty's oldest working telly discovered
Marconiphone 702 still used in London house
Posted in Personal Tech, 23rd July 2009 14:24 GMT
Despite the advent of HD TVs and Freesat, a UK-based telly that's over 70 years old has won the…ahem…enviable title of being the country's oldest working set.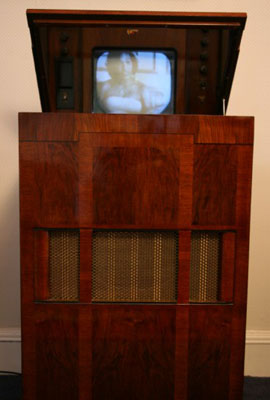 Jeffrey Borinsky still uses his Marconiphone 702 - made in 1936
Owned by Jeffrey Borinsky, a consultant engineer from North London, the Marconiphone 702 TV is still, amazingly, in full working order. It's even been updated for the digital area – thanks to the addition of a set-top box.
When new, the set would probably have cost 60 Guineas – about £11,000 ($18,172/€12,775) in today's money.
It's been estimated that the TV – which won its title thanks to a marketing stunt designed to raise awareness of the UK's ongoing digital switchover – was manufactured in November 1936, the same month that a regular BBC TV service from Alexandra Palace was first broadcast.
Owners of the set through the decades would also have probably watched King George VI's coronation procession in 1937 on its 12in screen, in addition to the 1948 London Olympic Games.
"I still enjoy watching my Marconiphone occasionally, especially cartoons from the 1930s, which the original owner might have seen on the set", said Borinsky. ®