Original URL: http://www.theregister.co.uk/2009/07/23/review_media_player_sony_gigajuke_nas_sc500pk/
Sony NAS-SC500PK Gigajuke
Walkman-friendly HDD-based Wi-Fi Hi-Fi
Posted in Personal Tech, 23rd July 2009 12:38 GMT
Review After a little less than a year on the market Sony has decided to give its Gigajuke wireless music system a bit of a facelift and make a few modifications. Evidently, the company intends to capitalise on the fact that, within the same twelve months, its Walkman range has gone from being a bunch of also-rans to a collection of some of the best personal music players on the market.

Sony's NAS-SC500PK Gigajuke HDD
Open the Gigajuke box and you will find a plethora of kit with Sony bundling a NAS-S500HDE hard-drive based server unit complete with built-in CD player and a pair of rather fine bookshelf speakers. There's also the NAS-C5E wireless music player with built-in speakers – think Logitech Squeezebox Boom – a small wireless router, a dock for your iPod, two remote controls and enough cables to re-wire a three bedroom semi.
At 285 x 143 x 310 the main Gigajuke server unit is small enough to find a home in any room in the house but, despite its size, it still has more ports and sockets than you can shake even a large stick at. Starting at the top of the device you will find a Walkman dock, a USB port and 3.5mm audio-in and out jacks. Scoot around to the rear and you'll find another USB port, an Ethernet network port, monitor out jack, stereo RCA audio inputs, speaker sockets and AM/FM and DAB radio antenna sockets.
To hook the server and wireless receiver up you can either use the bundled wireless mini-router or simply connect the units up to an existing wireless network. We tried both and experienced no problems before putting the Sony router back in the box and using our existing network in order to save on a power socket.
Connecting everything up can take a little time - and with all the antennas attached you will have quite a mess of cabling to contend with. Still, the 205 page manual – and that's just the English version – is very clear and comprehensive, so we very much doubt that even a network virgin will experience any insurmountable problems.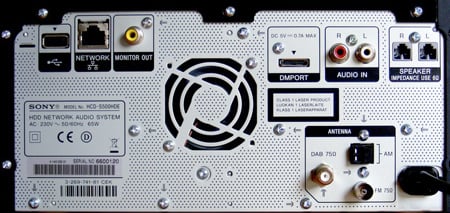 The back panel just about has it all
Sony supply all, and we mean all, the cables you could wish for including AM, FM and DAB antennas, speaker cables, a USB extension cable and a network LAN cable to physically connect your computer to the server, should you wish to. Incidentally, the server doesn't have a wireless receiver built in, but is supplied with a USB wireless adaptor.
The most obvious improvement over the old system is the addition of a dedicated Walkman dock on the top of the main unit and the installation of a new 160GB hard drive, double the size of that in the previous model. Of course 160GB is its nominal size. After the system software has taken a bite you have a shade over 142GB for file storage.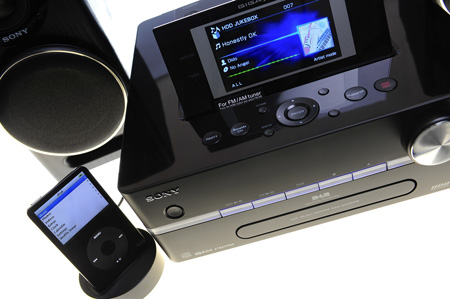 Includes both an iPod and a dedicated Walkman Dock
The NAS-S500HDE is quite the jack of all trades. As well functioning as a DAB/AM/RDS-FM radio, playing and importing CDs and acting as a UPnP music server, it can also function as a streamer for music stored on a computer drive or NAS. Strangely though, one thing the Gigajuke server won't do is play Internet radio feeds – odd because that's something the wireless receiver will do.
When it comes to connecting portable media players Sony has covered all the bases. The bundled iPod digital media port – which lives at the end of a one metre cable – will keep your iPod charged and allows content playback via the server and its speakers. Forget moving your tunes to or from your iPod though, the Gigajuke isn't that clever. Nor can you use Party Mode when playing back from the Apple dock. More on this shortly.
Atop the server is a second dock, this time for a Sony Walkman. Plug a recent model Walkman into the dock and not only can you play music from it but you can also manage its content directly via the server. If you have an MP3 player other than an iPod or Walkman then, as long as it can be set to behave as a mass storage device, you can transfer music onto it directly from the Gigajuke simply by hooking it up to one of the USB ports.
To help keep an eye on what the Gigajuke is doing, the main unit has a clear, bright 4.3in colour screen that can be angled up out of the unit to ninety degrees. The Home screen consists of nine icons that allow direct access to its DAB radio, DMPort, CD, built-in HDD, FM/AM radio, 3.5mm audio input, SenseMe channels, Walkman Port and the home network the Gigajuke is connected to. All told, it's a fairly straightforward and well thought out system, enabling you to navigate your music library with the minimum of fuss and confusion.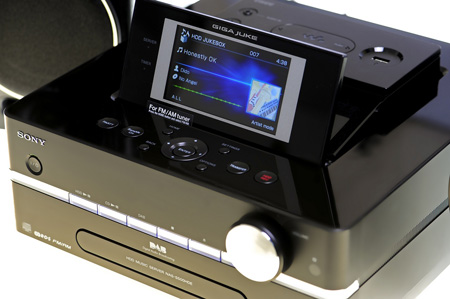 The NAS-S500HDE server unit is intuitive to operate
The server's operating system is not exactly fleet of foot though, and you do spend a fair amount of time waiting for the system to switch from one source to another. By contrast to the main server's screen, the wireless receiver's is pretty bad, being a tiny 2.5in monochrome affair that is very hard to read unless you are looking at it head on. Place it at waist height and you will be bending down a lot in order to see what its up to.
The wireless receiver is no looker either, being little more than a rather featureless black box. And at 341 x 123 x 213mm it's not that small either, being substantially deeper than the Logitech Squeezebox Boom and the Philips NP2900. Alas, both the supplied remote control units show every sign of being built down to a price and, while they work, they also feel cheap. The layout of the server remote, in particular, leaves a lot to be desired. The buttons seem to have been fired at it with a shotgun, with little, if any, regard for the most important or most commonly used functions.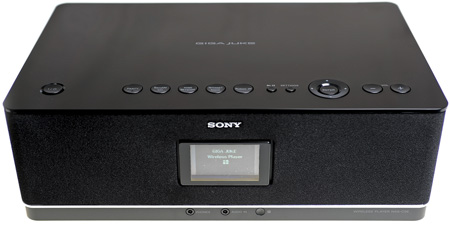 The screen on the wireless receiver is only good at certain angles
Certainly, Sony would have been much better served by mounting the screen in a big old remote a la Sonos. Apart from letting you control the system from another room this would also have the added benefit of allowing users to control both devices from one remote. The buttons on the two main units also feel just a little on the cheap side having a crude and un-damped action.
Sony's inclusion of a monitor out jack seems to us tacit admission that the screen set up is less than perfect. The idea is that you plug in a monitor and use that in place of the built-in screen – that just seems rather peculiar. The GigaJuke system communicates over an 802.11b/g wireless network and while it would have been nice to see that upped to draft-n for the sake of extra range we never had any reception issues during our test.
Sadly, Sony has not seen fit to expand on the codecs that the Gigajuke can handle, so you are limited to MP3, PCM, ATRAC and WMA. We really would have liked to see AAC and Flac added to the list. While you can import AAC files they will be converted to MP3 for storage. As you would probably expect there is no support for DRM in any size, shape or form.
To transfer music from your computer to the Gigajuke you need to use Sony's bundled MusicTransfer application. It's a pretty simple programme – it scans the host machine for playable music files, greys out any that are DRM protected and then lets you sync eligible files either across a wireless network or via an Ethernet cable.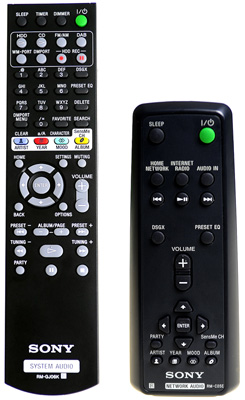 The remote control functions are rather randomly distributed
While the sync system proved generally reliable, it wasn't perfect. A recording of Puccini's Turandot appeared in the correct running order when imported into MusicTransfer, but several tracks were out of position when it showed up on the Gigajuke's HDD. Another slight snag with the MusicTransfer application is that it is Windows-only, which rather leaves Mac and Linux users up the creek without a paddle.
If all your music is still on good old-fashioned CD, then loading will still be a reasonably rapid affair. The default import format is 256kbps MP3 though you can change to Linear PCM if you so desire. Once imported the Gigajuke uses Gracenote to snag the relevant file information either from a 350,000 strong built-in album database or if that comes up empty handed from the Internet.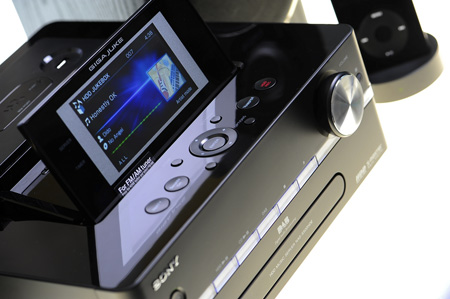 No AAC import option, these files are converted to MP3
A third option for loading content onto the GigaJuke is to dump it onto a USB memory stick and plug it into the USB port. As a fourth option, you can record AM/FM/DAB broadcasts off-air, a feature enhanced by the track mark function that distinguishes between music and speech and places a cue point between the two.
Like the latest generation of Walkman devices, the Gigajuke comes loaded with Sony's 12-tone analysis SenseMe application which sorts your music into a dozen 'mood' based themes. Unlike Sony's Walkman players, SenseMe on the Gigajuke analyses content while the device is in standby, so you never actually notice it updating itself.
Though a bit of a gimmick – we can think of lots of words to describe music styles but 'Slow Life' and 'Good Morning' aren't amongst them – it's not without its uses, if you fancy an impromptu playlist to suit your humour. In over 100 tracks, the only bizarre moment occurred when the system stuck Richard Thompson's I Misunderstood in 'Lounge' and, frankly, we can't think of worse musical sins.
Another trick up the Gigajuke's sleeve is Party Mode. Hit this switch and all the wireless receivers connected are automatically slaved to the server allowing you to control music playback throughout the house. A slaved receiver will even come off stand-by when commanded to by the server. It's a great idea and works perfectly unless you try to play files that are stored on a PC hard drive. Try it and the server and receiver end up about 5 seconds out of sync.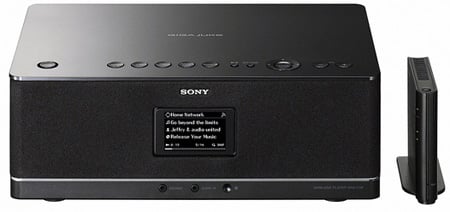 The NAS-C5E wireless music player has built-in speakers
An unexpected surprise was the Gigajuke's ability to work out which of the albums we copied across were gapless – the recording of Turandot we imported played back without a moments silence between the cue points. Since the NAS-C5E wireless receiver is UPnP compliant in its own right, you can use it to play different HDD stored audio content to that coming out of the server's speakers or even stream content directly from another hard drive. Although it lacks the main unit's AM/FM/DAB capability, you can stream Internet radio from SHOUTcast and Live365 feeds or pipe a signal into it using the 3.5mm audio input.
Reg Hardware never got up close and personal with the original Gigajuke so we can't say whether or not the new system is an improvement in terms of sound quality. What we can say is that while it's unlikely the vast majority of users will take issue with the main server amplifier and speaker combination that pumps out a respectable 2 x 50W of well-controlled and solid sound with plenty of tight and punchy bass. Yet the same can't be said of the wireless receiver, which sounded rather stunted and confined compared with the similar devices from Logitech and Philips that we have tested.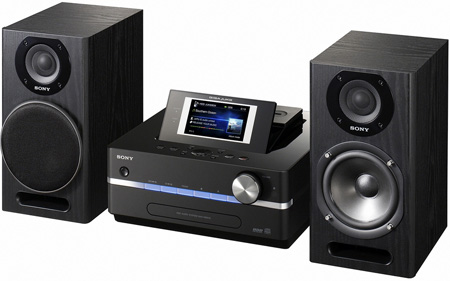 This Sony delivers a satisfying sound from the main speakers
The difference in sound may have something to do with the fact that the main unit is fitted with Sony's DSEE or Digital Sound Enhancement Engine sound modification software, which compensates for the higher frequencies lost during compression and generally does a decent job of making the soundscape brighter and more spacious. The receiver on the other hand has to make do with DSEE's stupid rural cousin Dynamic Sound Generator X-tra or DSGX, which seems to do nothing more than make the bass more woolly.
As you may expect, the Gigajuke is not what you would call cheap, but we found it for under £650 on a popular on-line retailer's web site and, at that price, we think it's pretty good value for money. The basic two-room Sonos BU150 package will set you back around £100 more. Although the Sonos has definite advantages as a wireless system, it does presuppose you already have all your CDs digitally encoded and you will need for cough up for extra amplifiers and/or active speakers, if you don't already have a decent hi-fi system in each room.
A Logitech Squeezebox Duet and Boom will set you back around £480 and this will also get music into two rooms, but suffers the same drawbacks as the Sonos regarding the need for additional audio kit. The Duet does come with a very nice remote control though.
Verdict
The sound produced by the main unit is very good, it provides a wireless network for those who don't already have one and the new Walkman dock will come in very hand for people who have the latest Sony players. However, the remote control units are cheap and messy, the wireless receiver can't compete with competing devices on sound quality or screen size, while system codec support really isn't broad enough for this day and age. Grumbles aside, you stlll get a lot of kit for your money and, out of the box, it's a very comprehensive multi-room music system. ®
Bootnote
What were we saying about the Gigajuke needing a Sonos-style remote? Well, Sony has just announced the NAS-7200iR, an iPod dock with just such a device. We'd put money on the same remote cropping up on the next generation Gigajuke sometime next year.
More Music Streamer Reviews...

Philips
Streamium NP2900

Logitech
Squeezebox Boom

Creative Sound Blaster X-Fi

Group Test
Four wireless music streamers