Original URL: https://www.theregister.co.uk/2009/07/23/review_electronic_book_irex_digtal_reader_dr1000s/
iRex Digital Reader DR1000S
Paper tiger?
Posted in Personal Tech, 23rd July 2009 08:02 GMT
Review iRex extended its electronic book line back in September last year, but it's taken us more than a couple of weeks to get used to its new DR1000s Digital Reader and understand that this is really a new class of product, rather than an evolution of the smaller readers of the past.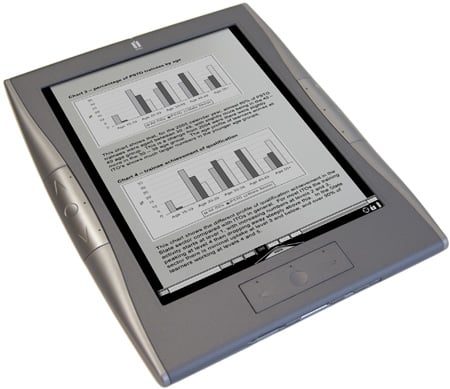 iRex's Digital Reader
Electronic-ink screens have been pushed into the role of electronic books but, like Amazon, iRex has realised that the real money isn't in electronic books at all, but in electronic document readers. Executives, or journalists – who have to plough through enormously long documents – will pay handsomely for a device that enables them to easily read, and make notes on, such documents with the minimum of fuss.
Indeed, that's the market that Amazon's latest, the Kindle DX, and the iRex DR1000S are aimed. Yet, the DR1000S isn't exactly comfortable for reading books. At just under 27 x 22cm and a smidge under 12 mm thick, it's much closer to a clipboard than a paperback, even if it is six hundred quid's worth of clipboard.
Still, scribbling in the margins is allowed, as the DR1000S has in-built graphics tablet functions. It's basically a capacitive touch-screen that responds to a stylus rather than a finger – so you can annotate documents in the margins, just like on paper.
Around the edge of the screen are nine capacitive buttons that are dedicated to fingertip use – they won't respond to the stylus – such is the price of capacitive technology. The three buttons on the sides mirror each other in providing up, down and select, while the three at the bottom are for left, right, and accessing the menu screen.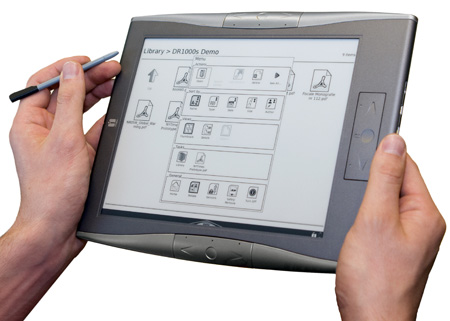 Landscape too, but don't expect an accelerometer, this is a menu-selected option
On the bottom left is an SD Card slot, occupied by the 1GB card supplied with the reader. The centre houses an unspecified expansion slot and to the right is a mini-USB port that's used for both charging and data connectivity. Alongside, is a tiny, recessed, reset button, which can be pressed using the stylus that slots into the top of the device.
Each button has an LED that lights when the sensor has detected a finger press, and dims to indicate that a 'long' press has been detected – useful as the screen can take half a second to respond. By default, the buttons also click but that's just irritating and was deactivated just as soon as we found our way to the appropriate option. A multi-coloured LED at the top is used to indicate charging, charged, booting and such like, but other than that all interaction is performed through the screen.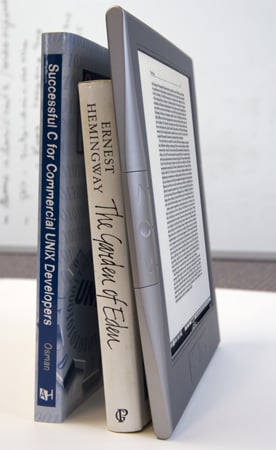 Novel design: intended for document reading and annotation
And what a screen it is. At 10.2in, 160dpi and 16 levels of grey, it excels at rendering an A4 page, ideally from a PDF file, in a clearly-readable style and becoming easier to read the better the light. If you're familiar with electronic ink, then you'll already know the joy of reading a computer screen in full daylight, if not then you'll be wondering what's the advantage over a laptop screen.
In short the screen is a joy, and the device is so slim and that one quickly starts carrying it around like a clipboard, and using it in much the same way. If you ever wanted one of those electronic pads they're always handing the captain on the Starship Enterprise then this is it. It may not have a colour screen, but everything else is here.
iRex would like you to use the DR1000S to make notes too, and provides templates for taking notes on meetings and the like. As a blank sheet of paper it works, but the slight lag on drawing makes it less comfortable than using OneNote on a tablet PC, even if the featherweight hardware is comfortable to carry. Still, if the company was serious about that level of functionality, it would surely have provided some enhanced features beyond a single-colour, single-width scribbling tool.
But perhaps not, because while the hardware is superb, the user interface is the kind of mess that can only result from engineers being let loose with icons. Luckily the functionality is limited to navigating directories and a few settings, but you wouldn't know that from the appallingly designed processes.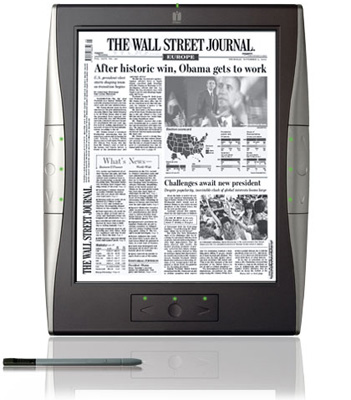 Slick presentation, but limited in function
Take this scenario: imagine one has finished reading a PDF document and wishes to close it and then delete it. Closing the document involves nine key presses, in the correct order switching between side and bottom buttons, deleting the same document takes another eight: get one wrong and you're back to the start. We've not seen interfacing this bad for a very long time, and with good reason. Navigation requires at least two hands, ideally three, and generates a frustration, which is only partially offset by the simplicity of the tasks one is attempting to complete.
Battery life is also disappointing – the capacitive screen draws power even if the display doesn't, and we found a fully charged battery would rarely allow 10 hours of reading. We were using complex PDF files, and taking lots of notes, but we would still have hoped for longer. Luckily, the DR1000S will turn itself off after being ignored for half an hour, unlike its predecessor, the iLiad.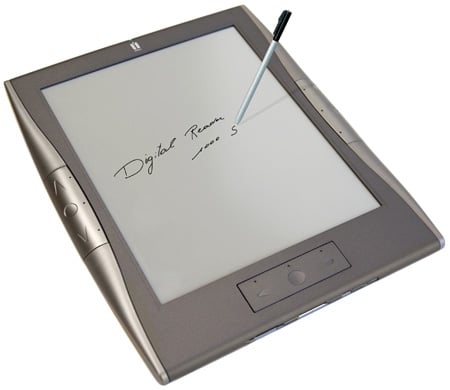 Digital doodles come at a price
On the desktop side, things are much improved. The Companion Application software is pre-installed on the device – which appears as a USB drive when connected to a computer – and will automatically execute if you happen to be running Windows. For electronic books, the Reader will support Mobipocket, at a push: but the DR1000S is not intended for reading books. The Companion Application software has a slick interface and appears to offer better functionality, but initially didn't work as it couldn't recognise PDF files until 'show known file extensions' was enabled on the PC.
The value of this class of device is in the ability to make a load of scribbled notes onto a PDF file and then merge those notes into the PDF file for viewing elsewhere. The open nature of the iRex Iliad encouraged hackers to create applications that stripped out pages on which notes had not been made, and changed all the notes made into red marker – functionality that has proved invaluable to anyone forced to read, for example, long regulatory documents from Ofcom.
Unfortunately the DR1000S won't do that, as yet. The Companion software is limited to merging scribbles with PDF documents. There is a third-party application that provides additional functionality, but it's Linux-only for the moment and we didn't get a chance to try it.
Verdict
Despite the disappointing software and outrageous price this is, quite simply, the most effective way to read and make notes on long documents. If you have to do that regularly, then the RD1000S is the best tool for the job, but try to get the company to pay for it. ®
More Tablet Reviews...

Group Test
Electronic book readers

Toshiba
Portégé M750

HP Compaq
2710p tablet PC

Nokia N810
Internet tablet