Original URL: https://www.theregister.co.uk/2009/07/23/nazi_gnome/
Authorities release Nuremberg Nazi gnome
Aryan garden ornament deemed satirical
Posted in Bootnotes, 23rd July 2009 08:43 GMT
Prosecutors in Nuremberg have decided not to take action against an artist who created a series of gnomes giving the Nazi salute, despite German laws which apparently prohibit even garden ornaments giving it a bit of the old Sieg Heil.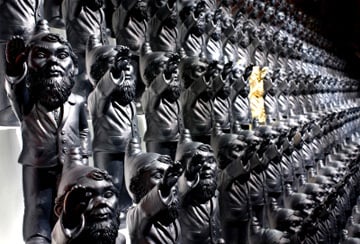 Things got a bit sticky for Ottmar Hörl, 59, when one of his gnomes paraded in the window of an art gallery in the city. They'd previously held a massed rally of 700 in an exhibition in Ghent, Belgium, without incident.
Earlier this year, 300 of them invaded a two-month event in Aschaffenburg, near Frankfurt, which attracted not one murmur of public discontent.
However, when a gold example pitched up in Nuremberg's Weigl Gallery, an indignant local tipped off a newspaper, which published a snap of the figure, and prosecutors then moved in.
According to Time, Nuremberg prosecutors' spokesman Wolfgang Träg confirmed: "We're investigating whether this is a violation of German criminal law, which forbids the use of symbols from unconstitutional organizations."
Hörl defended that the gnomes were intended as a satire on Nazism. He said of their Ghent outing: "They were part of an exhibition against the far right. Nobody had a problem with them."
He noted: "I would probably have been killed by the Nazis if I'd dared to depict the Aryan 'super race' as gnomes in 1942."
Heinz Bartkowski, the curator of the art society which organised the Aschaffenburg gig, said: "I think it's ridiculous the authorities in Nuremberg are investigating a common garden gnome. They should be investigating the activities of neo-Nazis instead, and not art. It's absolutely clear that works of art are exempt from the law forbidding the display of Nazi symbols."
Well, the powers that be have decided to let it slide, conceding that the gnomes are indeed mocking Adolf and chums and as such "could be allowed if they were clearly used to counter the fascist ideology", as the BBC puts it. They did, though, warn the figures had "certain abuse potential" and suggested others should not attempt to emulate the work. ®