Original URL: https://www.theregister.co.uk/2009/07/22/review_storage_ssd_kingston_ssd_now_v/
Kingston SSD Now V
Excellent bang for your solid-state buck?
Posted in Personal Tech, 22nd July 2009 12:02 GMT
Review Kingston Technology offers three distinct families of SSD, with the SSD Now E series for servers and the SSD Now M series aimed at mainstream performance PCs. These models are exactly the same as the Intel X25-E and X25-M drives, no doubt thanks to the IM Flash Technologies joint venture between Intel and Micron.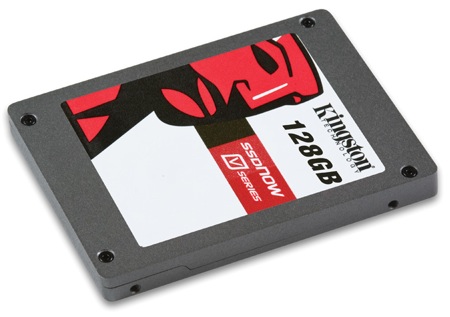 Kingston's SSD Now V: does the 'V' really mean 'value'?
The third series of Kingston drives is SSD Now V - 'V' for 'value' - which is a solo effort by Kingston. Intel played no part in the development of these drives.
The hardware inside the SSD Now V comes as something of a surprise as the chips are all made by Toshiba. On one side of the board there are eight TH58NVG6D 1D TG20 Flash chips and on the other side there are eight more of these and a TC58NCF602GAT controller chip. We're not familiar with Toshiba Flash controller chips, but Kingston tells us that the 602 in the middle of the model code is significant as it indicates the chip is a JMicron 602 that has been fabbed by Toshiba.
That's right, the JMicron 602 that is legendarily famous for stuttering when you transfer small files, open web pages or send an email. We can't be sure exactly which version of the JMF602 is used in the SSD Now V as there has been at least one revision to the chip, but we are clear that manufacturer OCZ put two JMF602 chips together in Raid mode to create the Apex SSD to avoid those sorts of problems.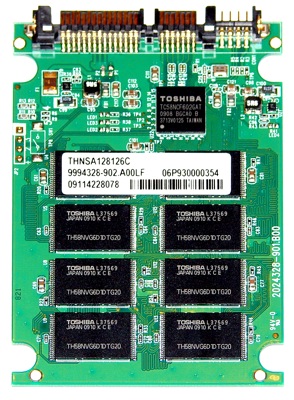 The Toshiba chip out on its own is really a JMicron controller
We tested the SSD Now V in combination with an Intel X25-M and a Patriot Torqx. Patriot uses an Indilinx controller, while Intel uses its own. We also ran the Kingston SSD alongside a 7200rpm 1TB Western Digital Caviar Black desktop HDD and a 5400rpm 500GB Toshiba HM500LI laptop hard drive.
In synthetic tests such as HD Tach and CrystalDiskMark, the Kingston SSD Now V is trampled by the Intel and Patriot SSD drives and has a narrow advantage over the WD HDD. The Toshiba laptop drive performs at about half the level of the WD Caviar Black and trails home in last place in this field.
The SSD drives with Intel and Indilinx controllers support a read speed of 250MB/s while the SSD Now V can only manage 100MB/s, and this is reflected in our file-transfer tests as the Kingston operates at about half the pace of the Patriot Torqx.
Our file-transfer tests show that the SSD Now V is pretty much on a par with the WD Caviar Black desktop HDD, although it's a matter of swings and roundabouts. Transferring files within the Kingston SSD is a laborious process, perhaps because it doesn't have a cache chip. Transferring files between the test drive and the Intel X25-M demonstrates that the Kingston can serve up files faster than the WD hard drive but, conversely, when you're writing files, the WD has the advantage. The Samsung laptop drive trails far behind in every test.
Although the SSD Now V is relatively slow when you compare it to other SSDs, it's clear that Kingston has solved a major problem: the drive doesn't suffer from stutter. Kingston tells us that it went through six revisions of firmware to reach the stage where it was ready to release the SSD Now V, and we're happy to say that it has succeeded magnificently.
As SSDs go the Kingston is a cheapie but it still costs £1.45 per GB. By contrast, the Patriot costs £2.36 per GB and the Intel SSD costs £3.16 per GB, but the WD costs a mere 7.5p per GB. That's one twentieth the cost of the Kingston so you need a convincing reason to consider buying an SSD that is relatively expensive, especially when you consider that it's not demonstrably faster than the WD Caviar Black.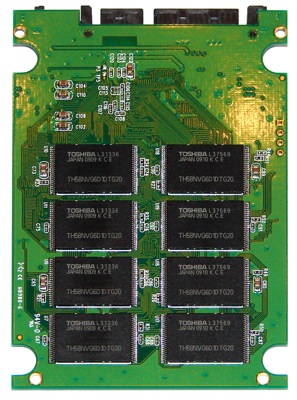 Flash fresh from Toshiba
Kingston tackles these issues very neatly by packaging the SSD Now V in four different products as 64GB and 128GB desktop and notebook kits. Each kit comes with a copy of Acronis True Image HD drive cloning software to make the transition from HDD to SSD as smooth and simple as possible. In addition, desktop kits are supplied with a pair of drive bay adaptors, while laptop kits are packaged with a USB caddy so you can use the drive externally is you choose.
HDTach 3.0.1.0 Results
Random Access Time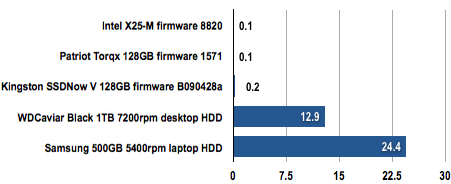 Time in Milliseconds (ms)
Shorter bars are better
Average Speeds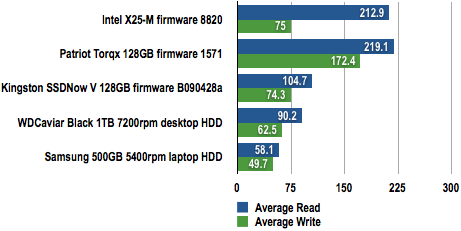 Data-transfer speeds in Megabytes per Second (MB/s)
Longer bars are better
2GB File Transfer Results
Copy Data on Drive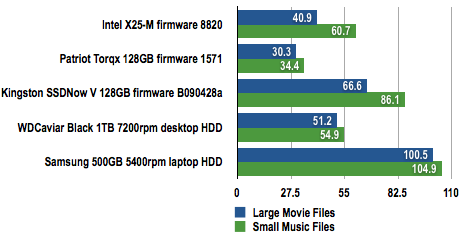 Data-transfer times in Seconds
Shorter bars are better
CrystalDiskMark 2.2 Results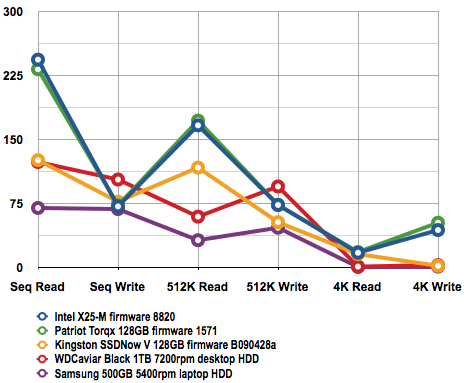 Data Rates in Megabytes per Second (MB/s)
Higher points are better
Kingston's thinking is that SSDs don't yet have enough storage capacity to be the sole drive in a desktop PC unless you spend £500 on a 250GB drive. With that being the case, the cost-effective set-up for a PC is to install your OS and applications on a 64GB SSD, and to use a hard drive for the hundreds of gigabytes of music, photos and movies that you have doubtless accumulated.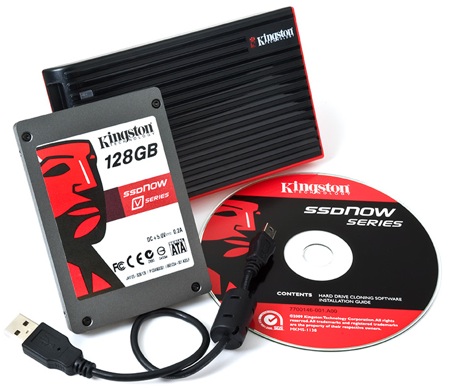 The laptop kit comes with a USB enclosure, the desktop pack with mounting parts
By contrast, laptop owners are probably limited to a single drive so the smart move is to upgrade your hard drive to a 128GB SSD.
Take another look at our test results and compare the performance of the 5400rpm Samsung laptop drive and the Kingston SSD Now and you'll see that the upgrade will transform the performance of your storage. Clearly, you can get even greater storage performance if you pay a higher price and install the Intel X25-M/Kingston SSD Now M or the Patriot Torqx, but the SSD Now V will do very nicely. When you've been used to the sluggishness of a hard drive in power saving mode you will be startled by the instant response of an SSD.
There are two other clear cut advantages of an SSD upgrade for your laptop. An SSD is utterly silent which is a blessing after the spinny clickness of a hard drive, and an SSD is relatively indestructible. Put it this way, the clever technologies that have been developed by the likes of IBM and Lenovo to protect laptop hard drives from shock damage will become redundant as SSD makes inroads into the laptop market.
With a price of £186, this 128GB SSD can hardly be called cheap but it does represent very good value for money.
Verdict
Kingston has struck a clever balance between price and performance with the SSDNow V Series and we guarantee that it will transform your laptop. ®
More Netbook Reviews...
| | | | |
| --- | --- | --- | --- |
| Patriot Torqx | Intel X25-M | Samsung PB22-J | OCZ Vertex |