Original URL: https://www.theregister.co.uk/2009/07/21/review_projector_benq_joybee_gp1/
BenQ Joybee GP1 mini projector
Palm-sized portable projector with a lifetime lamp
Posted in Personal Tech, 21st July 2009 11:51 GMT
Review We're all used to being able to take videos and movies with us when we go out, whether it's on a phone or a portable media player. Some of these devices boast pretty decent widescreen displays too, but with the Joybee GP1 mini projector you can carry an 80in widescreen display around in your handbag.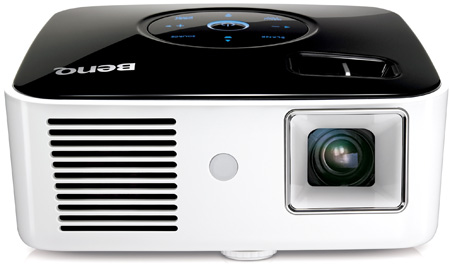 BenQ's Joybee GP1 mini projector
This miniscule device easily hooks up to your laptop or games console, but it also has a built-in media player to play back video and photo slideshows directly from any handy USB storage device.
Billed as being small enough to fit into the palm of your hand, the GP1 is about the same size as a couple of rounds of sandwiches. At only 136mm x 54mm x 120mm and weighing only 0.64kg, this really is a truly portable projector – although it does require mains power to run.
Taking a look at the specs, it's clear we're not looking at a high-end projector here. We have a DLP system with a native 858 x 600 pixel resolution in a 4:3 aspect ratio and a brightness rating of just 100 ANSI lumens – that's an order of magnitude less than what we're used to from a full-sized model.
At the rear there are only three connectors: two inputs and an audio output. The first input is a proprietary 30pin connector and the other is a standard USB port to connect a USB thumb drive or hard drive. The proprietary connector allows you to plug in either a set of video cables, including standard VGA and composite, or a custom iPod dock which is available separately at a cost of £30.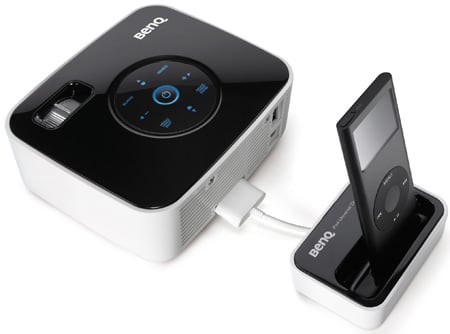 The iPod dock seems a nice touch, but is an optional extra
Underneath is a single screw-in foot, which forms a crude height adjustment, as well as a standard tripod mount, which is really handy for accurate setup. A single thumb-operated focusing ring is provided, but no zoom – you just move the projector back and forth to determine the size of the image.
The key to the GP1's small size is it use of LED technology instead of a traditional mercury arc lamp. It utilises technology from Luminus, named 'PhlatLight', that enables the construction of much smaller, lighter projectors, with no lamp replacements required. Projector lamps are often scarily expensive and must be replaced after two to six thousand hours of use. It's not uncommon to find you need a new lamp, only to discover that it would cost more than a new projector.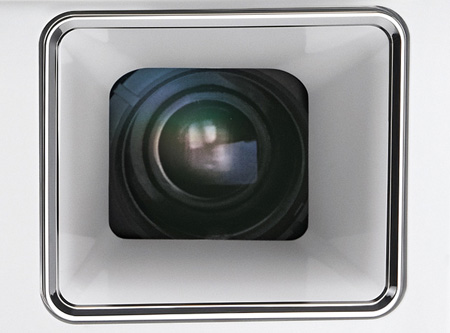 Early adopter of the PhlatLight LED lamp technology
Considering the PhlatLight is good for up to 100,000 hours, it's intended to last the lifetime of the projector and is not designed to be replaced. It also retains its brightness, unlike traditional lamps, which dim over time. Furthermore, not having a conventional lamp means there's no need to wait for the projector too cool down before turning it off.
The DMD chips found in DLP projectors cannot display in colour. Traditional DLP systems create a colour image by shining white light through a rapidly-rotating segmented colour wheel which allows light the colour of each segment to be projected sequentially, thereby building up the full colour image. Due to the short time lag between each of the colours hitting the screen, many viewers are able to perceive an irritating 'rainbow effect', especially in high-contrast moving images.
The GP1 doesn't use a colour-wheel. Instead, the three banks of coloured LEDs pulse rapidly in step with the DMD chip, many times faster than can be achieved with a standard colour wheel and greatly reducing rainbow effect.
Although clearly designed for fun, the GP1 comes with a full menu system containing many features found in BenQ's more expensive projectors. Particularly useful to a highly portable device like this are the auto keystone image alignment and wall colour correction functions that tint the projected picture to compensate.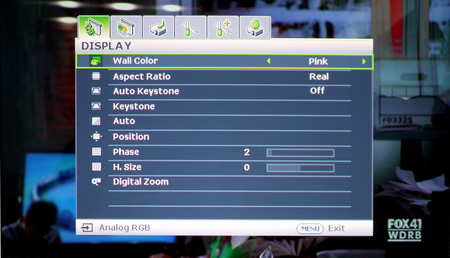 Configuration options include wall colour compensation
Despite its rather low rated brightness and contrast ratio of only 2,000:1. The GP1 performed rather better than expected, producing a clearly visible image even with the room lights turned on. Obviously this improves greatly in a darkened setting and it's best to avoid the maximum 80in screen size unless you really can dim the lights.
When driven from a PC we found the default settings produced a rather dull image, but switching to movie mode delivered an impressive range of bright, saturated colours. Still, the lack of a digital connector meant that output from a PC looked noticeably worse than that from the built-in USB reader. In PC mode you also lose a few pixels, stepping down from 858 x 600 pixels to the standard 800 x 600 pixel resolution.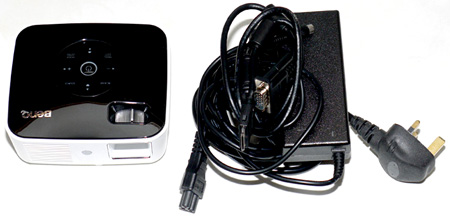 Excess baggage: there's no carry case provided for the bulky, but essential PSU
The GP1 is undeniably fun and certainly portable, but what the official product shots don't show you are that the external power adapter is about a quarter the size of the projector itself. While the GP1 comes with a rather nice carrying pouch, there's no room in there for the adapter or the cables, so you'll need to put everything into another bag if you want to take it away with you.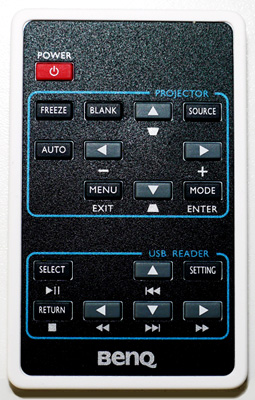 The remote's dual controls add to the fiddle factor
As for the supplied credit-card sized remote control, this does take some getting used to. First of all, it's not illuminated, so if you've darkened the room you may have difficult seeing it. Secondly, it's divided bizarrely into two sections, one for the USB reader and the other for general projector settings. This means you get two sets of cursor keys. You also end up with buttons labelled Enter, Select and Return and have to learn which is which.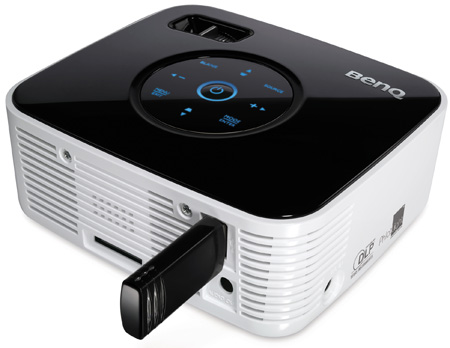 USB interfacing allows media playback, but in unfriendly formats
The ability to play picture slideshows and videos directly from an iPod or USB storage is great, but don't expect it to be a matter of simply copying your favourite videos onto a flash drive and plugging it in. Unfortunately, the GP1's media playback capabilities are severely limited by BenQ's choice to support only MPEG1 or MJPEG formats – which nobody uses, ever.
The supplied Arcsoft MediaConverter software enables conversion from most common format and is relatively easy to use, but very limited in its options. You can select from three quality levels and convert from DVD or video files stored on your hard drive, but none of these options actually match the native resolution of the projector.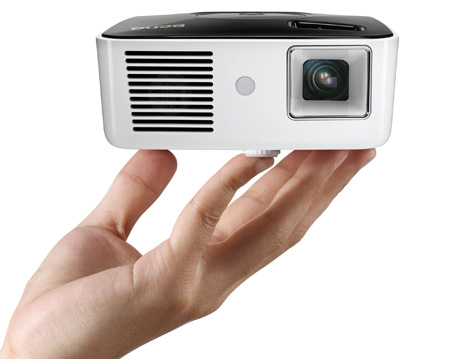 Shady character: can deliver an 80in projection in darkened conditions
Conversion is also a lengthy process, which results in media files much bigger than the originals. Using a 3 GHz quad core PC system, we converted a 178MB Mpeg file in around 25 minutes. After conversion, the file had grown to 1.2GB due to the inefficient MPEG1 format.
Verdict
If portability isn't your main reason for choosing a projector, then there are many other options available for under £500 such as Optoma's HD700X which is HD Ready and still portable at around twice the size of the GP1. Indeed, priced at £420, the GP1 is hardly an impulse purchase and is not without its faults, but it offers a lot for the money and is much cheaper to run than a conventional projector. Yet with the emphasis is on fun and portability, rather than home theatre or boardroom presentations, the Joybee GP1 Mini Projector packs a lot of big screen entertainment into a very small package. ®
More Projector Reviews...

Hitachi CP-RX80

LG HS102
Ultra Mobile projector

Acer K10

3M MPro110
handheld projector