Original URL: https://www.theregister.co.uk/2009/07/21/review_phone_lg_gc900_viewty_smart/
LG GC900 Viewty Smart
Hi-res camphone at not so high a price
Posted in Personal Tech, 21st July 2009 08:02 GMT
Review LG's latest cam phone is an extremely sleek and suave looking device with a feature-packed 8Mp camera, multi-touch screen, Wi-Fi, A-GPS and motion sensor. Despite the name, this isn't a smart phone, and isn't intended to be all things to everyone – it's focus (sorry) is very clearly on photography.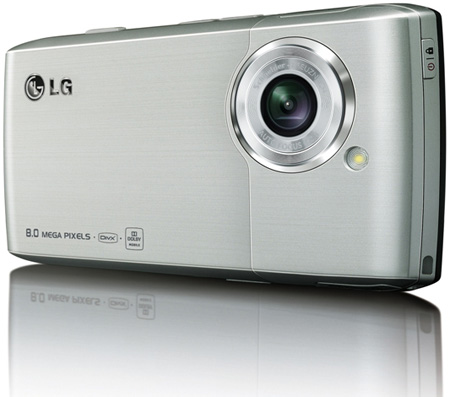 LG's Viewty Smart
At first glance the Viewty Smart cuts a dashing figure. It measures 109 x 56 x 12mm and weighs 102g, which makes it an exceptionally slim and fairly lightweight handful for an 8Mp camphone. The front is dominated by the 3in touchscreen and has but a single button – the silver or gold-coloured bar that stretches across the phone beneath the screen. In most situations, this acts as a home key.
Around the sides are a camera button, volume rocker, power/headphone socket (LG's own), microSD card slot and shortcuts button, with a power/phone lock button on top. From the back the Viewty Smart looks very much like a standard LG digital camera, with its brushed chrome finish, Schneider-Kreuznach lens and LED flash.
The Viewty Smart has the latest version of LG's S-class user interface and the home screen features six icons for your most commonly used apps, plus another four along the bottom. Skipping through the menus is fast and hassle-free, and certainly faster than the LG Arena. Pressing the menu icon gives you four rows of four app icons each of which can be scrolled to the side to reveal more.
Turning the phone on its side activates the accelerometer and, in landscape mode, all 32 icons are revealed on the screen. Incidentally, that shortcut key on the side pulls up a spinning cube icon that offers an alternative way to find your apps.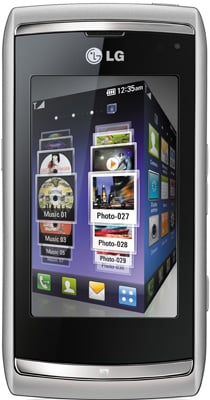 The cubist approach to application navigation
The 3in WVGA touch screen offers 800x480 resolution and it's a bit of a gem. The large surround left us feeling slightly cheated, but only because we've got used to touch screens stretching to the edge of their devices. That niggle aside, it's clear, bright, sharp and extremely sensitive, although you'll need a nice, sharp tap to activate onscreen buttons.
The 8Mp camera is one of the most fully featured we've yet seen on a camphone. It's easy to use, with lots of default 'auto' settings, but also has plenty of options for tweaking.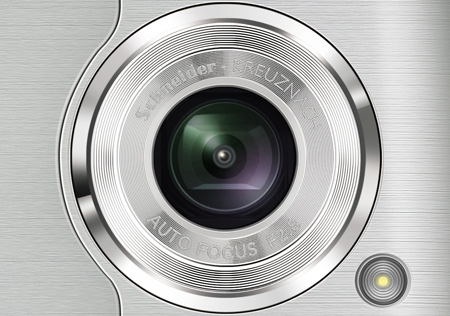 More smart camera than smart phone
You can take snaps by holding down the shutter button on the side or by pressing the onscreen slider, which also allows you to toggle between still and video cameras. The 4x digital zoom can be operated by pinching and stretching two fingers, iPhone-style, on the multi-touch screen. It's a great little effect, but we found it more practical to use the volume buttons on the side.
The camera takes pics up to a maximum 3264 x 2448 pixel resolution. The settings are reached by an onscreen dial that you spin to reach the controls you want. As well as ten-second timer and six-pic multishot options, there's multiple face tracking to ensure you get everyone in focus. And if you select Smile Shot, it will automatically take a pic when it detects a smile – very useful for snapping truculent nippers. We were a bit disappointed by the Panorama setting though, and found it difficult to match up the three pics for a stitch-free landscape shot.
In Intelligent Shot Mode an onscreen meter appears which tells you how your settings are doing – not something we've seen on a camphone before. It shows five icons for subject, daytime light, nighttime light, backlighting and landscape and attempts to optimise them for the best setting. There are tons of effects too, including a couple which LG calls 'warm' and 'cold' – the former casts a orangey glow around the subject, the latter a sort of cool blue.
There's also the Beauty Shot feature we last saw on the LG Renoir, which gives a slightly softer focus effect to faces, the idea being that it's supposed to be a bit kinder to facial wrinkles and spots. It works, sort of, but we wouldn't recommend you rely on it to make your subjects beautiful. You can also geo-tag your pics thanks to the onboard A-GPS supported by Google Maps.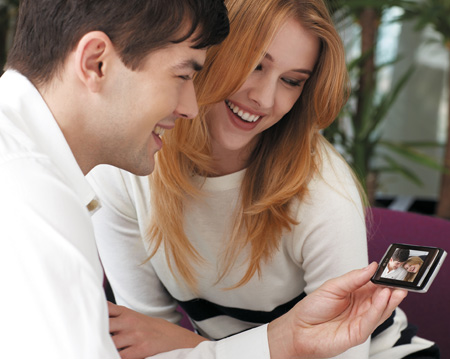 Beauty shot: removes wrinkles, but only in the digital domain
The flash is impressively bright for an LED, and it can also be switched on permanently in video mode. The Viewty Smart maintains a high standard with video, recording video at DVD (D1) quality up to 30f/s. You can also record in slow motion at 120 f/s or speeded up at 5f/s and there's a TV out option so you can view your pics and vids on your telly.
Sample Shots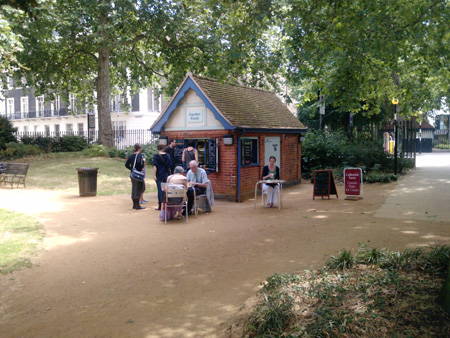 Click for a full-resolution crop
Sample Shots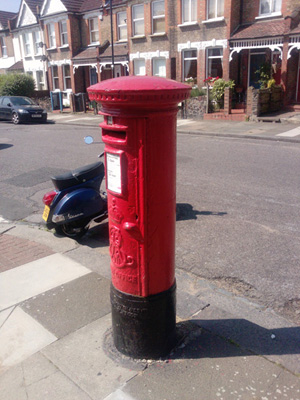 Click for a full-resolution crop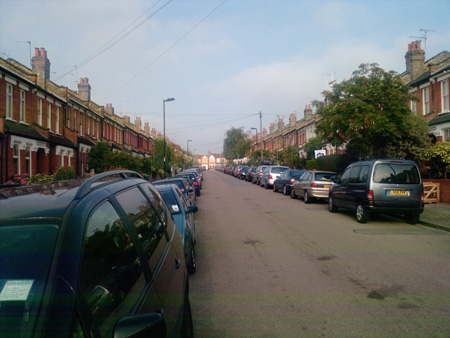 Click for a full-resolution crop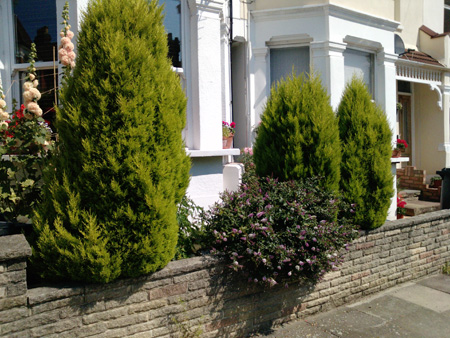 Click for a full-resolution crop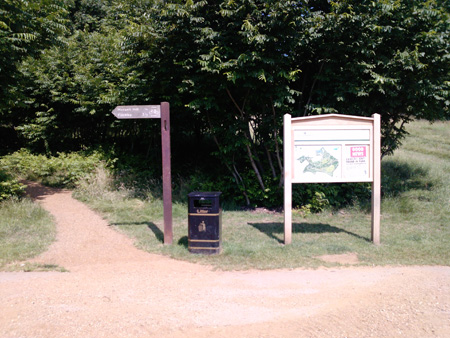 Click for a full-resolution crop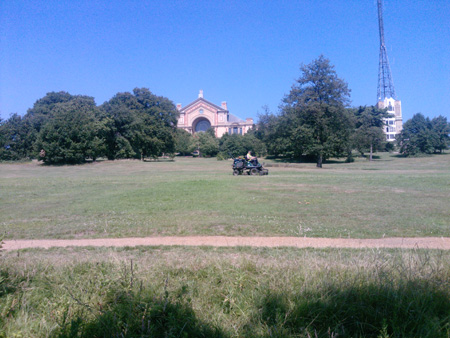 Click for a full-resolution crop
Once you've taken your pics you can adjust them for colour and brightness, as well as blur or sharpen them, and add some fun effects, such as oil painting and cartoon filters, as well as a raindrop effect and the frankly bizarre Fog Drawing, which allows you to 'breathe' on your pics and then write in the 'condensation' on the screen.

Fog drawing, for the dewy eyed
Playing back video on the 480x800-pixel screen looked great, and there are options to expand even widescreen movie trailers to full screen viewing. it supports a very broad range of video formats (H.263, H.264, MP4, WMV, ASF, DivX and Xvid), as well as audio codecs (MP3, AC3, AAC/AAC+/E-AAC+/AMR-NB/WB/WB+, WMA/WMA Pro, Ogg Vorbis and MIDI).
The music player features an equaliser with 22 presets including a bass boost. There's also Dolby Mobile noise reduction, but this had the effect of making the music sound so compressed, that we gave up on it.
In contrast to the rest of the phone, but no real surprise from LG, the supplied headphones are cheap and nasty, with an unacceptable degree of hiss and too-narrow dynamic range, very little bass and distortion creeping in all too easily at the high end.
Fortunately, there's a 3.5mm adaptor with a long 80cm lead for connecting a better set of headphones to LG's power port. Or you can use a wireless Bluetooth headset. We liked the FM radio though, which comes with 30 presets and a funky little virtual dial interface.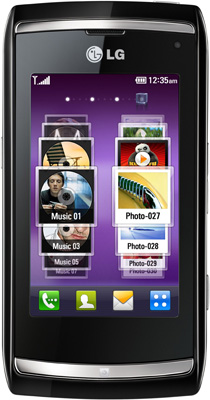 Supplied headphones are best seen but not heard
You can connect to the Internet using the Viewty Smart's fast HSDPA 3G (up to 7.2Mbps download) network connection, or even faster broadband via Wi-Fi. The browser allows you to zoom in or out by pinching with two fingers. It's not quite as smooth as the iPhone's multi-touch operation, but it's not bad. There's a YouTube app and LG has done a deal with Blogger, allowing you to upload pics and updates direct to your blog.
LG's File Manager syncing software worked efficiently and intuitively enough, but it doesn't allow you to create new files from within the software, and transfer speeds left something to be desired – a 20MB video file took a full two and half minutes to load. Incidentally, there's a reasonable 1.5GB of onboard memory, but you can add up to 32GB more via microSD card, although there's no card supplied.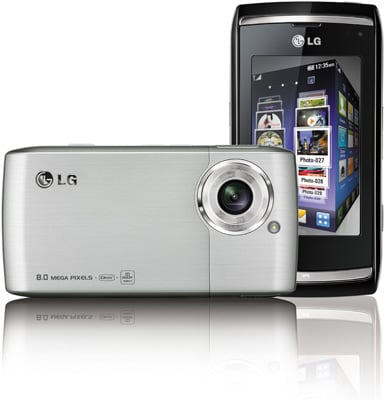 Media transfer times leave room for improvement
POP3 email accounts were easy to set up and while you can key in messages using the numeric keypad and T9 predictive text, by spinning it on its side, it automatically brings up a Qwerty keyboard. When you press the keys the number is highlighted with a tab, very like the iPhone. There's also the option of a little buzz of haptic feedback and audible clicks to help with typing.
The Viewty Smart claims up to 300hrs standby and 5.5hrs of talktime and in practise we got a little over two days of moderate use, with some web browsing over Wi-Fi, some music playing and a bit of video watching.
Verdict
The 8Mp camera has tended to be reserved for high-end phones, but with LG already promising a 12Mp camphone, this image resolution now appears on what is supposed to be a mid-price handset. There's no obvious skimping on ability – the camera is very impressive, viewing video and listening to music were both great when using decent headphones, and the browser too is a sound one. Overall, this is an impressively stylish and capable phone with an exceptional camera for a very reasonable price. ®
More Phone Reviews...

Sony Ericsson
C903

Samsung
i8910 Omnia HD

Nokia N97

LG Arena