Original URL: https://www.theregister.co.uk/2009/07/20/review_media_player_wyplay_wyplayer/
Wyplay Wyplayer
Media player with PVR pretensions
Posted in Personal Tech, 20th July 2009 08:02 GMT
Review Wyplay is a French company that's aimed its Wyplayer directly at users of the Gallic equivalent of Freeview – TNT HD – but who also require media player functionality. It is, in essence, a high definition Personal Video Recorder combined with a media streamer, in a single box. It may offer everything the average Frenchman needs, but how well will it fare in Blighty?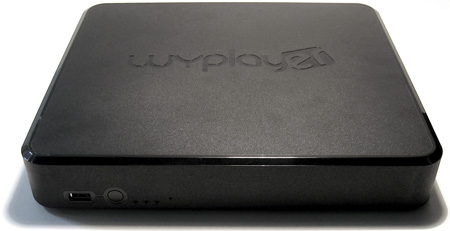 Wyplay's Wyplayer media player
The Wyplayer is a slim unit, almost square, measuring 275 x 240 x 45mm. The front panel has three LEDs that show status information, an IR receiver, and a USB port for plugging in mass storage devices. A tiny hole allows a paperclip to access the reset button. On the rear you'll find Ethernet, HDMI, composite video, S/PDIF digital audio output, left and right phono audio outputs, two more USB A connectors, a USB B and an input for the external power adaptor. There's a single UHF aerial connector, which feeds both tuners internally, and a pass-through output for the TV.
With no SCART connectors, there's no RGB output, and no component connectors; video output options of composite and HDMI are essentially at one extreme (composite) or the other (HDMI) The remote is very slender, just a little longer than a Mars bar, with just eleven buttons and a navigation wheel, but no channel numbers, coloured keys or any of the things we take for granted on a remote.
Installation is fairly straightforward, with an automatic wizard helping you through the setup; if you've plugged into Ethernet, it should automatically set up the connection and detect media servers on your network, using UPnP. There's also Wireless-N built in, which can be configured via the remote control.
The Wyplayer's interface is pretty easy to use, but you'll find yourself doing a lot of scrolling and clicking. Typically, when you enter a menu, you move up and down by pressing on the wheel to reach and item, then press right to actually reach the area where you make a choice, then use up and down again to set the value, and then press left.

French connection: Wot, no SCART?
When it comes to entering alphanumerics, there's an on-screen keyboard. To navigate, press the edges of the wheel, move the cursor by rotating it and select letters by pressing the centre. It's not quite as complicated as it sounds, but it's slower than having letters on a traditional keypad – mobile phone style.
Playing back media is fairly simple; press the 'Universe' key to select what you want to do, and scroll the wheel between video and photos, music, Internet and TV. Press to select, and then you'll see a list of the available servers, plus content that's stored on the Wyplayer's hard drive, and in some cases, additional options, like YouTube when you're viewing video and photos.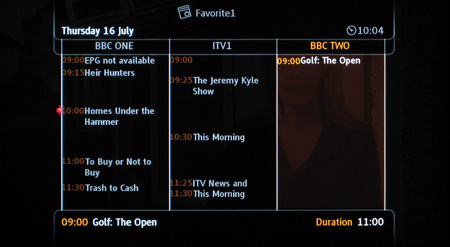 The EPG doesn't compare well with UK-specific kit
The scroll wheel moves up and down, and pressing will start playback, or you can go right to enter a folder, left to go back a level. A mark button allows you to select files, while the Action button brings up a menu that allows you to take some action on the marked items, like delete them, add them to a list, or copy them. The Navigator button brings up a list of other options. Select TV, for instance, and it offers a sort of extended now and next for the current channel, while the Action button gives choices like EPG and timer settings.
As you'd expect on a media player or digital TV, there's an info button too. When you're playing media, you can examine it's attributes, and even set parental control ratings. When watching TV, though, all it does is bring up a progress bar, allowing you to scroll backwards and forwards through as much of the current show as has been buffered to disk – for programme details, you need that Navigation button. It's certainly quirky, and we found it frustrating compared to more conventional ways of watching Freeview.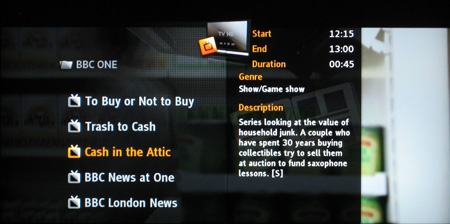 This extended 'now & next' is the only way to view the details of the current programme
Internet services include support for RSS feeds, podcasts and Internet radio, as well as YouTube in the video section. Most of this, though, you have to configure on the WyPlayer site, before the box signs in and retrieves the links you've set up.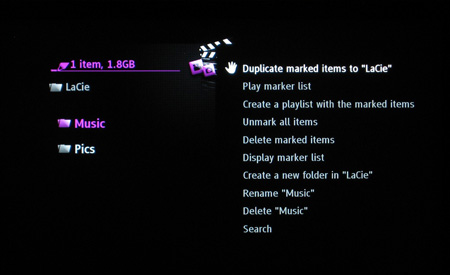 File copying to and from the internal drive
In terms of media playback, there's wide format support, and almost everything we threw at the Wyplayer worked fine – with the exception of a handful QuickTime and DivX HD files, though others of their kind worked fine. Support extends to H.264, including AVC HD files from camcorders, and MKV files with H.264 or VC1 content, and picture quality was extremely good via the HDMI port, which claims support for 24p, as well as 1080i.
You can play back directly from devices connected via USB, though we found that at times these weren't recognised until we restarted the Wyplayer. NTFS is supported, together with FAT, ext2 and even HFS for Mac users. If you're going away on holiday and want to take a collection of films or music with you, you can also use the USB B port on the rear panel to plug the Wyplayer directly into a PC, and it'll appear to be a hard drive, so you can load it up with content.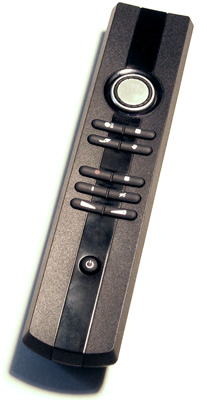 The minimalist remote won't appeal to everyone
If you can cope with some of the GUI peculiarities you can actually move TV recordings off the unit. Simply find the file you want, press Mark, then navigate to where you want to copy it, press Action, and then choose Duplicate. TV recordings are saved as the raw transport stream, in .ts files, so you can play them – subtitles and all – with VLC or MPEG StreamClip and convert to other formats if desired.
As a twin-tuner PVR the Wyplayer works well, but it lacks polish for the UK market. You can create 'favourite' lists of channels, which you'll need – with no number keys, there's a lot of wheel turning to scroll through the list otherwise. We also found remote performance seemed a little sluggish when recording.
You can add padding to the start and end of recordings, and set repeat recordings for a specific number of occurrences, but there's no support for the automatic series links of Freeview+, nor for its accurate recording triggers.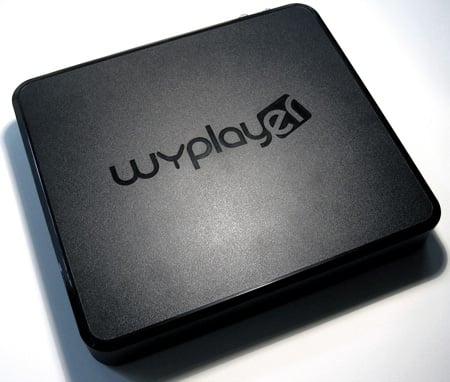 Does the job, but with some tweaks could be better still for UK buyers
Likewise, there's no support for interactive services, and frankly the EPG navigation on the Wyplayer is pretty poor. It's slow, and you can only see three channels at a time. Add to that the fact that Freeview HD won't work with the DVB-T tuners in the WyPlayer and it's perhaps best for UK buyers to consider having a standard definition Freeview tuner inside this media player is more of a useful extra, rather than the Wyplayer's raison d'être.
Verdict
The Wyplayer is rather let down by minimalist remote that will undoubtedly frustrate and the lack of support for Freeview+ programming features. Still, having the ability to record from Freeview will make it even more attractive to some, because, if just you want a media player that will handle most things you can throw at it, then the Wyplayer is actually a pretty good bit of kit. ®
More Network Media Player Reviews...

Netgear EVA9150
Digital Entertainer Elite

Archos TV+ 250GB

SiliconDust HDHomeRun

Solwise DMP-1120w