Original URL: http://www.theregister.co.uk/2009/07/20/review_laptop_apple_macbook_pro_13in/
Apple MacBook Pro 13in June 2009 release
Apple finally notices there's a recession
Posted in Personal Tech, 20th July 2009 12:28 GMT
Review Apple has always kept a clear dividing line between consumer products for home and education users, and more expensive professional models offering higher performance and additional features. And, until quite recently, its laptop range had stuck rigidly to that formula.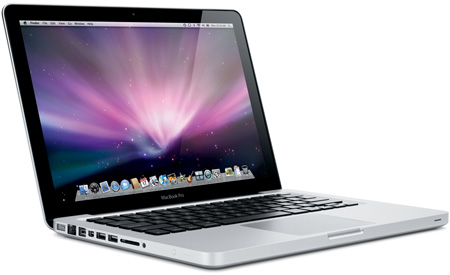 Apple's MacBook Pro 13in
However, Apple muddied the waters last October when it unveiled a completely redesigned version of the MacBook that boasted a new aluminium 'unibody' design that made it look much more like the MacBook Pro. The new design was extremely attractive, but it also came with a hefty price hike that took the starting point to just under £1000.
Apple somewhat grudgingly acknowledged that it probably wasn't a good idea to hit its customers with such a big price rise right in the middle of a global financial apocalypse. So it quietly kept one of the old white plastic MacBook models on sale as well in order to appease the price-sensitive education market that is so important to Apple.
So where did that leave unibody MacBook? It was a lot more expensive than the White MacBook that was still on the shelves, yet it lacked features such as the high-speed Firewire interface that justified the higher price of the MacBook Pro. It was, as our old granny used to say, neither one thing nor t'other.
A rethink was clearly in order and, as a result, the unibody MacBook has now been promoted to the rank of MacBook Pro, making it the first 13in model to carry that name. That move also maintains the recently updated white plastic MacBook to its position as the model for home users and students.

The MacBook Pro is actually thinner than the 13in MacBook
There are two versions of the 13in MacBook Pro available, starting at £899 for a model with 2.26GHz Core 2 Duo processor, 2GB of RAM, and 160GB hard disk. That compares to £949 for its predecessor, which ran at 2.0GHz. There's also a 2.53GHz model that we test here, which costs £1149.
There are no real surprises in terms of performance, although the new model's processor did a little better than we'd expected. You'd expect its 2.53GHz processor to be just a little faster than the 2.4GHz chip used by the faster of the original 'unibody' models, but it actually pulls ahead by a comfortable margin of more than 10 per cent.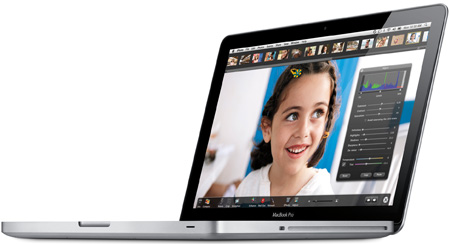 Duel fuel: as with all current Macs, booting as a Windows machine is an option
The laptop manages 62f/s when running Doom 3, compared to 55f/s for its predecessor, and it runs Windows Vista quite handily too if you need to use Apple's Boot Camp option to run Windows occasionally. That performance boost, combined with the slightly lower prices, provides better value for money and we expect that the 2.26GHz model costing £899 will sell particularly well.
Both models share the same glossy-coated 1200x800 resolution screen, which Apple says has now been updated to display 60 per cent greater colour 'gamut'. That will keep the design and photography crowd happy, though there's no obvious difference to the untrained eye. Some users still prefer non-glossy screens for graphics work, but that's less of an issue with this model, as you're unlikely to be doing a lot of detailed graphics work on a 13in screen.
Other features include a GeForce 9400M graphics processor that shares 256MB of system memory, 802.11n wireless networking, built-in webcam, Ethernet, two USB 2.0 ports and mini-DisplayPort for connecting to an external monitor. And, bowing to the howls of outrage from Mac users who like their high-speed Firewire hard disks, Apple has reinstated the Firewire interface that it dropped from the previous model.
In fact, it now gets the even faster Firewire 800 interface used by all the other Pro models, rather than the Firewire 400 still used by the ordinary white MacBook. There's no ExpressCard slot but, like the 15in MacBook Pro that we reviewed recently, it has gained a new SD card slot that can be used to transfer photos from a digital camera or – in a pinch – to boot the machine from an SD card.

At last, FireWire returns. Will Apple ever learn?
The other important feature that it now shares with the other MacBook Pro models is the new long-lasting – but non-replaceable – battery. Apple's press release announcements seem to imply that the 13in and 15in models both have the same '7-hour' battery. However, we suspect that the 13in model has a smaller battery – which, of course, would hardly be surprising given the smaller amount of space available inside the unit.
PC Benchmarks
PCMark05 Results
Overall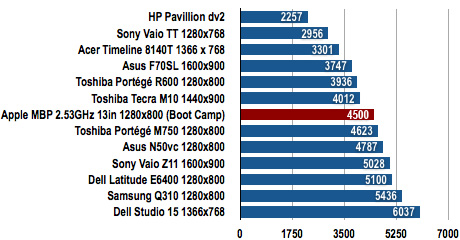 Longer bars are better
CPU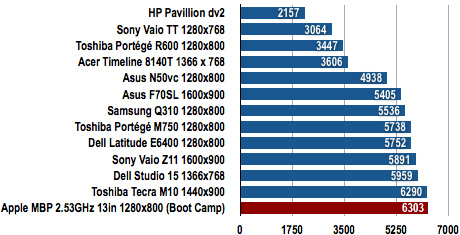 Longer bars are better
Memory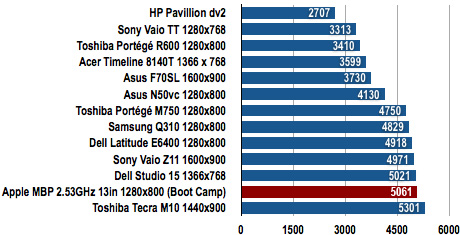 Longer bars are better
Graphics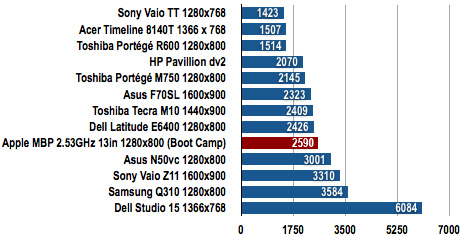 Longer bars are better
HDD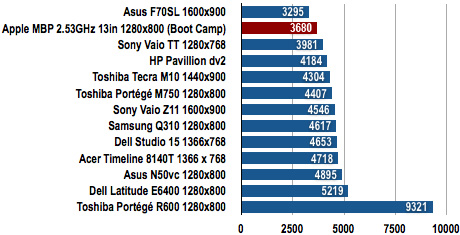 Longer bars are better
3DMark06 Results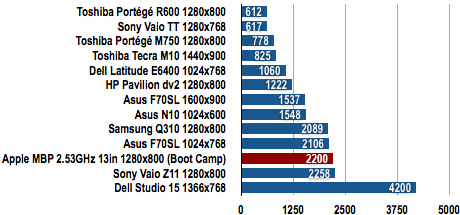 Longer bars are better
Mac Benchmarks
XBench Results
Overall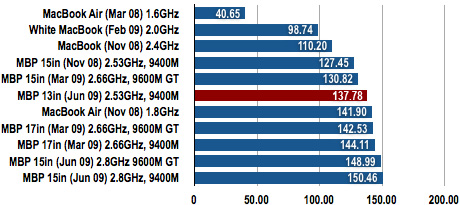 Longer bars are better
CPU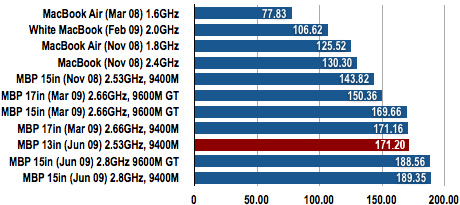 Longer bars are better
Memory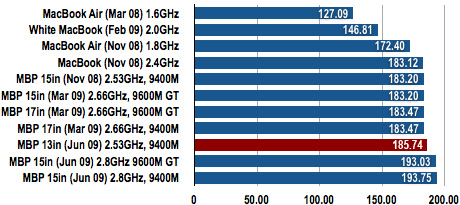 Longer bars are better
Graphics – Quartz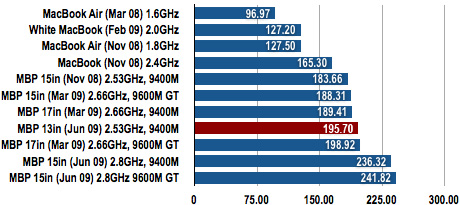 Longer bars are better
Graphics – OpenGL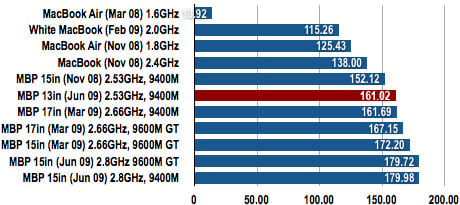 Longer bars are better
HDD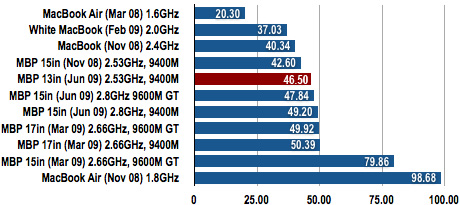 Longer bars are better
The 13in MacBook Pro managed to last for four hours when running full-screen H.264 video off the hard disk. That's half an hour less than we got from the 15in model, but is still pretty impressive and is a full hour more than we got from its predecessor. You can also add about another hour for less demanding tasks such as surfing the net or typing away in Microsoft Word.

It's even possible to boot from storage in the SD card slot
The size and weight of the unit make it easy and comfortable to carry around. It's not as light as the MacBook Air, but its 2.0Kg weight balances nicely in your hands. It ran quietly and without getting too hot even when we were running hours of video off the hard disk, so you can kick back at home with the machine sitting on your lap in complete comfort.
Additional little touches, such as the backlit keyboard and the multi-touch gestures that you can perform on the trackpad, all add to the stylish feel of the unit. It certainly leaves the less-expensive white plastic MacBook looking a little drab. Even though both models have the same size screen, the MacBook Pro is about 0.25Kg lighter and 0.3in thinner, so Apple's definitely making the effort to tempt people away from the basic MacBook model.
Verdict
Although the unibody design is sleek and attractive, the original Aluminium MacBook definitely looked over-priced when compared to its white plastic counterpart. Apple has clearly acknowledged that mistake with this update, as the improved performance, battery life and lower pricing certainly offer better value for money. The £899 model will probably be the big seller, but both models will satisfy the clear demand from Mac fans for a 13in addition to the MacBook Pro range. ®
More Apple Laptop Reviews...

MacBook 13in
June 2009

MacBook Pro 15in
June 2009

MacBook Pro 17in
March 2009

MacBook Air
October 2008