Original URL: https://www.theregister.co.uk/2009/07/16/review_storage_network_synology_ds409slim/
Synology Disk Station 409Slim
Laptop storage drives nano Nas box
Posted in Personal Tech, 16th July 2009 08:02 GMT
Review At first glance, the Synology Disk Station 409 Slim seems a rather strange concept. Why use 2.5in disks in a four bay Nas enclosure? Surely, you'd want to cram as much storage space as possible into a NAS? Moreover, 2.5in drives are currently limited to around one quarter of the capacity of their 3.5in counterparts, hence, limiting the total internal capacity of the device to 2TB.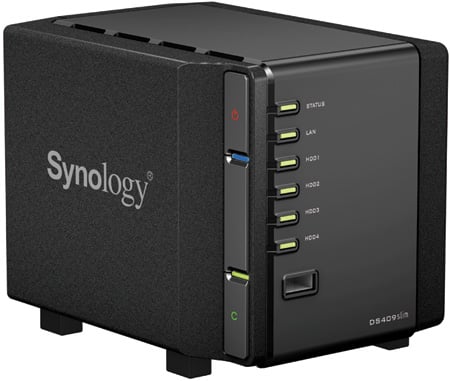 Synology's DS406Slim four bay Nas
Also, smaller drives are also considerably more expensive. If you go for 500GB disks, you'll pay around double for a 2.5in drive. Yet, by using 2.5in drives, the DS409 Slim is able to take advantage of many of the storage technology advances utilised by modern laptops.
At only 120mm x 105 mm x 142 mm and weighing only 660g, it's around half the size of a Disk Station 209 which uses 3.5in disks – and that's only a twin-bay model. While a four-bay NAS may prove a little large for many home users, you can put the DS409 Slim just about anywhere.
Low power consumption, critical for laptop users, is also of advantage to those of us wishing to run our NAS 24/7. Synology's own figures rate the power consumption of the DS409 Slim at around 19W during disk access when using two drives. We recorded an even lower figure of 15.5W when writing to two disks in a RAID 0 configuration.
The smaller drives also make less noise. With reduced power consumption comes reduced heat output and therefore less external cooling is required - which in turn reduces fan noise. While the DS409 Slim isn't silent, it's certainly rather quiet at around 24dB(A).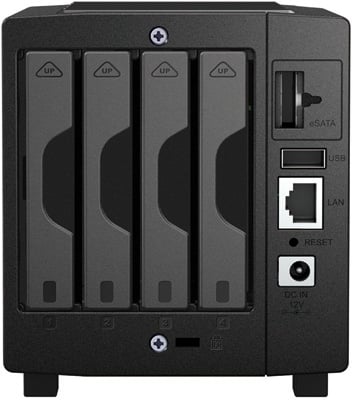 Compact kudos, however, limits interfacing options
The smart fan system ensures that the fan remains off until cooling is required; making this an excellent choice for those you like to stream their music without the irritation of whirring fans. The device itself is also comes with its own stand and is fitted with thick rubber feet which help to eliminate vibrational noise.
It may cut back on size, but the DS409 Slim doesn't cut back on features. Granted, its diminutive size limits the interfacing to a single Gigabit LAN port, a pair of USB sockets and an eSATA connector. Yet all the standard functions of Synology's excellent firmware are there – and that means you get a lot of options.
Multiple RAID formats are supported, including JBOD, RAID0, RAID1, RAID5, RAID 5+Spare and RAID6. You can incorporate additional external drives into the array using one of Synology's purpose-built enclosures and you can convert between different RAID levels with ease.
Synology's firmware is very impressive, not least because of its excellent web-based user interface. The massive array of choices runs to way more than a screenful on most monitors, but the company has taken a lot of care over the interface design. By taking a modular approach the whole process feels simple and almost enjoyable.
For example, the main management interface offers Wizard and Expert modes. By starting off in Wizard mode, you arrive at a rather pretty, icon-based page which takes you straight to the options you'll most likely want to set up first; creating users and setting up shared folders.
It also gives you quick access to backup and FTP server configuration, as well as helping you set up a fully fledged Web server, including PHP/MySQL and Photo Station, which allows you to create a photo and video-based blog which can be optionally shared over the Internet.
Power Consumption (Watts)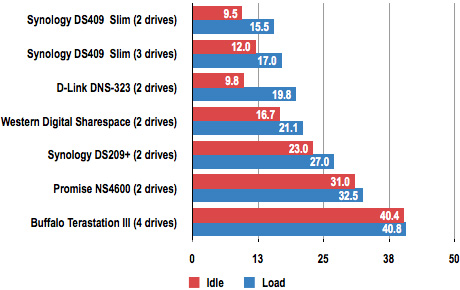 Shorter bars are better
In addition to all the usual network file sharing capabilities – for up to 64 simultaneous users from a maximum of 1,024 accounts – you also get support for Windows Active Directory Services, network re-cycle bins and email system notifications.
Home users will love the unattended BitTorrent and eMule downloads and UPnP media streaming. You also get an iTunes server although, sadly, there's no DLNA certification. You can even plug a set of digital USB speakers directly into the device and listen to stored music using an optional wireless remote control.
IP cameras can be connected directly to the NAS and managed from the built-in Surveillance Station 2 application, which will allow video recording direct to hard drive. When any of these optional functions is enabled, it's given its own icon at the top level of the web interface, making the whole system very simple to configure and use.
Read Transfer Speeds (MB/s)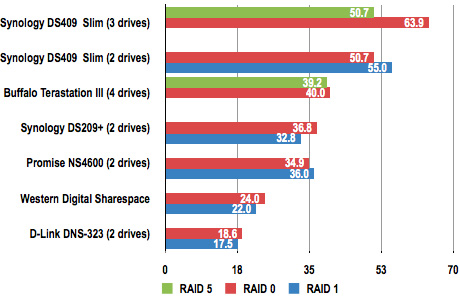 <
Longer bars are better
Write Transfer Speeds (MB/s)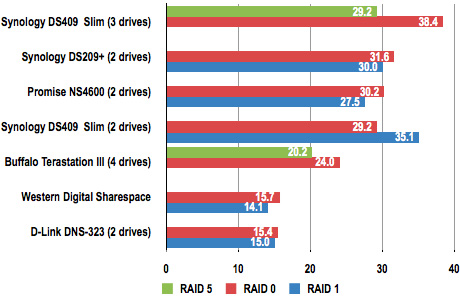 Longer bars are better
Really, we're just skimming the surface of what the DS409 Slim can do. The extensible nature of the operating system means you can download additional packages from Synology to expand its capabilities still further. For example, the Mail Station package allows you to run a full mail server on the device with support for Webmail, SMTP, POP3 and IMAP.
What's more Synology regularly updates its firmware, often including many user-requested features. The version 2.2 firmware due in September, promises such goodies as support for iSCSI, Apple Time Machine, a DLNA music server and a built-in firewall. It will also add support for writing to external NTFS hard drives.
The DS409 Slim ships without disks. However, our review sample was supplied with three 250GB Western Digital Scorpio Blue 5,400 rpm hard drives. We tested read and write performance using a single drive and then a RAID0 array striped across all three disks. To measure transfer speeds, we set up a 1GB RAM disk on a PC and then copied a 901MB to the NAS across a gigabit switch using Windows Explorer.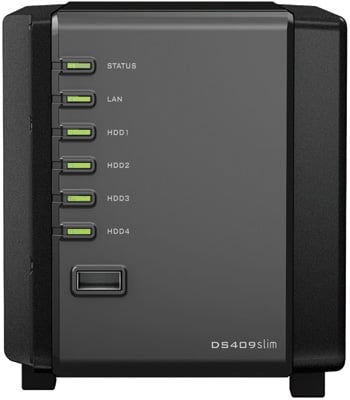 Price per gigabyte is an issue, but its energy saving is exceptional
The results were very impressive. When reading from all three drives configured in RAID 0, we achieved a blistering top speed of 63.9MB/s – a result with beats many far pricier products. Write performance was also excellent at 38.3MB/s. Dropping down to a two-drive configuration shows the DS409 Slim is still more than capable of beating the competition, with read speeds of over 50MB/s, beating Buffalo's Terastation III even when the latter is operating with four drives.
Verdict
The DS409Slim will cost you more per Gigabyte than a similarly stocked 3.5in model, but offers excellent environmental characteristics – notably low noise and reduced power consumption. While it is tiny, it does lose out on sheer build quality to the likes of Qnap or the pricier Buffalo units, due to its plastic construction. But when it comes to features and performance, the DS409Slim makes no compromises. ®
More Nas Reviews...

Buffalo
Terastation III

Promise Smartstor NS4600

Western Digital
Sharespace

Cisco Linksys
Media Hub