Original URL: https://www.theregister.co.uk/2009/07/16/review_hd_tv_panasonic_tx_p42g10/
Panasonic Viera TX-P42G10 Freesat HD TV
Plasma provides pacy picture precision
Posted in Personal Tech, 16th July 2009 12:02 GMT
Review It was a smart move by Panasonic to time its recent ad campaign to coincide with the French Open and Wimbledon tennis season. Indeed, tennis is certainly the sort of sport that highlights benefits of the company's 600Hz 'intelligent frame creation' technology used in its Viera NeoPDP televisions.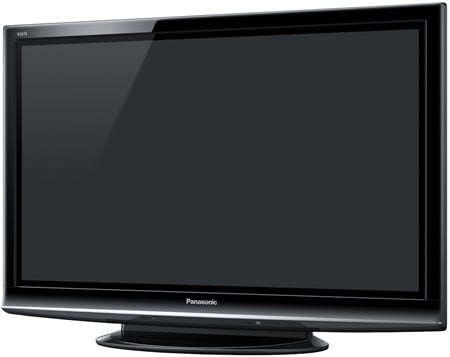 Panasonic's Viera TX-P42G10 plasma HD TV
The technology was first introduced last year as a way to improve the smoothness of moving images in fast-motion sports programmes. Panasonic has now extended the use of this feature to its latest crop of plasma screens, including this 42in Full HD model, which is currently the cheapest and smallest model in its G10 range. Panasonic quotes a price of £1199 for the P42G10, but you can pick it up for about £850 on-line – stacking up well against comparable LCD models.
We should point out, though, that Panasonic's model-numbering scheme is deeply confusing – especially when you realize that there's a G10 series of LCD screens as well. However, it's only the plasma models that boast the 600Hz option, so it's important to check the specifications of the various G10 models to ensure you get the right one.
The P42G10 looks fairly straightforward when you lift it out of its box. The glossy black bevel and silver trim is neat and unfussy, and we confess that we were rather tickled by the section in the manual entitled Maintaining Your Shiny Bits. The back panel doesn't make such a good impression, though, as the various ports and connectors sit in the middle of some rather ugly bare metal plating. You won't spend much time looking at the back panel, of course, but some cosmetic improvements wouldn't go amiss here.
There's a good selection of connectors, kicking off with Panasonic's, now standard, Freesat HD tuner. Those without a satellite set-up can use the conventional TV tuner that can receive both analogue and Freeview digital channels. Three HDMI interfaces are available for connecting additional video sources, along with two Scarts; component-, composite- and s-video; and a VGA connector for a computer – although we opted to use one of the HDMI ports for some tests with our trusty Mac Mini.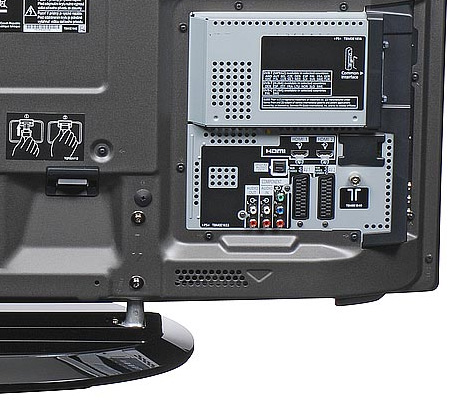 Socket sets: Ethernet interfacing is reserved for future Freesat services
Audio support is good too, with a stereo audio input and output, a headphone socket conveniently situated on the left-hand edge of the unit, and a digital audio output with support for Dolby Digital Plus surround sound. There's also a CI slot for top-up TV services, and an SD slot memory cards so that you can watch photo-slideshows.
Finally, the P42G10 also has an Ethernet interface that is reserved for future Freesat services, such as the BBC iPlayer, which will soon be available over Freesat. It does not, however, support the Vieracast Internet service that is available on some of Panasonic's more expensive models.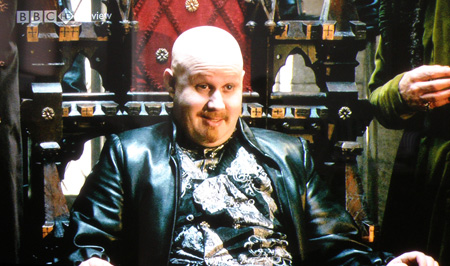 Little Britain's got talent?
Configuring the P42G10 takes very little time, as there's an auto-setup option that quickly scans for analogue, Freeview and Freesat channels. Unfortunately, our first impression of the picture quality wasn't overwhelming, as the image looked really rather dull and lifeless. A little exploration in the on-screen menu system revealed a number of presets for viewing settings, and we found that the P42G10 was using its default Normal setting. The Movie and Dynamic presets produced much better results, boosting both the brightness and the boldness of colours.
For gaming console users, there's a Games preset and you've also got the option of adjusting the individual contrast, brightness and colour settings manually, if preferred. With a bit of fiddling, we soon had a much more attractive image on the screen. Yet it strikes us as odd that the default preset was so poor, as those who aren't used to playing with image settings are likely to be disappointed with the image that initially confronts them.
Interestingly, it was while we were delving through the various on-screen menus that we discovered that the intelligent frame creation option was turned off by default. This 'normal' default preset really does cut out all the fancy stuff.
When you turn intelligent frame creation on, the image that you see on screen is still refreshed at the standard 25 frames per second for PAL broadcasts (equivalent to 50Hz). However, according to Panasonic, the video signal being input into the TV is sampled at a rate of 600Hz, which allows it to plot the movement of fast-moving objects – such as a tennis ball – more accurately than normal. The set's internal processor can then generate and insert new frames that display that movement more smoothly than the original signal.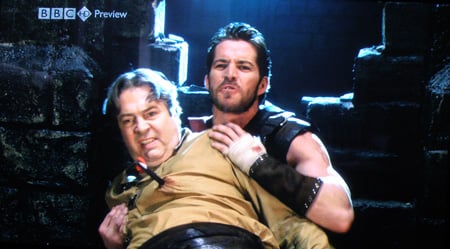 Fast action sequences benefit from this Viera's motion smoothing technology
We took a look at a variety of sports programmes, including some tennis, cycling, horse-racing and a spot of footie to test this 600Hz technology. Certainly, intelligent frame creation did genuinely help to remove motion blur from fast-moving objects such as whizzing tennis balls and flailing horse-hooves. So, if you watch a lot of sport, the P42G10 will earn its keep.
The other outstanding aspect of the G10 plasma screens is what Panasonic refers to as their 'infinite black' contrast – or, to be specific, the 2,000,000:1 contrast ratio. Again, this worked well, and gloom-laden films such as The Dark Knight really did display robust blacks, while also allowing you to pick out details such as Batman's midnight-black costume amidst the background gloom.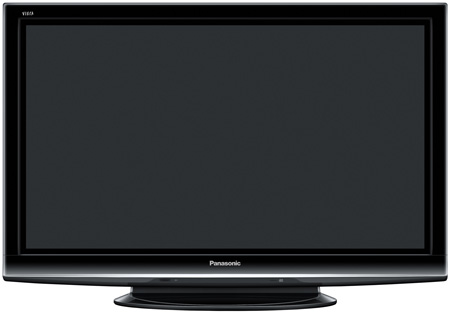 Smooth operator: suits sports fans with enough black depth for movie buffs
Our only minor issue is that there's still some room for improvement when scaling standard-definition images to fill the 42in HD display. This is always tricky with such a large screen, but there's a noticeable softness and lack of detail around the edges of objects blown up to this size.
However, we had no complaints about the quality of the HD image. Flicking over to BBC HD on Freesat produces an immediate and obvious increase in quality, with the airbrushed softness of SD programmes being replaced by the clarity and detail that you'd expect from HD content.
Audio quality is good too, and the 20W output is beefy enough to do justice to music programmes and Hollywood blockbuster sound effects. The virtual-surround sound option is no great shakes, but you've got the Dolby Digital Plus output if you want to go the whole hog with a proper set of surround sound speakers.
Verdict
If all you're looking for is a big 42in flat-screen TV for watching routine standard-definition fare such as Big Brother or Britain's [Not] Got Talent, then there are cheaper – possibly even better – LCD sets available, as we've seen LCD models that scale SD content more effectively. However, sports fans will appreciate the reduction in motion-blur achieved by Panasonic's 600Hz processing, while its impressive contrast ratio and crisp, clean blacks make it a good choice for movie buffs. And, of course, there's the Freesat HD tuner to add a little extra value for money as well. ®
More HD TV Reviews...

Toshiba Regza
37AV615DB

Pioneer
Kuro KRL-37V

Sony Bravia
KDL-37S5500

LG 42LF7700
Freesat TV