Original URL: http://www.theregister.co.uk/2009/07/15/review_printer_colour_inkjet_ricoh_aficio_gx_3000s/
Ricoh Aficio GX 3000S
Quick dry ink, the fast print solution?
Posted in Personal Tech, 15th July 2009 08:02 GMT
Review The main problem with shoehorning inkjet printers and all-in-ones into the office environment is the time it takes for the ink to dry. Faster drying ink means higher print speeds, so Ricoh's Gelsprinter technology that utilises gel-based inks, is designed to offer high-speed documents, with the benefits of the large colour gamut of liquid ink.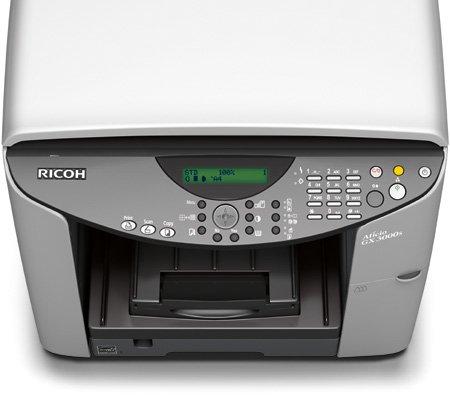 High and dry: Ricoh's Aficio GX 3000S
Ricoh's Gelsprinters made a rather stuttering launch onto the inkjet printer scene, as they required a firmware update soon after launch, which held back the first production samples. Now more established, Ricoh is still not the first company you think of when considering an inkjet all-in-one. The Aficio GX 3000S is a full multi-function printer, offering scanning and copying, as well as print, but without fax or photo print functions.
You could be forgiven for thinking this is a laser-based machine, since it has a large footprint and is much higher off the desk than even other office-oriented inkjets. Although it has with a substantial inkjet printhead to move across the platen, it still seems unnecessarily tall.
The simple, A4 flatbed scanner has a colour resolution of just 300dpi, or 600dpi when scanning monochrome. There's no Automatic Document Feeder (ADF), which is a shame, given the machine is aimed at office use, but this feature does appear on the GX 3000SF and the GX 3050SFN.
More of a shame is the fact that there's no fax, even though the control panel includes a number pad for dialling. However, if the on-line PDF brochure, rather than the UK website is to be believed, the GX 3000SF and the GX 3050SFN are equipped with fax functions.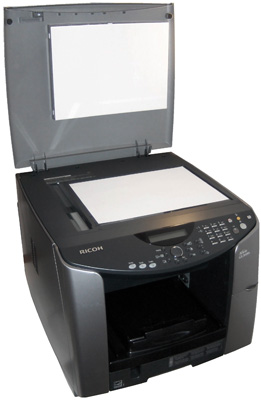 Taller than most, for no good reason that we can see
The pad does enable you to e-mail scanned images across a network to any of 120 different stored addresses, but only if you add the optional Ethernet adapter. The Aficio GX 3000S comes as standard with just USB.
A 2-line by 16-character, backlit LCD display shows status and menu options and a large array of buttons in front of this provides for menu navigation and functions such as brightness, contrast and image reduction. To the left of this cluster are mode buttons for print, scan and copy, while at the right end are buttons to start mono and colour copies and to cancel a current job.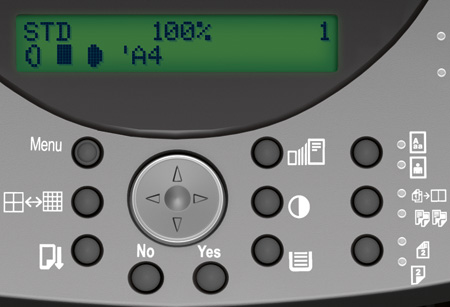 Control panel navigation has all the usual offerings
There's no front panel USB socket, hence no facility to print from a USB drive or to save scanned images to one, though you can save scans to a PC in PDF format, as well as JPEG and TIFF. At the bottom of the front panel is a 250-sheet paper tray and an extending support directly above this takes printed pages, after they've made a full 180-degree turn during printing. Extra, 250-sheet trays are available as options.
The four, gels ink cartridges slide in behind a cover to the right of the main paper tray and this is all the physical set up that's required. Software installation is a lot more cumbersome, as Ricoh asks you to turn off Windows' Found New Hardware Wizard, not just to cancel it, if it detects the printer. This is non-trivial and no instructions are given.
The difficulty is compounded by the Ricoh setup routine not always recognising the printer. If this happens, by default it instals a parallel printer driver for its non-existent parallel port. In the end, we had to manually instal USB print and scanner drivers to get the machine to work. Ricoh provides drivers for Windows, from 2000 on, and for OS X 10.3 and above. There's no mention of Linux support.
You might get quite excited by a quoted speed of 29ppm for both black and colour print, but you probably know what's coming next. The Aficio GX 3000S doesn't come close to these speeds in normal use and, indeed, the printer's manual quotes a different figure of 18.5ppm. Measuring from initiating a print to the final page hitting the output tray gives a black print speed of 9.4ppm on a short document, rising to only 10.2ppm on a longer, 20-page print.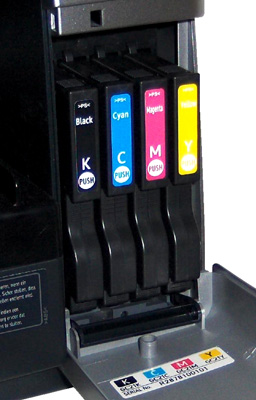 Four gel ink cartridges slide in from the front
A five-page text and colour graphics document gives a speed of 7.7ppm. None of these speeds is bad for a colour inkjet, though they are not that much faster than, for example, HP's OfficeJet Pro 8500. Where the Ricoh machine does excel, though, is when printing duplex. It has a duplexer built in and, because of the quick drying of the gels inks, it prints a 20-side duplex document in just 2mins 23s, a speed of 8.4spm. This is getting on for twice as fast as the OfficeJet Pro.
The main factor that can affect the look of inkjet print is the way the ink seeps into the paper fibres. We expected the more viscous gels inks to bleed less in this way, but we were disappointed. In fact we saw quite a bit of feathering, where the outlines of characters take on a slightly spiky appearance and this was also apparent when printing black over colour. Bold text in normal sizes, 10-12pt, shows signs of infill within characters like 'a' and 'o', too.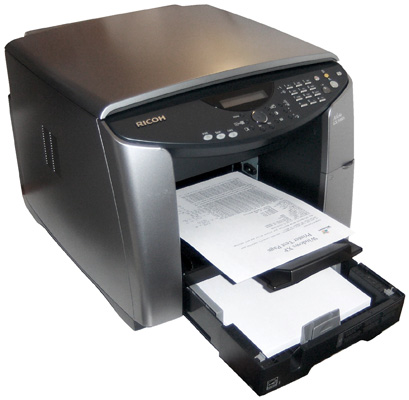 Just a single 250-sheet tray as standard and no multi-purpose offering
Printing photos on glossy photo paper, which has to be loaded into the main paper tray, gives good results, perhaps not up to the precision and colour fidelity of the best Canon and HP machines, but serviceable in an office. Colour photocopies from the flatbed scanner lose quite a lot of definition and colour depth in comparison with originals, but would be OK for internal use. Yet, the maximum resolution of 600dpi is oddly mismatched with the quoted print resolution of 3,600 x 1,200dpi.
The four gels ink cartridges are the only consumables needed to run this machine, apart from an ink collection unit, which has a long service life of 18,000 pages. The black cartridge has a rated yield of 1,500 pages and each of the colour ones should last 1,000 pages. This gives a cost per page for black print of 1.9p and for colour 10.9p.
Again comparing with the OfficeJet Pro 8500, the page costs there are 1.2p and 4.8p, respectively. So, however you measure it, this is not a particularly cheap printer to run, particularly when printing colour, which is one of the main reasons for buying an inkjet, over a laser. The Aficio GX 3000S is quick, particularly when printing duplex, but gives print which is less attractive and more expensive than from some of its mainstream competitors. The gels technology appears to offer little advantage over more conventional ink.
Verdict
The Aficio GX 3000S has the feeling of a work in progress. Some basic facilities, such as a front-panel USB socket, a multipurpose tray and a network adapter are either unavailable or options. Although it has a duplexer and prints quickly, print quality isn't as good as from, for example, HP OfficeJet Pro models at around this price. ®
More All-in-One Printer Reviews...
| | | | |
| --- | --- | --- | --- |
| Canon Pixma MX330 | Kodak ESP-7 | Brother MFC-990CW | Brother MFC-5890CN |