Original URL: http://www.theregister.co.uk/2009/07/13/review_smartphone_htc_snap/
HTC Snap
Paint it BlackBerry
Posted in Personal Tech, 13th July 2009 12:02 GMT
Review Another week, another handset from HTC, or so it seems. The Taiwanese manufacturer has been churning out new Windows Mobile smart phones with indecent haste of late, and seems to be showing no signs of flagging.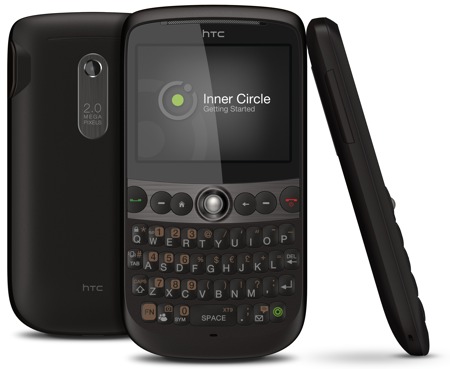 HTC's Snap: keep up with your inner retinue
The latest is a break from the firm's Touch series and instead more closely resembles the classic BlackBerry look, with front-mounted Qwerty keyboard and trackball. Inside, it's all Windows Mobile, though of a slightly more basic stripe than much of HTC's Touch series, but it also packs in HSDPA 3G, A-GPS, Wi-Fi and a 2Mp camera.
Looks-wise, the Snap is all puritan business black, though the austere effect is leavened a little by the rubberised plastic of the casing, which feels warm and welcoming to the touch. It's a slimline, fairly lightweight device at 117 x 62 x 12mm and 120g, and nestles comfortably in the hand. The sides are uncluttered, with only a volume rocker and mini USB power/headphone socket covered by a sturdy grommet to break up the smooth lines.
There's a Micro SD memory card slot at the bottom, just beneath the SIM card, and though you'll need to remove the rear cover to get to it, you don't need to remove the battery.
The backlit TFT LCD screen measures 2.4in a 320 x 240 resolution. It's nice and bright, though you can adjust this to extend the battery life, and does a fine job of rendering pics, videos and web pages, but suffers from a narrower-than-usual viewing angle.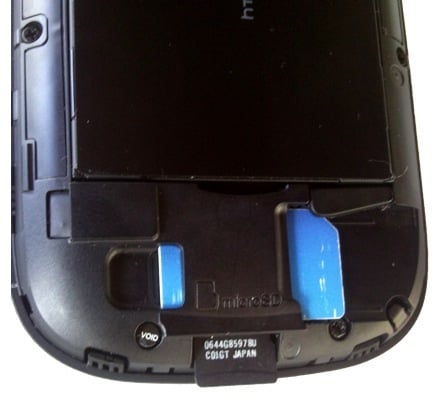 You need to remove the back - but not the battery - to access the Sim card and Micro SD slot
The trackball feels exactly like the one on the Blackberry: nicely responsive - and you can adjust its sensitivity if it doesn't suit you - and, after a little practice, becomes intuitive to use.
On either side are call start and stop buttons, home and back keys plus two soft keys for the Contacts list and the Windows menu. The four-line keyboard is nicely done, and though there are no spaces between the keys in each line, the rounded shape of the buttons makes them easy to distinguish under the thumb. We found it just as easy to use with one or two hands.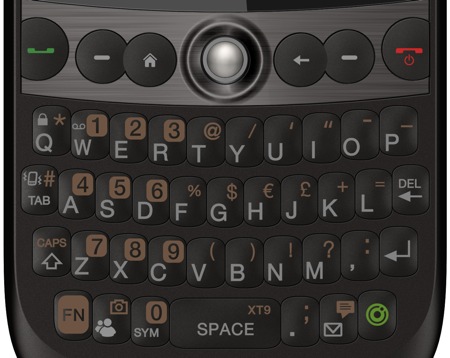 A good, messaging-friendly keyboard
We'd have liked to be able to get symbols by holding down the appropriate key, which is how our Nokia E71 works. Instead, you'll have to use the FN button, requiring two presses to put a number into a text message. Shame.
There are shortcut keys for messaging and Windows Messenger, as well as Inner Circle, a utility that prioritises emails from your most important contacts. You can add anyone to your Inner Circle list, and when you press the dedicated key on the keyboard, emails from anyone on that list come to the fore. Unfortunately, there's only one Inner Circle, so your most important family members will be bundled in with your most important work colleagues, but it's still useful if you've got a bulging inbox full of trivia.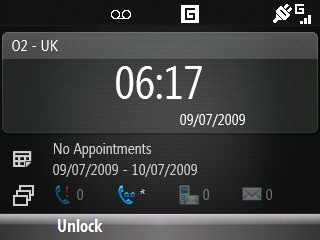 HTC has improved on the Windows UI...
The Windows Mobile 6.1 Standard edition user interface hasn't had the same extensive overhaul treatment as HTC's touch screen devices such as the Touch Pro 2. There's a basic HTC menu which allows you to flick between the main apps such as messaging, calendar, settings, video, music player, web browser, weather etc, but the Windows menu brings up the OS' standard clunky layout. If HTC plans more Windows Mobile Standard devices, we'd like to see the interface brought up to the standard of their touchscreen brethren.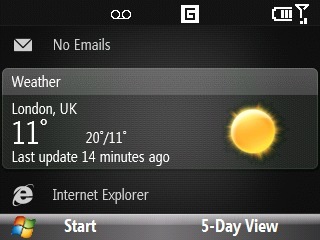 ...but it's as big an overhaul as the Touch phones' UI is
POP3 email accounts were easy to set up and you can arrange for your inbox to be checked automatically at five minute intervals or less.
The default browser is Internet Explorer 6, but we were surprised to find no Opera on board, though it was the work of a moment to download it. IE6 isn't so bad though. Most web pages rendered reasonably accurately and the soft keys offer options to zoom, change text size, view history and copy/paste text. It doesn't have the handy YouTube app of the Touch series, which makes browsing easier, though we could view the vids easily enough.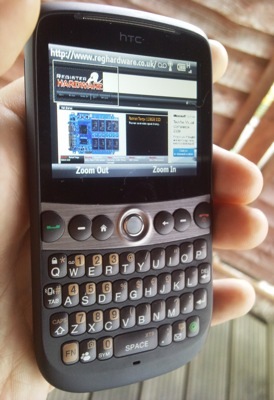 Connections are fast, and the browser's not too shabby
Connecting over HSDPA 3G (up to 7.2Mb/s) or Wi-Fi on this quad-band phone is nice and fast too.
The fixed-focus 2Mp camera seems like a throwback to another age, and almost willfully retro on a mid-range handset like this. You can launch it using two button presses on the keyboard, otherwise it's hidden away in the Multimedia menu. Despite the Snap's 3G credentials, there's no front-facing camera for video calling.
It will take pics up to 1600 x 1200 pixel resolution and there's a 2x digital zoom, a timer (up to ten seconds) and widescreen panorama mode. Pictures tend to be a bit fuzzy with washed out colours, and so the camera barely passes muster as even an occasional snapper. Video doesn't look too bad on the small screen, but transferred to our PC it proved to be blocky and pixellated.
The screen, which looks fine when viewing video, shows its limitations when you try to look at the viewfinder from any sort of angle – the picture very soon disintegrates into blocks of ill-defined light and shade.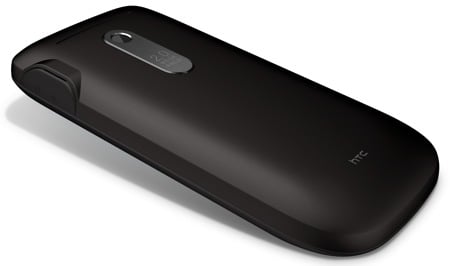 The 2Mp camera seems like a throwback to another age
Watching downloaded video clips was much better than viewing those recorded by the Snap, with a good level of clarity and detail. But the dimensions of the smallish screen mean this doesn't really cut it as a multimedia device you'll want to use for extended watching. It supports a broad range of media formats though, with AAC, AAC+, eAAC+, AMR, AWB, QCP, MP3, WMA, WAV and MIDI for audio and WMV, ASF, MP4, 3GP, 3G2, M4V and AVI for video.
The music player has few frills and the trackball control takes a bit of getting used to. You need to nudge it left or right to scroll through your tracks and it's easy to go too far. The sound through the supplied headphones wasn't as bad as we'd feared it might be, with a surprising amount of air and space, though they're very light on bass. There's no graphic equaliser to adjust the sound, nor is there a 3.5mm headphone jack.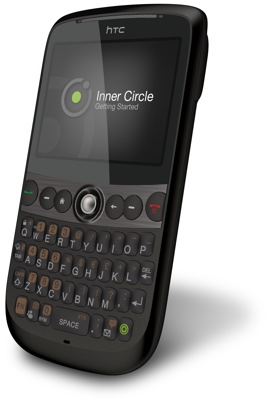 Messaging to the fore, not multimedia
The Snap comes with A-GPS and Google Maps on board, both of which worked fine, and this being a Windows Mobile handset, you can add satnav software from any of the main manufacturers. Without a big touchscreen though, it's likely to be more hindrance than help if you try to use it while driving.
Office Mobile comes pre-loaded, allowing you to view PowerPoint docs, and edit Word and Excel files, though not create them. Windows Live - aka Bing - is also present as an alternative search option to Google, should you feel the need.
The battery offers the same capacity as the one we've seen recently on the Touch Pro 2 - and a bit more than the Touch Diamond 2 - but the smaller screen means it can keep running for longer – a good three days of moderate use in our case, which is pretty good going for a smartphone.
Verdict
The HTC Snap looks solidly professional but its rubberised plastic casing is extremely tactile and its Qwerty keyboard is a joy to use. Its focus is clearly on messaging, and it keeps the price down by placing its multimedia capabilities on the sidelines. Browsing and PIM functions are functional rather than fun, but the Snap is a solid little slimline, mid-price workhorse that's likely to find its way into many a pinstriped suit pocket. ®
More Smartphone Reviews...
| | | | |
| --- | --- | --- | --- |
| Nokia N97 | Acer Tempo F900 | HTC Touch Pro 2 | HTC Vodafone Magic |