Original URL: http://www.theregister.co.uk/2009/07/13/honda_leccy_jazz_cr_z/
Honda promises hybrid Jazz, CR-Z next year
Worthwhile competition for the Prius at last?
Posted in Science, 13th July 2009 11:32 GMT
Leccy Tech Honda has announced it is to put two new hybrids into production alongside its Insight and Civic models.
Towards the end of 2010, a hybrid version of the Honda Fit will be launched. That's just a Jazz by another name, and nothing to get too excited about.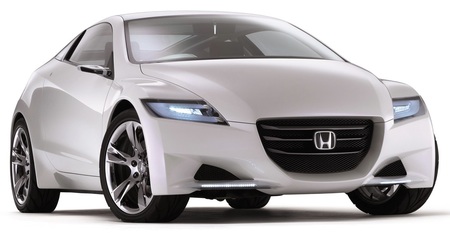 Honda's CR-Z:
Far more interesting is the news that, come February next year, Honda will finally launch its CR-Z coupé.
Honda has been showing a bit of CR-Z ankle at car shows around the world for the last two years so it's about time it stuffed the Insight's hybrid power train in the thing and gave us all the chance to buy one.
With the CR-Z – it stands for Compact Renaissance Zero, in case you were wondering – due in less than eight months, it's safe to assume the basic drive train will be very similar to that of the current Insight. So expect a 98bhp 1.3l four-cylinder petrol engine hooked up to a 13bhp electric motor and a CVT automatic gearbox.
Being both smaller and lighter than the Insight, the CR-Z should a good bit faster and more agile – the Insight's 0-62 time of 12.5 seconds and top speed of 113mph don't exactly set the pulse racing.
Having two less doors, it's just possible the CR-Z may undercut the Insight's £15,990 ($25,900/€18,600) on-the-road price.

Not a Clarkson favourite...
Though sales of the Insight have been below expectation in the US, where the Toyota Prius remains the hybrid of choice, shipments have been strong in both Japan and Europe - despite Jeremy Clarkson calling it "biblically terrible", a judgement we will be putting to the test in a few weeks' time.
Honda didn't say when the the hybrid CR-Z and Fit will arrive in Blighty, but we would expect to see them sooner rather than later. ®
Honda CR-Z Picture Gallery