Original URL: http://www.theregister.co.uk/2009/07/09/review_phone_samsung_i8910_omnia_hd_camera_phone/
Samsung i8910 Omnia HD
HD recording camphone, anyone?
Posted in Personal Tech, 9th July 2009 11:11 GMT
Review The Samsung i8910 Omnia HD comes with a weight of expectation upon it. As the first cameraphone claiming to be capable of recording HD video, it sets itself up to be challenged. Fortunately, for the most part it comes through. With its stonking 8Mp camera and huge OLED screen, this smartphone has what it takes to be an iPhone alternative that can really deliver on media.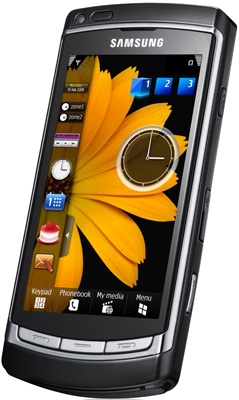 Samsung's i8910 Omnia HD
When it comes to watching video, big is generally better, and the Samsung i8910 Omnia HD makes it clear that watching video is very much what it's all about. A large slab of a handset, at 123 x 58 x 13mm and 144g, it feels absurdly wide at first, until you realise that 13mm isn't all that thick – we could get used to it.
Undoubtedly, the 3.7in OLED touch screen is a stunner, with 16m colours and a resolution of 640 x 360 pixels. The pixel resolution doesn't sound particularly impressive for a screen this size, but the screen technology it's based on means it looks strikingly vibrant. The Omnia HD uses an Active Matrix Organic Light Emitting Diode (AMOLED) display that delivers a faster pixel switching response than standard OLED.
The screen's touch sensitivity took a bit of getting used to, and we found that we often had to double tap to access functions. Once we'd got used to it though, this wasn't much of an issue. After all, it's always worse when an over-sensitive screen has you accessing functions you'd not meant to.
The capacitive touch screen is however a smudge magnet, and it regularly needed to be wiped while browsing. In fact, the thought of having a stylus seemed like a preferable alternative at times.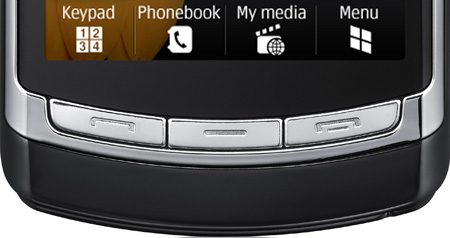 Despite a touch screen, there are dedicated buttons too
The screen is surrounded by a metallic frame that includes three buttons at the bottom for call start, stop and the menu/task manager. Above the screen is a 0.3Mp camera for video calls and a proximity sensor, so you don't activate the screen while the phone's pressed to your ear. Around the sides are a volume rocker, Micro SD slot, micro USB slot, screen lock button and camera shutter button, with a 3.5mm headphone jack plug covered by a cheap and flimsy plastic cover on top.
At the back is the 8Mp camera lens, which sits within a slightly raised boss, and an LED flash/video light. It comes with a separate little fold-up desk stand, which can be attached, rather awkwardly, by a short lanyard.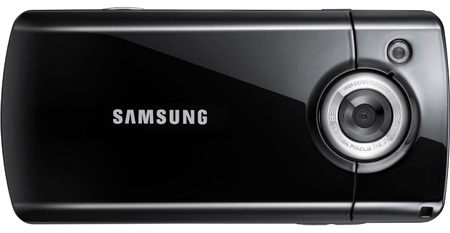 HD recording on a phone - could be the start of something
The i8910 runs on the Symbian S60 fifth edition OS, as does Nokia's 5800 XpressMusic, but the user interface looks completely different, thanks to the TouchWiz homescreen. It's familiar to the Samsung Pixon, among others, which allows you to choose widgets from a side bar and drag your favourites onto the home screen.
Actually, you have three home screens – accessed from the widget toolbar – so related apps can be kept in one screen, for example, one for media, one for business and one for fun. Annoyingly though, you can't have the same widget on two screens at once, which seems like a missed trick.
The 8Mp camera is one of the best we've yet seen on a camerphone. It will take pictures up to a maximum of 3264 x 2448 pixel resolution and comes with a good array of features, including face, smile and blink detection, panorama shot, timer, multi-shot and night mode. The multi-shot option allows you to take up to ten pics in quick succession.
The panorama setting is one of the most user-friendly we've seen. After the first snap, you turn around in a semicircle and the camera automatically takes the next pic when you're lined up, delivering six pics in all for a 180° vista. The drawback is that panorama shots are only 640 x 480 resolution. Despite having a similar spec it beats the recently tested 8Mp LG Viewty Smart for still camera pic quality, and the HD video puts it ahead of Sony Ericsson's C905.
The media player phone of choice?
Viewing video was a pleasure on the i8910. It can handle MPEG 4, WMV, DivX/XviD, H.263, H.264 and Real Video formats and there's the option to change the aspect ratio, stretching videos out to fill the screen. This wasn't always ideal however – widescreen movie trailers filled the screen with ease, but those from a native 640 x 480 format showed obvious signs of stretching.
With a maximum resolution of 1280 x 720 pixels, recorded video is certainly very good, and probably better than any we've yet seen on a cameraphone. Pictures were sharp, and relatively smooth, at least in comparison with other cameraphones, but let's not get too carried away. Despite offering 720p HD recording at 24f/s, it's not really a rival for even a low-rent dedicated digicam – we still saw some jerkiness and light fluctuations.
Sample Shots
Options to record in slow or fast motion are a nice touch, but not much more than a gimmick really. Still, the fact that it bears comparison with standalone digital camcorders just about puts it in a class of its own where cameraphones are concerned. Mind you, 20 seconds of HD video in MPEG 4 format took up about 18MB of memory, so it's just as well there's 16GB capacity on board, which you can increase with Micro SD cards.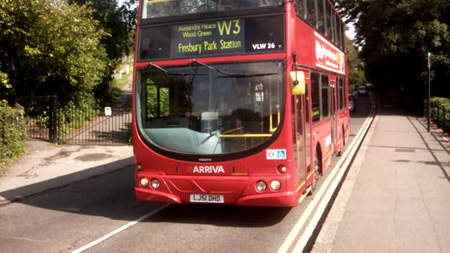 Still from video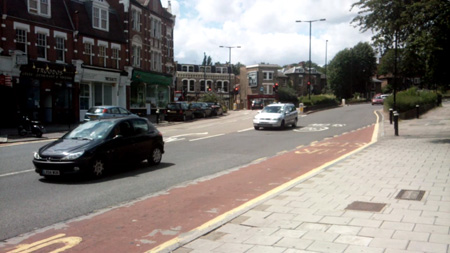 Still from video
Sample Shots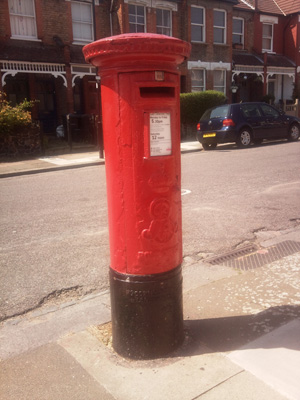 Click for a full-resolution image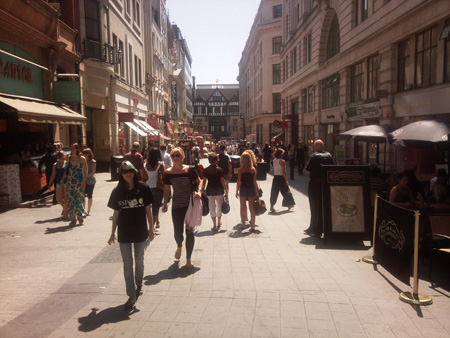 Click for a full-resolution image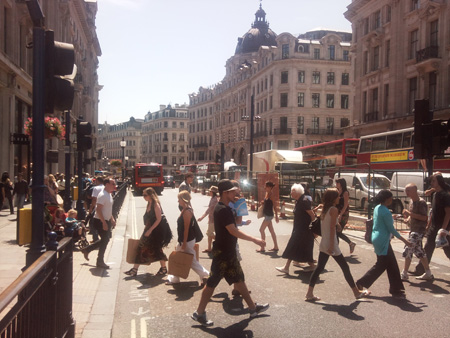 Click for a full-resolution image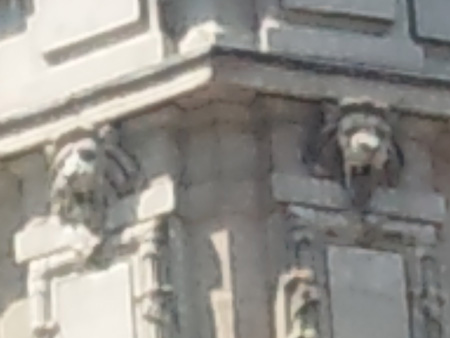 4x digital zoom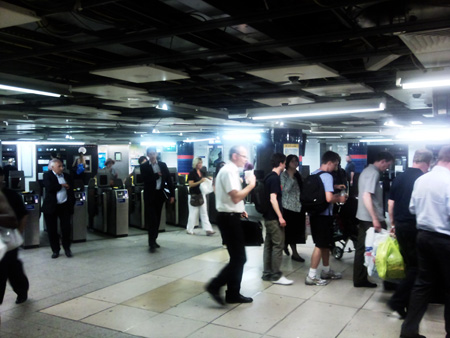 Fluorescent lighting
Web browsing is helped by the large screen, which automatically flips into landscape mode when you turn it on its side thanks to the onboard accelerometer. However we're not sure that the options icon bar in the Symbian browser had to take up quite so much of the available real estate. You can remove it, but you'll only find yourself dragging it back all too often to insert a URL or navigate your history.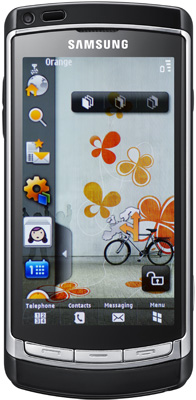 Responsive on-line, but the browser could be better
Page zooms are performed by holding your finger on the screen until the zoom icon appears, then either brush up or down, but it's a frustratingly slow option. We were also disappointed that there was no dedicated YouTube app, like most smart phones seem to have these days, though we had no problem viewing the site in standard browsing mode.
Still, the connectivity is quick using HSDPA 3G or Wi-Fi, and the landscape Qwerty keyboard option is pretty good, offering raised letter icons when you hit the keys, as well as haptic feedback to aid accuracy.
The music player can handle MP3, AAC, AAC+, eAAC+, WMA and RA Dual files and offers six equaliser settings and a selection of six sound effects, including a virtual surround setting which we preferred to leave off, since it tended to stifle the dynamic range of the music.
The supplied headphones/handsfree set look okay, with little isolating grommets to help block out any ambient noise, but they do make music sound overly compressed, muddy and shut in – you'll thank yourself for upgrading them to a better pair.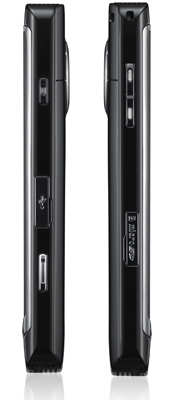 Slim enough to slide into a pocket
The FM radio has room for up to 50 presets, you can search for stations automatically or manually. With the latter, you'll need to input the precise frequency for this rather than having the ability to browse with a dial, which is a bit daft. You can also play the radio back through the phone's loudspeaker, however, you'll need the headphones plumbed in to act as an aerial. The speaker goes plenty loud, but does have a tendency to distort at higher levels.
The i8910 has A-GPS and a virtual compass on board, though it seems a shame that Samsung didn't see fit to install Google Maps or similar – you'll have to do it yourself. Call quality is loud and clear, with the largish speaker delivering nicely rounded voice tones – the unusually close proximity of this outsize handset's microphone to our mouth didn't hurt either.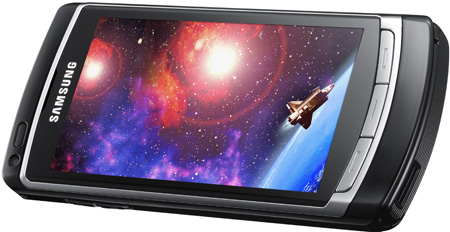 A-GPS and compass on-board, but no map applications provided
Setting up email isn't as straightforward as it is with Windows Mobile or Blackberry handsets, since you'll need your POP3 and IMAP4 settings from your network, rather than just your email address and password. Once set up, we had no trouble receiving messages from the phone's auto-update system. It's not as immediate as Blackberry's push email, but it'll do.
Samsung claims 13.5 hours of talk time and 600 hours of standby, and we managed a little under two days of moderate use, which wasn't bad since we did a fair bit of video watching and browsing over Wi-Fi in that time.
Verdict
It just about makes itself pocket-friendly by virtue of being fairly thin, but this is still a hefty handful of a handset. The screen is exceptional, clearly ahead of the iPhone, and does a terrific job of showing off both video downloads and 720p HD video recorded by its own camera. Indeed, the quality is arguably the best we've yet seen on a cameraphone, beating the likes of the LG Viewty Smart's camera for detail and authentic colour representation.
On the downside, you'd expect a smoother, more intuitive browser experience these days and A-GPS isn't well supported as on most other smartphones out there. Also, it's not cheap, but if media playback is big on your agenda, then the Omnia HD is definitely worth a screening. ®
More Phone Reviews...

Nokia N97

LG Arena

Samsung Tocco
Ultra Edition S8300

Sony Ericsson C905 Plus