Original URL: http://www.theregister.co.uk/2009/07/09/review_netbook_samsung_n310/
Samsung N310 netbook
Style over substance
Posted in Personal Tech, 9th July 2009 16:14 GMT
Review Samsung has never been a supplier of cheap and cheerful netbooks, and the consumer-oriented N310, which expands the range beyond the more seriously styled NC10, NC20 and N120, still comes in with a suggested price of a pound under £400. For that, you'd expect something very special.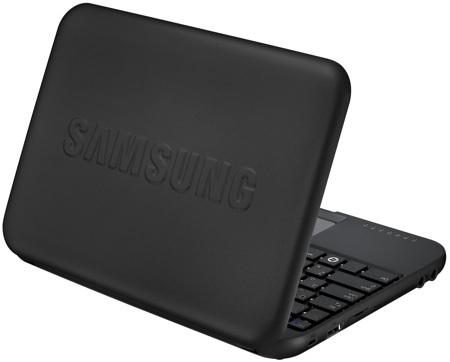 The N310: you'd never guess is was a Samsung would you...
You're left in little doubt about the maker of this machine, as Samsung is embossed in the lid in inch-high letters. Combine the logo with the large-radius curved corners, and flush-mounted screen and touchpad, and the N310 has a certain jauntiness to its design. Available with a black, sky blue or orangey red case, to reflect how you feel about working on the move, the N310 is, however, bulky for a netbook.
The closed case is 28mm thick, but the machine weighs in at a par-for-the-course 1.23kg. This is 70g lighter than, say, MSI's Wind U115, but 130g heavier than the Eee PC 1008HA, which is about the same price on the open market. Its footprint dimensions are 262 x 185mm, making it very convenient to use, for example, on the flip-down trays on the back of Inter-City train seats.
The N310 has a 10.1in LED-backlit LCD panel with a native resolution of the customary 1024 x 600 pixels. It's bright and sharp, and because it's mounted flush with the bezel, easy to wipe clean. There's a 1.3Mp camera set just above the screen, which gives a good enough picture for Skype video.
Sound comes from a Realtek chipset and is played back through a pair of 1.5W speakers which pump up a surprisingly high volume, for a netbook. They are adequate for soundtracks on videos, though you'd want to switch to earbuds or headphones to enjoy music.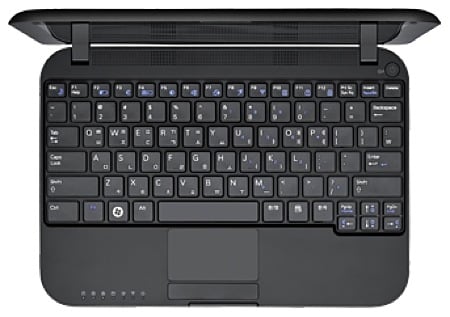 The 'chiclet' keyboard isn't half bad
The keyboard is vaguely reminiscent of the one on the Sinclair Spectrum, but fortunately only visually. The keys are over 90 per cent full-size and have none of the dead-flesh action of Sir Clive's thoroughbred. In fact, they feel more positive than those on many recent netbooks and have good gutters around the keys, which helps if you touch-type. The layout is decent, too, with the cursor keys conveniently offset forwards to accommodate small Page Up and Page Down keys.
All the keys have the benefit of silver particles which prevents "99.9 per cent of bacteria" from breeding on them. It does leave you wondering whether the remaining 0.1 per cent, which say 'Pah!' to silver particles, aren't the most virulent, though.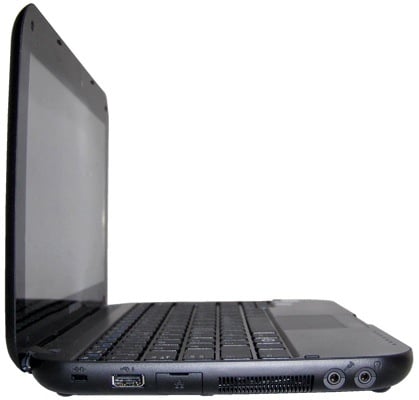 The Ethernet port's hidden under a flap
The touchpad and mouse-button are both mounted almost flush to the top surface of the case, which makes them comfortable to use, though the perimeter of the pad can be difficult to sense with a fingertip. There's no multi-touch support. For those into activity LEDs, there are seven of these: three keyboard lock indicators, together with power, battery, HD and wireless. They're fitted close to the front edge of the case, left of the touchpad.
Down the left-hand side of the case are a single USB port and a 10/100Mb/s Ethernet connector, along with analogue headphone and mic sockets. Opposite these, on the right, are two more USBs, the power feed and an VGA port. At the left end of the front lip is an SD card slot. Underneath, there are hatches for battery and memory, though the existing 1GB module would have to be replaced to upgrade. There's no ready access to the hard drive, either.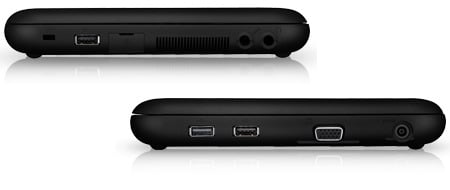 The case is endearingly symmetrical when shut
The N310 is built around an Intel Atom N270, running at 1.6GHz, coupled to an integrated Intel GMA 950 graphics processor, so absolutely nothing here to set the machine apart from the majority of its rivals.
That extends to the storage: the machine has a 5400rpm Sata hard drive of 160GB capacity, so there's plenty of room, not just for the copy of Windows XP Home which comes pre-installed, but for most of the data you're likely to want to store.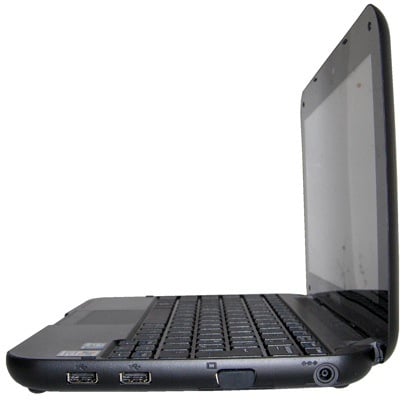 The VGA port's covered too - but then who'd ever use it?
The N310 has both 802.11g Wi-Fi and Bluetooth 2+EDR - again standard netbook features. Bluetooth is switched off by default, but the machine spots and logs into the wireless network of your choice, with very little fuss.
PCMark 05 Results
CPU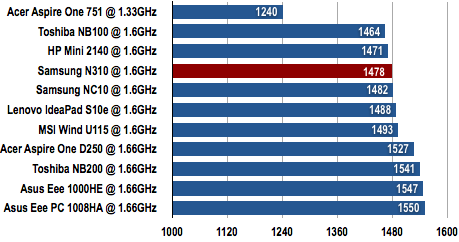 Longer bars are better
Memory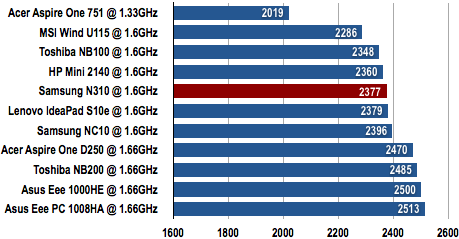 Longer bars are better
HDD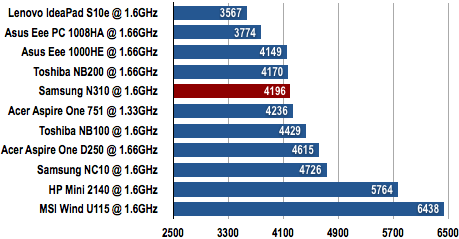 Longer bars are better
Video Playback Battery Life Results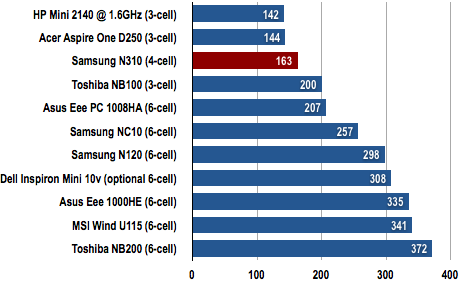 Battery Life in Minutes
Longer bars are better
Software provision is mainly support apps, with Samsung's own battery management, network diagnostic and update and recovery software. There's no application software as such, so you'll be wanting something open source to start with, but McAfee AV and CyberLink YouCam, for video recording, do come pre-installed.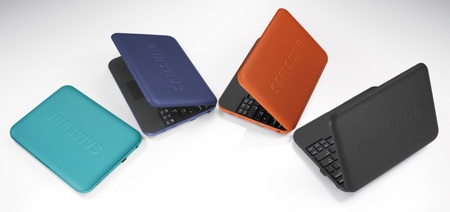 Available in a set of student-friendly colours
That N270 means the results of the PCMark05's CPU benchmark will be similar to most of those we'd seen recently. And so it is, as is the Memory score. The hard drive test shows nothing here to make the N310 stand out from the crowd.
The N310 has a four-cell, 29Wh battery, so you might expect an increase in battery life over the three-cell packs fitted to, for example, the Dell Inspiron Mini 10v or Acer's Aspire One D250. Under our heavyweight looping-video-on-full-brightness battery life test, though, it gave just 163 minutes, putting it well toward the bottom of our chart.
While you can expect to get maybe another hour or so out of a charge under less strenuous use - and further by adjusting XP's power settings - you're going to need to carry the power supply around with you on most trips. And all these adjustments can be made to all other netbooks too.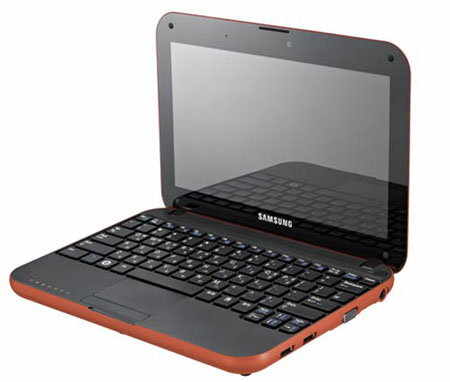 Blah
So what you have here is a neatly-styled netbook with good ergonomics, but nothing in performance terms that cries 'buy me' any louder than half a dozen others, and a lot less quietly than machines from Asus, Toshiba and - it has to be said - Samsung itself. If you feel the looks of this machine are worth an extra £50 or more, over a rival offering, there's little else to hold against your choice.
Verdict
The N310 is a machine you buy for its looks. The keyboard's above average, the touchpad's fine and the screen is bright and sharp. Its student-friendly design, while nice, just doesn't compensate for the chunky feel, undistinguished spec, poor battery life and ridiculous 'premium' price. ®
More Netbook Reviews...
| | | | |
| --- | --- | --- | --- |
| Toshiba NB200 | Dell Inspiron Mini 10v | Samsung N120 | Acer Aspire One D250 |