Original URL: http://www.theregister.co.uk/2009/07/09/review_laptop_asus_f70sl/
Asus F70SL
The world's first 17.3in notebook?
Posted in Laptops, 9th July 2009 08:02 GMT
Review In recent years, Asus has become a key player in the netbook revolution. Yet with the F70SL, the company is looking to appeal to a totally different audience. Touted as the world's first notebook with a 17.3in display, this bulky, 4kg desktop replacement, offers a 16:9 aspect ratio screen at a resolution of 1600 x 900.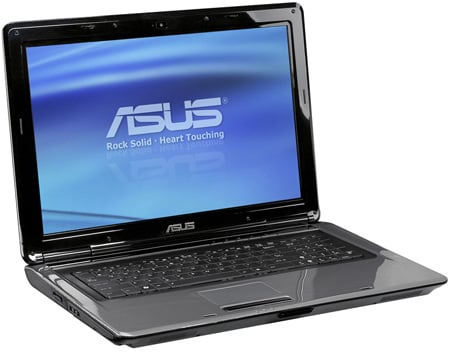 Asus' F70SL: bulky, but easy on the eye
With a robust chassis, the F70SL feels like a notebook that could withstand a knock or two, and there's very little creaking to be heard when giving it a rough ride. The lid is decorated with an attractive horizontal line pattern - a theme that's continued on the inside of the notebook.
Measuring up at 426 x 302 x 44mm the F70SL is quite a size, so it's good to see Asus has found room for four USB2 ports – two at the rear, two on the right side – along with Gigabit Ethernet, HDMI, a memory card reader and an ExpressCard 54 slot. You also get a switch to turn Wi-Fi and Bluetooth off, along with a 1.3Mp camera embedded into the screen's bezel.
Supplied is a bog-standard DVD writer for UK customers, although some territories offer a Blu-ray drive, at additional cost. The keyboard is of a good size and features slightly concave keys. Each key has a good amount of travel, but there is some flexing when heavy hands are thrown at it.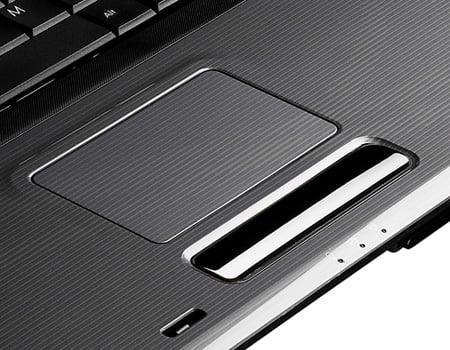 Good trackpad, bad trackpad buttons
A numeric keypad is always useful and the F70SL just manages to squeeze one in, however the half-width keys make it tricky to use at speed. While the trackpad responds well, we weren't hugely impressed by the left and right buttons beneath it. These sit under a single chrome-effect panel that looks good but requires too heavy a push for our liking.
Asus ships the F70SL with a range of its own software utilities. The ludicrously named Splendid Utility lets you fiddle with display settings such as colour temperature and gamma control along with a range of presets to choose from. The Power4 Gear Hybrid tool provides a more attractive and user-friendly version of Vista's own power options.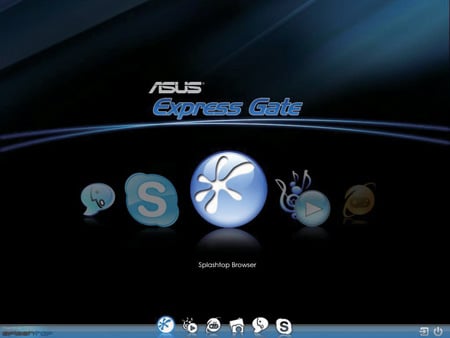 Express Gate: use it once and, most likely, never again
Asus' Express Gate software is also included, allowing you to boot into a Linux-based OS featuring various tools including web access, Skype and a media player. It takes around ten seconds for Express Gate to load, and we suspect it's something you'll use once before completely forgetting it ever existed.
Asus shouts about the F70SL's 17.3in screen being a full HD display, but with a native resolution of 1600 x 900 that's not entirely true. Actually, it's not true at all, since full 1080p HD video requires no less than 1920 x 1080.
Indeed, it's something of a shame that Asus didn't furnish the F70SL with a screen of this resolution – something managed by HP's 16in HDX16-1000, with Apple's 17in MacBook Pro offering a 1920 x 1600 resolution, albeit, at a price.
Thanks to its 16:9 aspect ratio, though, your movie viewing pleasure won't be ruined by stretched images or black bars. And being an LED backlit screen, it is also bright, vibrant and benefits from decent horizontal viewing angles.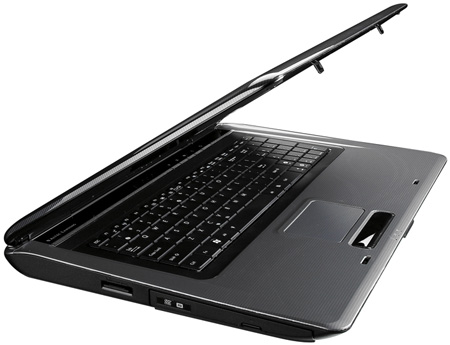 Storage capacity can be increased thanks to an additional drive bay
Given that this beast is ideal for watching gigabyte-hungry movies on, Asus has done well in providing it with a 320GB Seagate hard drive ticking along at 5400rpm. What's more, unscrew a plate on the underside and you'll find a spare drive bay awaiting an upgrade.
PCMark05 Results
Overall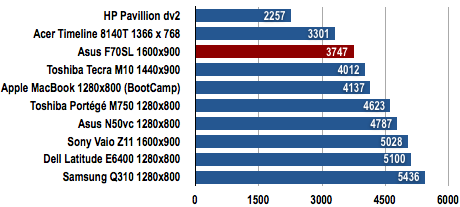 CPU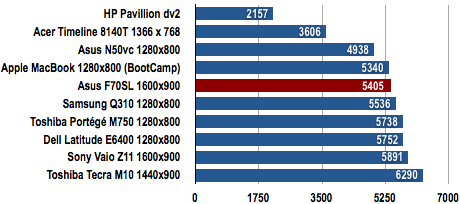 Memory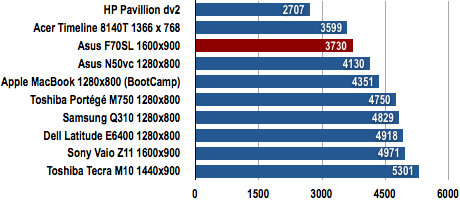 Graphics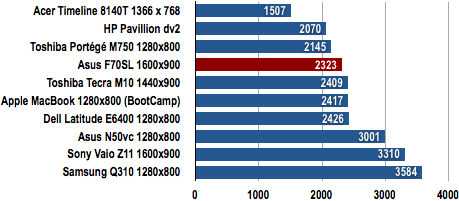 HDD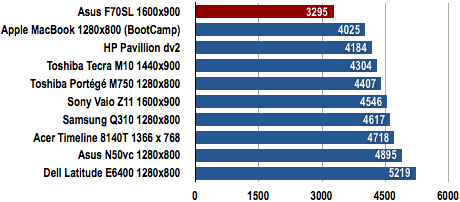 Longer bars are better
3DMark06 Results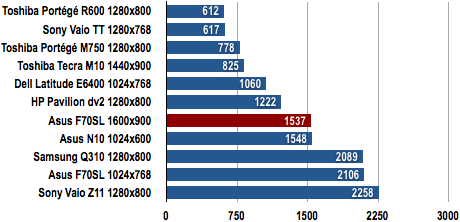 Longer bars are better
PCMark05 Battery Life Results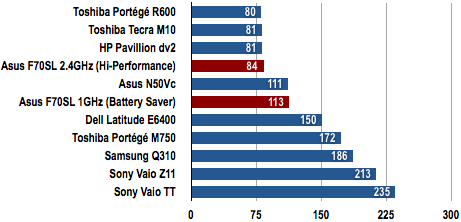 Battery runtime in Minutes
Longer bars are better
On most notebooks, the speakers are situated just above the keyboard. However, on the F70SL, the Altec Lansing speakers are located under the front lip of the chassis. When sitting back to watch a film, this provided us with a far more immersive audio experience.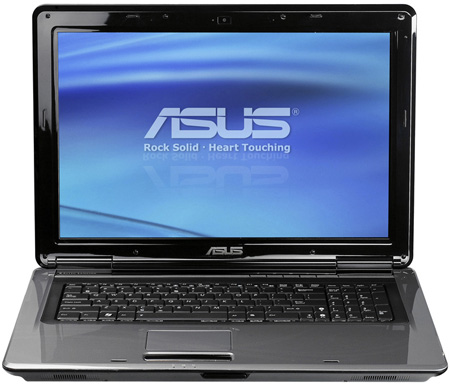 Speakers at the front improve sound projection
However, there's no sub-woofer, so although the audio is impressive it does lack bass. Should you want to hook up a 5.1 surround sound speaker system, a 3.5mm SPDIF output is also available.
An Atheros AR928X wireless adaptor lurks inside and is supposed to support 802.11n connections, but on our review unit we could only connect at 802.11g's 54Mb/s. After extensive rummaging on the net we found updated drivers that, once installed, allowed 802.11n speeds. Surely, Asus could have shipped the F70SL with the latest Atheros drivers? Bluetooth also comes as standard and, thankfully, worked without the need for tweaking.
Asus has plumped for a relatively lethargic processor in the form of an Intel Core 2 Duo T5850. With a clock speed of 2.16GHz, 2MB L2 cache and 667MHz frontside bus, it sits near the bottom of Intel's dual-core CPU line up.
While the 17.3in display seems ideal for a bit of gaming, the Nvidia GeForce 9300M GS graphics card means you won't want to trouble the F70SL with the latest 3D titles. There's enough memory, though, since the F70SL is fitted with a pair of 800MHz 2GB DDR 2 modules.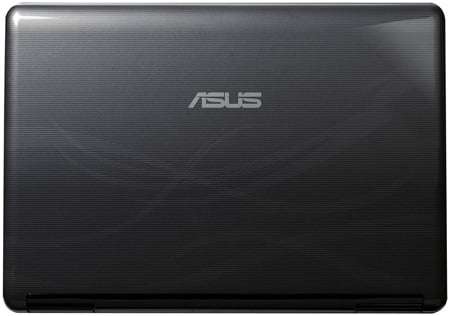 If you like horizontal lines, you'll love the F70SL
As is the norm, the installed 32-bit Vista Home Premium will only recognise 3GB of this 4GB configuration. This begs the question, why does why Asus bother with the extra 1GB of Ram for the domestic model, when the Vista Business version of the F70 is sold with only with 3GB installed?
There were no surprises in PCMark05, with the T5850 proving enough to ensure an overall score of 3747. In 3DMark06, the Nvidia GeForce 9300M GS, which comes with 512MB of dedicated memory, cobbled together a result of 1537 at the F70SL's native 1600 x 900 resolution. This increased to 1959 at 1280 x 720 and 2106 at 1024 x 768. We also gave it a whirl with Call of Duty 4 and, as expected, results weren't great.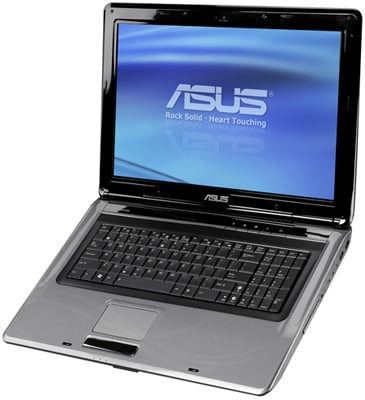 Nice big screen, but it's not full HD
At 1280 x 720 it could only muster up a very jerky 12.9f/s. Only when we dropped right down to 640 x 480 did the F70SL provide us with a playable 20.3f/s, but such a low resolution looks dreadful on a 17.3in screen.
The 4400mAh battery provided enough juice for PCMark05 to run in a loop for one hour and twenty-four minutes under the Power4 Gear High Performance mode. Switching to the Battery Saving mode, which among other things pulls the CPU back to 1GHz, increased the life to one hour and fifty-three minutes. Keep in mind that these are worst-case scenarios – go easier on the F70SL and you can expect around three hours, which isn't bad for a desktop replacement.
Verdict
If you can up your budget, the F70SL-TY129C version can be picked up for £860 and comes with a P8600 running at 2.4GHz. However, it's still saddled with the GeForce 9300M GS graphics chip. Our review model, the F70SL-TY076C has the slower T5850 CPU and, at around £740, is a better deal. Sure, it's no gaming laptop and the T5850 processor isn't exactly the fastest CPU off the block, but if you're looking for a well-built desktop replacement with a large screen, the F70SL packs in a fair amount for the price. ®
More Big Screen Notebook Reviews...

Apple
MacBook Pro 17in

HP
HDX16-1010EA 16in

Toshiba
Qosmio X300-13W 17in

Acer
Aspire 8920G 18.4in