Original URL: https://www.theregister.co.uk/2009/07/07/sprint_subsidized_netbook/
Sprint punts 99¢ netbook
There's a catch, natch
Posted in The Channel, 7th July 2009 18:09 GMT
If you're jonesing for a netbook and you live in the States, Sprint and Best Buy will sell you one for the low, low price of 99¢.
But you'll still have to fork out around $1,500.
The catch is that the netbook - a Compaq Mini 110c-1040DX - must be purchased with a two-year Sprint 3G wireless-broadband service contract that runs $60 per month for 5GB of data downloads. Add to that $1,440 the sales tax you'll need to pay on the netbook's $389.99 list price, and you'll be shelling out just south of fifteen hundred bucks.
The netbook itself - as netbooks go - isn't a total dog. It has a 1.60GHz Intel Atom N270 processor, 1GB of DDR2 SDRAM, a 16GB SSD, 10.1-inch display, 802.11b/g Wi-Fi, and HP's un2400 EV-DO/HSDPA Mobile Broadband module.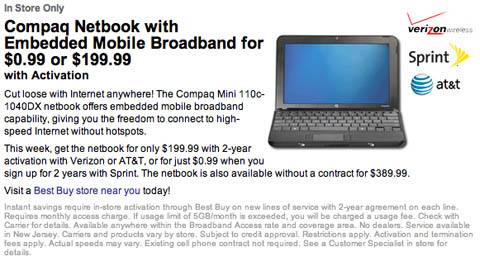 When does 99¢ equal $1,500?
If the Sprint deal doesn't attract you, Best Buy will hook you up with AT&T or Verizon instead, but they'll charge you $199 up front for the hardware.
AT&T offers a 200MB-per-month plan for $40 - that'll run you about $1,160 over the two-year contract. The company also has a $60/5GB plan, plus other plans that include subsidized netbooks.
Verizon's entry-level 3G plan gives you 250MB per month at $40 and matches Sprint and AT&T at $60 for 5GB. Verizon is offering its own netbook-bundling plan, but if you want to skip the netbook part of the deal they'll be happy to set you up with one of a half-dozen 3G cards and dongles.
Despite the service-fee bite, we believe that Sprint is onto something with its almost-free netbook come-on. As King Gillette discovered over a hundred years ago when he invented the safety razor with disposable blades, the secret to sustained cash flow is a low barrier of entry and an ongoing fee for the product or service that keeps the initial purchase usable.
And so it will be at the low end of internet access, whether it be for subsidized netbooks, MIDs, or smartphones. ®