Original URL: https://www.theregister.co.uk/2009/07/07/review_projector_lg_hs102_ultra_mobile/
LG HS102 Ultra Mobile projector
No bigger than an office phone
Posted in Personal Tech, 7th July 2009 08:02 GMT
Review Smaller, lighter, cheaper, less power-hungry: that's the road we want digital projector manufacturers to take. Indeed, LG does its best to satisfy our craving with a highly compact and thoroughly usable short-throw projector with minimal ongoing costs.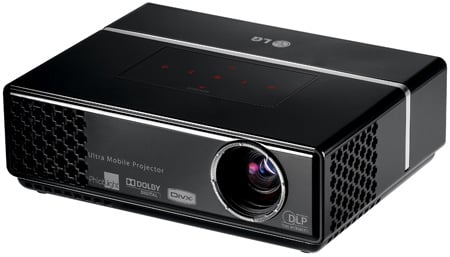 LG's HS102 Ultra Mobile projector
The HS102 falls into the 'ultra portable' sector of the projector market: the unit is just 155mm wide, 117mm deep and 50mm high, and it weighs about 750g. In fact, it is only marginally bigger than the power brick supplied with the mains cable that accompanies the product. You could stuff the projector and its cable into your shoulder bag along with a notebook and still have space to spare, well, not much.
Due to its size, the HS102 is not designed for big-screen projections and it would struggle even in a boardroom. With a suggested maximum throw distance of 2.2m, it is clearly a projector for use in the home, in a breakout meeting room or in the corner of a classrooom. At an optimum distance of 1.7m, the device projects an image of about 1.5m wide and 1.2m high.
LG has taken advantage of this modest specification to fit the projector with an appropriately low-powered lamp, based on LED technology. As well as being more cost-effective to run than metal halide or halogen lamps found in conventional LCD projectors, LED lamps last a great deal longer. LG says the lamp in the HS102 will last 30,000 hours. That's probably the life of the projector itself. Over the same period, a conventional LCD projector owner will probably have to replace the lamp 10 times, costing hundreds of pounds a pop.
Naturally, a short-throw, LED projector has a low brightness rating – just 160 ANSI Lumens in this case – but we found the HS102's image to be bright enough for general purposes without requiring blackout conditions. There is a limited image size adjustment function, while focus is corrected by turning a thin manual ring fitted closely around the lens at the front of the unit. Touching something metallic so close to an illuminated projector lens is scary at first: you expect it to be white hot but it remains cool at all times.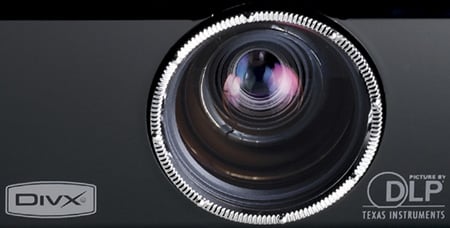 Adjusting a focus ring so close to the lens is possible because the lamp never gets hot
There are no height-adjustable feet to tilt the projector. Instead, there is a screw socket on the underside for mounting the device onto a standard photographic tripod. This is brilliant because it makes the setting up so very quick. Since the HS102 is small, it can be mounted safely on a small tripod on a tabletop without obscuring everyone's vision and, in doing so, eliminates the need for extreme keystoning.
All connectors, including the power socket and Kensington security lock, are located together on the back plate. Three inputs are supported: analogue VGA, analogue A/V and USB. The mini A/V port is the type supported by certain consumer camcorders and digital cameras, but you will have to invest in some cable adapters if you want to connect a DVD player or game console. An audio-out socket is provided if you do not like the tinny integrated 1W mono speaker, but there is no separate audio-in port.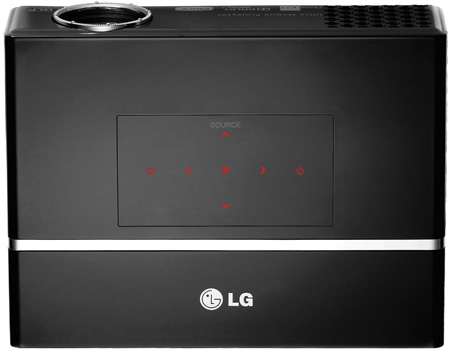 Basic LED-lit touch buttons help to navigate the onscreen menus
The USB port allows you to slot in a memory stick or a USB card reader and have the projector display the media files it finds. The built-in DivX player provides a simple browser for running a JPG image slide show, playing MP3 music or AVI, MPEG and DivX movie files. As media browser/players go, this one is quite basic but it is fine for everyday home and office use.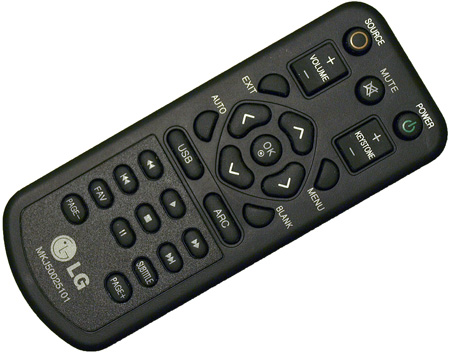 Includes a surprisingly well-featured remote control handset
Movies and music played OK: not brilliant and not rubbish either. There was no jerkiness or glitchiness, but then the media is simply playing directly from a USB 2.0 device without any user interface to get in the way. Playback is handled using the remote handset or by pressing buttons on the top of the projector. There is no onscreen playback interface in the conventional sense of a media player. Video quality, and the slideshow quality for that matter, is average because of the 800x600-pixel native resolution.
Our projector testing regime using the DisplayMate benchmarks soon revealed the shortcomings of ultra-portability. The HS102 is an SVGA device with a native resolution of 800x600 pixels. It can emulate XGA (1024x768) but the results were predictably rough for computer interface presentations. SXGA (1280x1024) emulation was not even worth trying.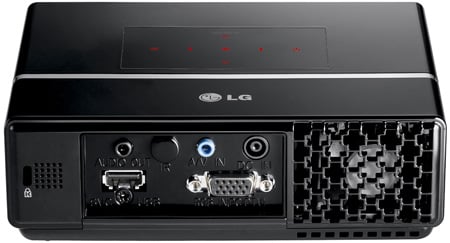 Back panel features standard VGA, camera/camcorder A/V and USB ports
The native resolution was clear but we found it impossible to discern different grey levels at the extreme ends of the scale, despite the unit's contrast ratio specification of 2000:1. There was a little shimmer on large, flat greys, even after fiddling with the phase and clock controls but there were no moirés on fine-mesh lines, which is good.
As with all projectors, the fan noise is distracting. You can switch to a dimmer LED lamp mode that reduces the noise considerably, but we found it too dim to be useful. The fast-cooling LED lamp has other benefits too: when you switch the projector off, the fan stops almost immediately and the device is already cool enough to be packed away.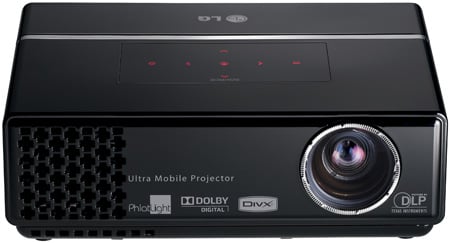 It looks big in this photo but, in reality, it's barely larger than its own power supply brick
There is a good set of onscreen controls, allowing you adjust RGB levels, colour temperature, contrast and brightness. You can switch between 'normal', 'film' and 'sports' quick settings, flip the image in both directions, apply an auto-sleep function and mute the screen in a number of ways, including using a custom image.
The remote control handset is also rather better than we expected for an ultra-portable. It provides a good range of buttons, both for the onscreen menus and for browsing and playing media files through the DivX player.
Verdict
Make no mistake, this is no home cinema projector. But as a general-purpose, set-up-and-go projector for quick media shows, small presentations and general fun on the road, it is really very good indeed. The tripod support eradicates practically all problems normally associated with setting up a projector, and the LED lamp makes the unit cheap to maintain. Our only gripe is the native 800x600 resolution, which limits its usefulness in too many ways for the HS102 to be truly compelling. ®
More Projector Reviews...

Hitachi CP-RX80

Canon LV-8300
portable projector

Acer K10

3M MPro110
handheld projector