Original URL: https://www.theregister.co.uk/2009/07/07/orange_lg_watchphone/
Orange calls up LG watchphone
UK sales to start next month
Posted in Personal Tech, 7th July 2009 11:03 GMT
Following months of Dick Tracy jokes and speculation over its launch, LG has finally confirmed that its watchphone will be available in the UK next month.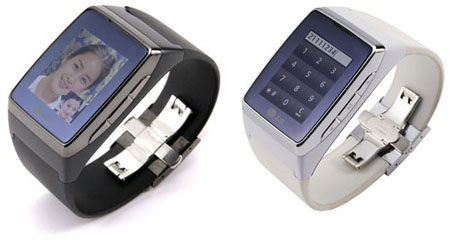 LG's GD910: in the UK next month
The LG Touchscreen Watch Phone – also know as the GD910 – will be sold by Orange in the UK, but only for a "limited time period".
Orange has yet to confirm how much the futuristic timepiece will cost, but it has previously been speculated that the device will cost about £1000 ($1458/€1140).
The network operator said that the "handcrafted" device will be available "at an exclusive price point" – which is undoubtedly code for 'expensive' – on either pay-as-you-go or SIM-only options.
See the LG watchphone demo'd for Register Hardware on video here
An integrated camera lets the GD910's wearer make video calls over a 3G connection of up to 7.2Mb/s. The device also features voice recognition, text-to-speech functionality, Bluetooth, an MP3 player and 1.4in touch-sensitive screen. ®