Original URL: https://www.theregister.co.uk/2009/07/06/review_laptop_apple_macbook_june_2009/
Apple MacBook June 2009 release
Tweak time
Posted in Personal Tech, 6th July 2009 12:02 GMT
Review Pay attention now, because there'll be a test on this at the end. This time last year, Apple's laptop range consisted of two main product lines. The mainstream, consumer model for home users and the education market was the highly popular MacBook, with its 13in screen, white plastic casing and a price tag of around £700. Alternatively, for 'professional' users, there was the gleaming metallic design of the more powerful MacBook Pro, which was available in 15in and 17in versions with prices starting well in excess of £1000.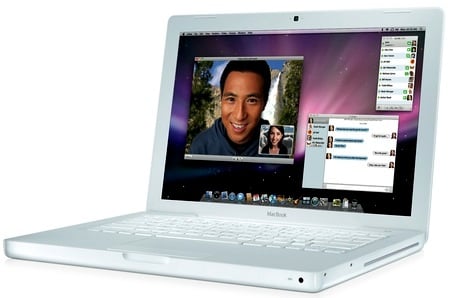 Apple's MacBook: once the runt of the line, now the only non-Pro Mac laptop
Then, in October 2008, Apple revamped the MacBook, giving it a shiny new aluminium casing – along with a hefty price increase that took the starting price close to a grand. But, mindful of the recession, Apple also left one of the old White MacBook models on sale too. That meant that there were completely MacBooks - one plastic, the other aluminium - competing for the same audience.
In January 2009, there was an odd update to the White MacBook which actually decreased the processor speed from 2.1GHz to 2.0GHz – presumably to match the 2.0GHz starting point of the aluminium models – but compensated by giving the White MacBook the same GeForce 9400M integrated graphics chipset as the metal model. The 'entry-level' MacBook now offered features and performance to match its much more expensive sibling.
Apple is proud of its gleaming new aluminium baby and obviously didn't want to undercut sales of that model so, barely six months after the last revamp, Apple has decided to completely overhaul its entire laptop line yet again.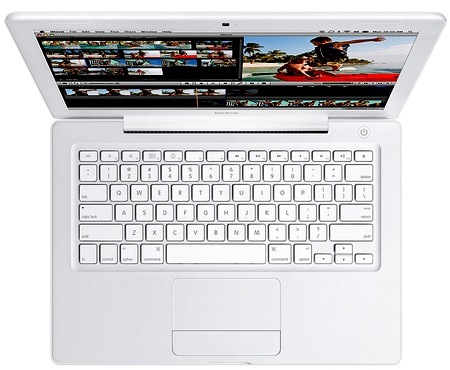 There are no external changes, only internal ones
The aluminium MacBook has been reworked and promoted to the rank of MacBook Pro. This means that the plastic MacBook is once again the sole mainstream model for consumers, while the shiny metal stuff is reserved purely for 'serious' folk. In other words, we're back to where we started 12 months or so ago. It also means we can go back to just calling it the 'MacBook'.
We hope that's made everything clear….
XBench Results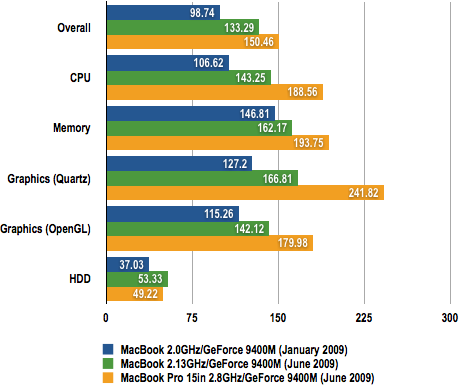 Longer bars are better
PCMark05 Results
Overall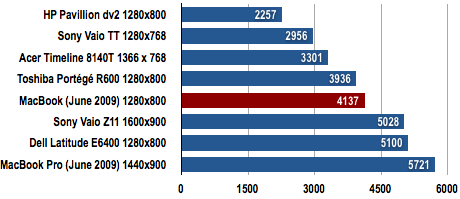 Longer bars are better
CPU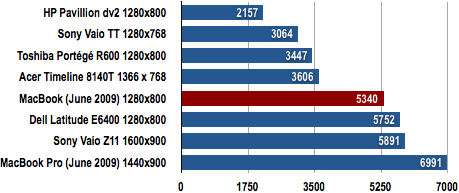 Longer bars are better
Memory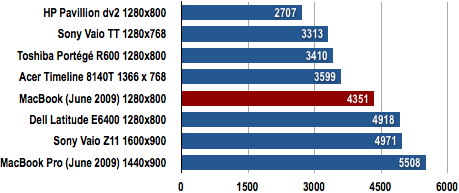 Longer bars are better
Graphics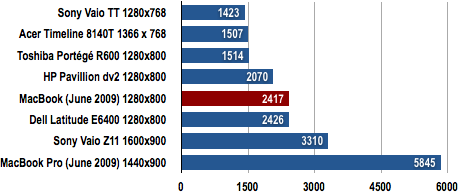 Longer bars are better
HDD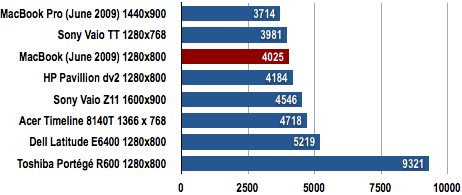 Longer bars are better
This latest version of the (still white) MacBook is available in just one basic configuration, priced at £749. That's a slight increase on the previous price of £719, but the Core 2 Duo processor has been bumped up to 2.13GHz and the hard disk goes up from 120GB to 160GB. The memory stays at 2GB, but the bus speed has increased from 667MHz to 800MHz.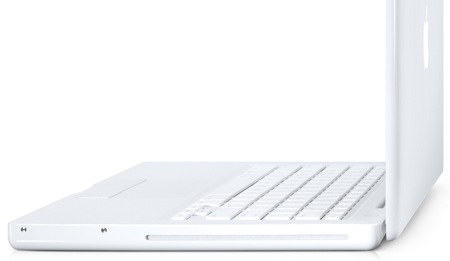 CPU and HDD capacity tweaks are the only changes
Everything else remains the same, including the 8x DVD/CD burner, two USB 2.0 ports, single Firewire 400 port, built-in webcam, 802.11n wireless networking and Mini DVI for connecting an external monitor. There are 'build to order' options for adding more memory or a bigger hard disk, but the processor speed is fixed.
This is obviously a relatively minor upgrade then, but our Mac benchmark tests do show a worthwhile increase over the performance of the previous model. Graphics performance seems to come off best, with frame rates in Doom 3 increasing from 47fps to 55fps – an improvement of 17 per cent.
This time, we also used the Mac's BootCamp option to install Windows on the MacBook and run a few PC benchmarks on it as well. Performance here was quite respectable too, so the machine makes quite a decent box - whatever operating system you run on it.

Average battery life
Battery life remains the same as that of the previous model – we got a little over three hours when playing H.264 standard-definition video straight off the hard disk, and a further hour on top of that for less demanding tasks such as running Microsoft Office or doing some light web surfing.
Verdict
Mac-haters will no doubt point out that there are cheaper Windows laptops available – not to mention countless Windows netbooks – but that's missing the point. Apple's intention with the MacBook is to offer a laptop powerful enough to handle a spot of video-editing and other multimedia work, at a price that will appeal to consumers. On that score it succeeds. Admittedly, the redesigned 13in MacBook Pro looks mighty tempting if you've got the extra spare cash, but the MacBook remains an attractive entry-level Mac OS X system. ®
More Apple Laptop Reviews...

MacBook Pro 15in
June 2009

MacBook Pro 17in
March 2009

MacBook Air
October 2008

MacBook 13in
October 2008