Original URL: http://www.theregister.co.uk/2009/07/06/review_accessory_elgato_video_capture/
Elgato Video Capture
Mac-up your dusty VHS collection
Posted in Personal Tech, 6th July 2009 08:02 GMT
Review The usage is clear: you have a stack of old VHS tapes and you'd like to get the content they hold in a more convenient, digital form for viewing on an iPod or burning to DVD.
Elgato's meant-for-Mac Video Capture comes late to the party - people have been digitising VHS tapes for ages, either using a TV tuner or a standalone gadget like Ion's VCR-2-PC. Does this new offering come too late - or does it have something special to offer?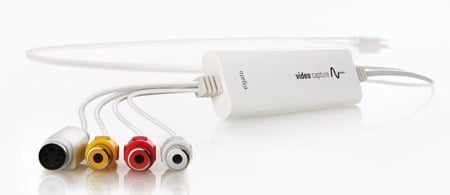 Elgato's Video Capture: too late to the party?
Well, a bit of both, actually. Video Capture's accompanying software makes grabbing video, topping and tailing it for a clean start and end, and saving it to disk all a simple process involving just a handful of mouse clicks. But we're not convinced many folk will get much out of this pricey item.
Physically, Video Capture is like a large TV tuner, with a USB connector on a wire at one end and a quartet of inputs - s-video, composite-video and RCA stereo audio - at the other. The box comes with a set of red, white and yellow male-to-male cables, and a Scart adaptor, so you'll be ready to hook up your video recorder, set-top box or whatever out of the box.
The software presents a basic, wizard-style UI that walks you through naming the recording; connecting and testing the video and audio feeds; starting and stopping recording; chopping off unwanted material from the start and end; and finally transferring it, if you want, to online sites or other apps: play it in iTunes or QuickTime Player, send it to iMovie or upload it to YouTube. It's all very, very straightforward.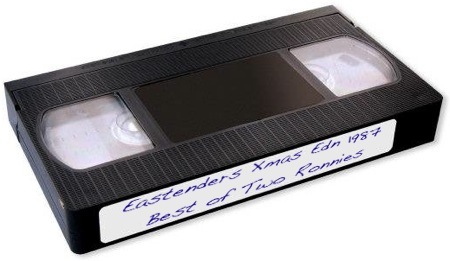 Lest we forget...
To keep it that way, Elgato has tucked the app's only two settings - encoding format and the folder in which the completed recordings are saved - in the Preferences panel. Only two formats are supported: MPEG 4 and H.264. Both are iPod-friendly; the difference is largely down to compression. Thirty minutes of MPEG 4 will take up 570.6MB; the same duration of video encoded at H.264 will take up 349.2MB.
When you enter the recording's filename, you can also select how long you expect it to last. Later, you can tell Video Capture to automatically stop recording after that time - handy for unattended video transfers.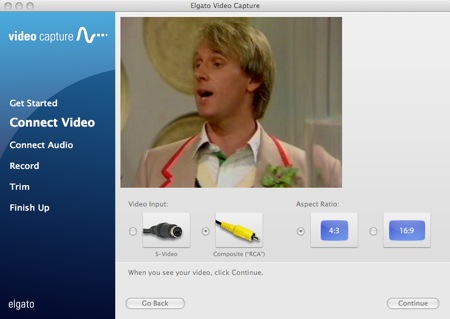 The VC software is a wizard that guides you through the digitising process
The recordings are limited to a 640 x 480 resolution, which is fine for transfer to an iPod or iPhone, but not the video's optimal PAL resolution - 720 x 576, since you ask. You can digitise at 4:3 or 16:9 aspect ratios.
Video buffs may be disappointed, but given VHS' relatively poor resolution to begin with, this sub-PAL resolution isn't an entirely unjustified trade-off. Upscaling it on an HD TV through an Apple TV box or somesuch, or transferring it to a full PAL DVD, isn't optimal given the inherently blurry nature of VHS, especially when it comes to pre-recorded material.
But it will be a limitation if you have better quality content recorded on a domestic VHS or an analogue camcorder. Would it really have been hard to give us full resolution, Elgato?
We tried the gadget out first by hooking it up to an original Core 2 Duo-based MacBook Air and chose H.264 as the format to encode the video in. The results were poor, to stay the least, with the picture and sound speeded up like hand-cranked film run through a modern, motorised projector. Switching to MPEG 4 yielded mostly good, smooth recordings, but that too-fast playback problem still appeared occasionally.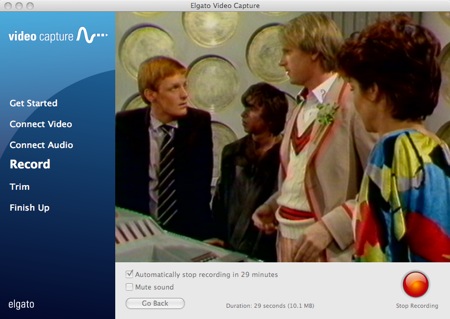 Click to stop recording - or let VC do it for you after a given time
The Video Capture hardware doesn't encode video itself - it's all handed over to the CPU, so we can blame the software for the glitches. Modern Macs won't have any problem here - the original Air is a special case because high processor temperatures trigger a deliberate core shutdown to bring the temperature back down again. And H.264 encoding puts a lot of strain on the CPU.
We also tried Video Capture on a older, Core Duo-based MacBook Pro, but here the Video Capture automatically switches to MPEG 4 because of the H.264 processor overload. Recordings were generally good, but even here the 'over-cranking' problem popped up occasionally. It's not a problem with the machine - we've used it to digitise content using an Elgato TV tuner many times before, always successfully.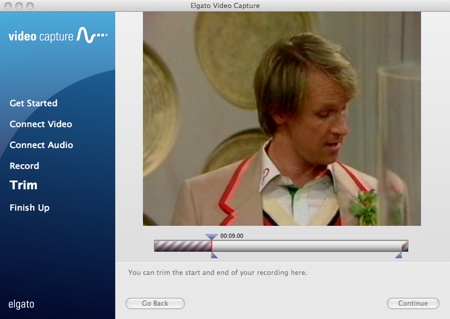 Setting the in and out points isn't as accurate as it could be
Editing out unwanted material at the start and end of the recording is easy to, but not as fine-tunable as we'd like. The markers used to indicate the in and out points only operate by dragging - you can't tab through small intervals using the arrow keys on the keyboard - and the best interval you can get is one second, sometimes more, depending on where the key frames fall.
Some of the cuts we made didn't fall where we'd market. When they did, the soundtrack was often spliced badly so that, during playback, it didn't cut in immediately but after a second or so, though it was in sync. So if you need fine control, you'll want to import the recording into iMovie to edit it there - the Video Capture editor is just for 'rough and ready' cuts.
Elgato has priced the Video Capture pack at £90/€99. If you already have a TV tuner with s-video and/or composite-video inputs, Video Capture is redundant. And that £90 will buy a lot of cut-price DVDs - 18 at a fiver a pop. So if all you're planning to do is digitise some old pre-recorded tapes - we have to remind you it's illegal to do so - it may be more cost-effective just to buy discs instead, rip them and get better picture quality into the bargain.

Scart, s-video and composite-video sources supported
On the other hand, if your prized home movie collection is still residing on dusty VHS tapes, Video Capture isn't a bad way get them onto your Mac - provided it's a powerful one.
Verdict
There must be a fair few Mac owners with VHS tapes they want to digitise but no hardware to use to do so. Elgato's Video Capture fills that gap perfectly - on paper. In practice, it's very disappointing. Macs we know can do video digitisation yielded sub-par results with Video Capture. We hope a software update will improve matters. Until it does it's hard to recommend Elgato's offering unless you have a top-flight Mac. ®
More Mac Video Accessory Reviews...
| | | | |
| --- | --- | --- | --- |
| Elgato Turbo.264 HD | Elgato EyeTV 310 HD | Elgato EyeTV DTT Deluxe | Elgato EyeTV DTT |