Original URL: https://www.theregister.co.uk/2009/07/06/apple_fingerprint_gadget_papp/
Apple moves to patent fingerprint-controlled gadgets
Biometric playlists?
Posted in Personal Tech, 6th July 2009 15:15 GMT
Apple has plans to implement biometric controls into its gadgets, if techniques outlined in its latest patent application are taken to their logical conclusion.
The firm's filing ith the US Patent and Trademark Office, entitled "Control of electronic device by using a person's fingerprints", describes how users could control gadgets using fingerprints.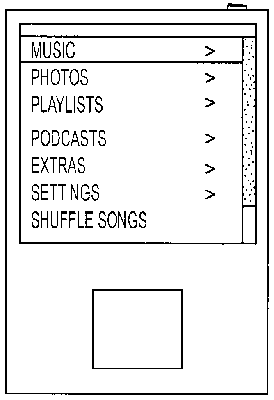 Apple's patent app reveals an iPod-like gadget controlled by fingerprints
One of the application's drawings, shown above, shows an iPod-like device with embedded "fingerprint sensor". An accompanying chart describes how placing your index finger onto the reader would cause the gadget to play some content.
Alternatively, put your middle finger onto the reader and you'll be able to fast-forward through content. Leaving your index finger on the reader for a specific number of seconds would cause the gadget to jump back to its home screen, the application said.
While remembering which of your digits performs which function and how long you need to press your pinkie onto the biometric reader sounds tiresome, Apple has some specific uses in mind.
The technology's extended description hints that fingerprint controls would be well suited to use by the visually-impaired or as a tool for rifling through your iPod when you can't easily look at the screen.
Replacing buttons or dials with fingerprint sensors could also help reduce a gadget's size, Apple reckons.
However, the company has considered pairing fingerprint control up with other, more traditional forms of gadget control such as verbal input, button input or a multi-touch interface "similar to that incorporated into an iPhone", the document states.
Fingerprints may even, according to the application, be used "for authentication purposes".
It's worth noting that this isn't the first time that Apple has tried to patent some form of biometric control. Back in March, for example, Register Hardware reported on an Apple patent application for a MacBook with biometric-enabled keyboard able to recognise the user once they start typing. ®