Original URL: http://www.theregister.co.uk/2009/07/03/review_hd_tv_panasonic_tx_l37v10/
Panasonic TX-L37V10 LCD HD TV
The clutter-free viewing experience?
Posted in Personal Tech, 3rd July 2009 08:02 GMT
Review The first manufacturer to launch TV sets with integrated Freesat, Panasonic moves things on again with its 2009 Viera range. On paper, the TX-L37V10 is appears to be everything you'll need for living room viewing – a satellite and terrestrial TV with a network media player, and access to Internet services such as YouTube. For many, it looks like the ultimate all-in-one solution.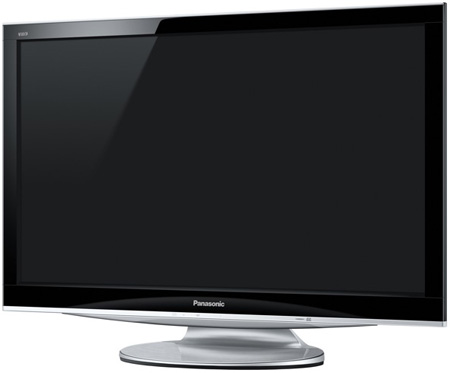 Panasonic's Viera TX-L37V10 LCD HD TV
The TX-L37V10 is just above the middle of the Viera range. There's a smaller 32in LCD, and plasmas in 42, 50, 58 and 65 inch screens. Like the slightly cheaper G15 models, it includes VieraCast online services and DLNA streaming, but claims a contrast ratio of 100,000:1 rather than 50,000:1. Although the suggested price seems high, the street price has it pegged at less than £1000.
It's a reasonably slim set, with most of the socketry on the back panel. The left side has an SD card slot, and a 3.5mm headphone jack, while the right has the main power switch, TV, and AV selectors, plus function, up and down buttons which, together, let you manage the basic settings.
There are three main HDMI inputs on the rear, also two SCARTs, a component and a PC style VGA connector. The first HDMI port can be switched to use the phono sound input on the component port, if you're connecting with a DVI adaptor. Phono audio outputs are provided, along with optical digital, plus Ethernet and connectors for satellite dish and UHF aerial.
Instead of a side HDMI port the fourth one points downwards. It's just left of centre at the rear bottom and not quite as fiddly to use as it sounds. There are no S Video or composite sockets, but the SCART sockets accept these signals.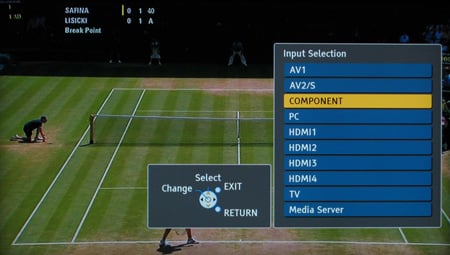 A multitude of ins
Installation was almost entirely automatic. As soon as the set was turned on it scanned for channels on Freesat, Freeview and analogue, before requesting a postcode to line up the correct Freesat regional variations. It then asks if it is in a shop or at home; the latter option also allows you to set a PIN and enter your name and postcode.
With a 1920x1080 IPS Alpha panel, picture quality is excellent, and there is a very wide viewing angle. The BBC HD channel looks amazing, and SD channels didn't fare too badly on the whole, both using the built in tuners and with component interfacing from a Freeview PVR.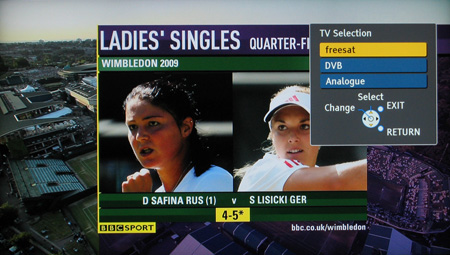 Easy access to TV broadcast options
Panasonic makes much of its 100Hz intelligent frame technology, and it certainly seems to smooth out the jerkiness of scrolling text or sideways camera movements. We're less convinced by the Dynamic picture mode, which seemed to over-saturate the colours. An Eco setting adjusts to ambient lighting, and seems to do so without too much interference with the picture quality.
Contrast is excellent, with deep blacks that look convincing, with plenty of detail still visible in shadowed areas. The set coped very well with extremes, such as explosions, in a range of test content. Most settings stay with the particular input, so you can have overscanning turned on for an SD source, for instance, and off for your Blu-ray player.
Sound is reasonable, but not excellent. There are preset choices for speech and music, as well as adjustments for bass, treble and balance, together with an option to say how far the set is from the wall. You can also adjust the relative volume for each channel or input, which is a good touch.
Less successful are some of the 'surround' modes. 'V-Audio ProSurround' adds reverb that just sounded nasty to us, though the other modes do make the soundstage appear wider. You'll better off, using the digital or phono outputs to feed a signal to your HiFi – slimline sets are never going to deliver a truly satisfying bass.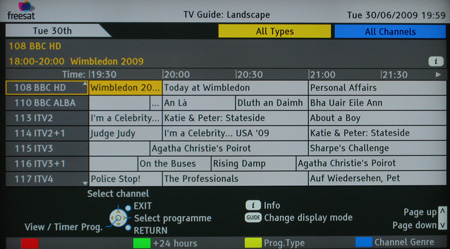 Freesat's EPG does offer a favourites option to filter out unwanted channels
Unlike other Freesat sets, the Ethernet port's not restricted just to the forthcoming iPlayer, which is due to be available from the 'red button' interactive services this autumn. Panasonic's own VieraCast service provides weather, market information from Bloomberg, plus access to Picasa and YouTube. There are sports clips from Eurosport too, and German news from Tageschau.
YouTube clips can look surprisingly decent blown up to full size, and by entering your account info, existing favourites can be accessed easily. More VieraCast content may come in time, if Panasonic signs up other partners. Ultimately, it's this sort of system that TV makers would like to see, rather than the BBC's Project Canvas, which aims to provide a free and open standard for IP video on demand using TVs and set top boxes.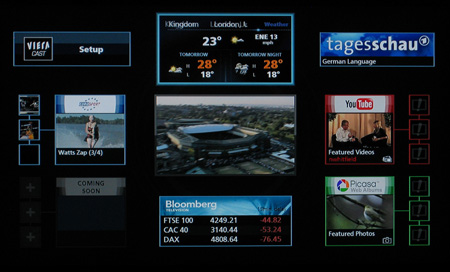 Panasonic's own VieraCast system provides additional content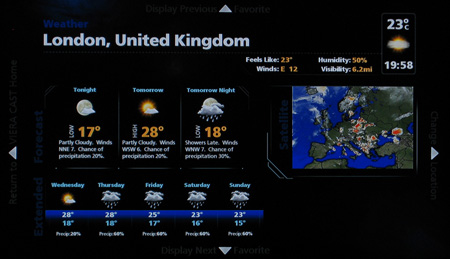 Sunny disposition: VieraCast weather
Besides VieraCast, the V10 is also DLNA and DivX certified, and comes with a licence key for Twonky Media Server, if you don't already have a suitable server. Media servers appear as an option on the AV input menu, with quick access from the Viera Tools bar. It's a good idea, and if you're a moderate consumer of content, may well be all you need.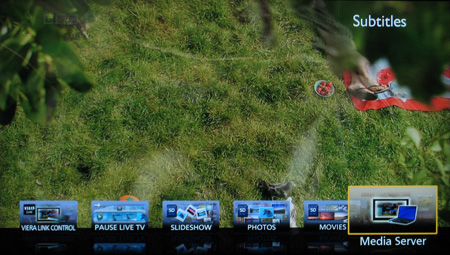 A range of viewing options are accessed using Viera Tools
Power users will be disappointed though – playback is strictly SD, and the only video formats supported are DivX and MPEG2. We had no problem playing back a range of files, including downloaded ones, but the only MPEG2 files that worked were VOBs.
With all the features in the set, a decent remote and menu system is a must and Panasonic has made a pretty reasonable stab at things. There's still Freesat's annoying genre screen before you enter the EPG, but at least you can create a favourites selection.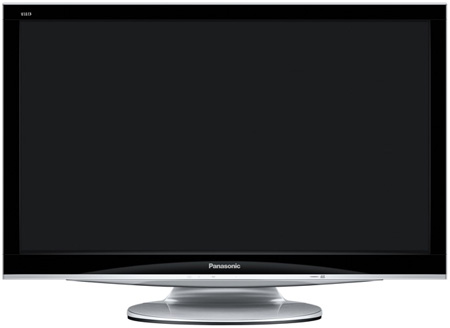 Panasonic's all-in-one vision
The keys are, by and large, well labelled. Navigating around is simple and some features can be accessed in several ways. For example, DLNA playback can be activated by pressing Viera Tools and then Media Server – the tools popup remembers the last thing you used, saving time. Alternatively, select Media Server as an AV input for DLNA playback. There's a dedicated button for SD card access, as well as options on the Viera Tools menu, and a pop-up when a card is inserted.
Press menu when viewing, and you can access sound or picture settings, and as you tweak one option, the others disappear off the screen. The option button calls up other sound settings, including the relative level and soundtrack choices. Other, less used settings, like over scanning and intelligent frame creation are buried a couple of levels down. It's not always the most logical, but day-to-day operation is pretty straightforward.
Verdict
If you're looking for a Freesat TV with a great picture, or just a decent set for watching movies, the TX-L37V10 is a sound choice. It'll also replace a media player, as long as you're happy with standard definition DivX files. Indeed, for many casual users, it really does have everything they need, albeit at a price. ®
More HD TV Reviews...

Toshiba Regza
37AV615DB

Pioneer
Kuro KRL-37V

Sony Bravia
KDL-37S5500

LG 42LF7700
Freesat TV