Original URL: https://www.theregister.co.uk/2009/07/02/porsche_leccy/
Porsche bites back at e-car proponents
Still several tech hurdles to overcome, says exec
Posted in Science, 2nd July 2009 11:23 GMT
Leccy Tech Porsche has criticised e-car makers for dangling what it claims are unrealistic visions and vaporware in front of the car-buying public.
Wolfgang Dürheimer, Director of development at the German sportscar maker, described such moves as "frivolous" in a recent interview with German motoring site Motorzeitung.
Dürheimer hinted that the leccy car industry still faces several key challenges, including the creation of decent charging systems, and the development of smaller and lighter batteries.
But, sadly, he didn't drop any hints about Porsche attempting to overcome these issues by developing its own leccy sportscar.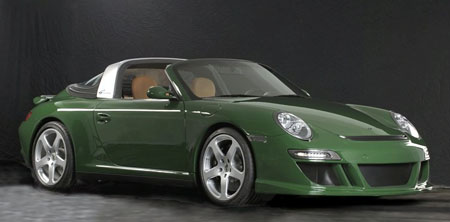 Ruf's Greenster: as close as you'll get to a leccy Porsche, for now
However, the executive did praise after-market specialist Ruf, which recently showed that a leccy Porsche is at least possible when it displayed the Ruf Greenster at the Geneva Motorshow.
The Ruf Greenster is based on a classic 911 Targa and uses a 260kW electric motor to produce 695lb/ft of torque.
Greenster can hit 60mph in five seconds and has a top speed in excess of 150mph, according to Ruf. The Greenster weighs 500lbs more than a standard 911 and has slightly less luggage space, thanks to the battery pack.
Ruf's yet to provide any details about the car's range, beyond saying that it's looking at standard and "extended range" battery packs.
In its current form, the Greenster is only a technology demonstrator. But Ruf has confirmed that it intends to start a limited Greenster production run next year, with the leccy motor expected to cost around £160,000 ($263,000/€187,000). ®