Original URL: http://www.theregister.co.uk/2009/07/01/review_phone_acer_tempo_f900/
Acer Tempo F900 Windows Mobile smartphone
Screen gem let down by supporting cast?
Posted in Personal Tech, 1st July 2009 09:31 GMT
Review The roll out of Acer's Tempo series of Windows smartphones continues apace with the dual-SIM DX900 and rather unremarkable X960 now being quickly followed by something altogether more shiny and new, the F900 with its eye-catching 3.8in touchscreen.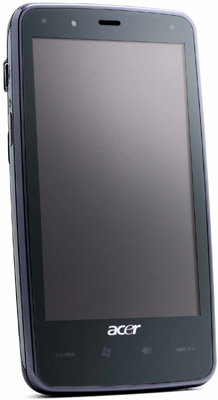 Acer's Tempo F900 Windows Mobile smartphone
The F900's external dimensions are unsurprisingly similar to HTC's Touch HD, the only other 3.8in touchscreen Windows smartphone currently available. At 150g the F900 is 3g heavier while at 117.5x63.5x12.9mm it's also a little taller, wider and thicker. Alas, it's not the looker that the Touch HD is either, feeling altogether more slab-like, lacking the HTC handset's subtly bevelled screen fascia.
Cellular connectivity is pretty much state-of-the-art with quad-band GSM, Edge, 7.2 Mbps HSDPA and 2Mbps HSUPA 3G. As you would expect, you also get 802.11 b/g Wi-Fi and A2DP Bluetooth. The F900 also features an FM radio. While it's not RDS you can input channel frequencies directly via the virtual keypad, it has a handy auto-scan function and can store up to 20 of your favourite stations.
Externally, there's a miniUSB port and on/off switch on the left, while the right hand side of the device is home to a memory card slot, combined up/down/activate control and camera button. We are not sure the left hand side is the best place for a touch screen phone to have its on/off switch – it's far easier to press by accident in that location than if it was on the top of the device. At the bottom of the unit, tucked away, is a slot for the ubiquitous stylus.
Below the screen are four touch sensitive buttons – two to pick up and end calls, one to launch the Today menu and another that works as a 'back' button. The screen and the four virtual buttons below are all endowed with a mild level of haptic feedback and the buttons glow a pleasant blue when brushed.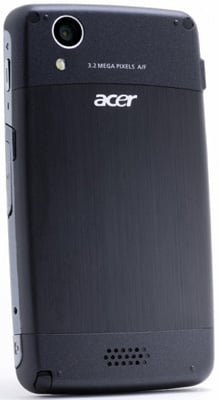 Just a 3.2Mp camera, but a fairly decent speaker
The front of the handset is dominated by the 3.8in WVGA TFT LCD resistive touch screen, with a resolution of 800x480 and support for 65k colours. And a rather nice screen it is too, being bright, crisp and colourful. It's not the most reactive or precise touchscreen we have come across on a Windows device though. Sometimes ticking small check boxes with the stylus required a second or even a third tap. This failing was far less noticeable when it came to navigating around the system and web pages rendered on Opera Mobile using a finger.
The F900's operating system is Windows 6.1 Pro and there's no need to dwell too long on its pros and cons. On the upside you get Windows Office Mobile and easy PC connection and synchronisation but, on the downside, it's an ageing and fiddly OS cursed with a reprehensible web browser and limited media player.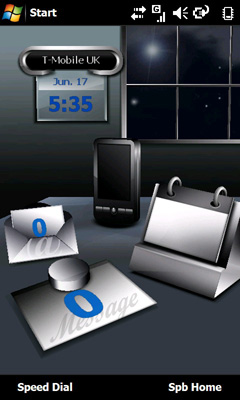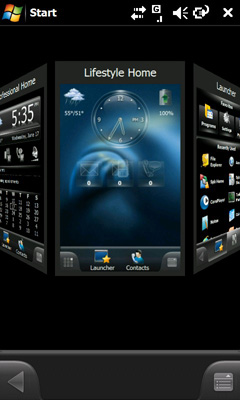 User Acer Shell 'office' on the left for free or opt for Spb's carousel on the right, but at a cost
Like the DX900, the F900 is powered by a Samsung S3C 6410 533MHz processor, which has 128Mb of RAM available. It's a set up that powered the DX900 at a decent enough clip, but it seemed to struggle a bit in the F900. We reckon a lot of that is down to a combination of Acer's flash new graphical front end and the larger screen.
When we first saw Acer Shell on the X960 we were fairly impressed. We liked the three-page 'office & desk' widget layout and the animated weather and clock screens. You also get a handy Quick Launch menu that you can populate with short cuts to up to 36 programmes, a useful zoom function that expands all the icons in the status bar and a rather fine virtual keyboard that allows for easy typing without recourse to the stylus.
Unfortunately, on the F900 the Acer Shell home screen just isn't quick or fluid enough to be truly satisfying and occasionally it would 'stick'. On one occasion we tapped the 'back' soft-button three times – all of which registered – before anything actually happened. Acer Shell is also pretty memory hungry – just look at the phone's task manager and you will see available system memory drop by around 20MB when it's running, which only leaves about the same again for the rest of your applications.
Agreed, Acer Shell certainly looks nicer than the version of Spb's Mobile Shell fitted to the DX900 but it simply doesn't work as quickly and, given the choice, we'd take the quick but dull over the impressive looking but tardy. Did we say dull? Spb's new version of Mobile Shell is actually very far from dull - the 3D virtual carousel is fast and visually attractive and the new widget system makes it supremely adaptable.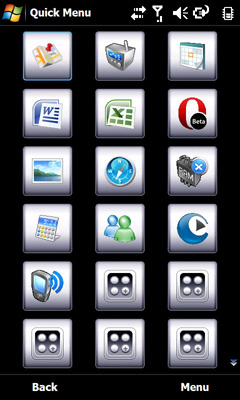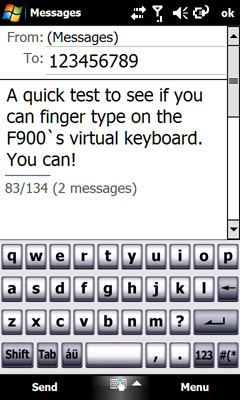 Application shortcuts menu and keyboard input
We loaded up Spb's Mobile Shell v3.0 and have to say we'd use it as the UI and unload Acer Shell from the Today menu, which still lets you use Acer's bespoke virtual keyboard and music player, both of which we like. Life would be simpler, and the F900 a better device, if Acer had just loaded it with the new Spb application to start with. Still, see for yourself, Spb can be installed as a 30-day trial or just go the whole hog for $30.
Truth be told, we like the F900's music player a lot. Albums are represented by a carousel of discs that you can swipe through, each disc having cover art on it just like a late 70's vinyl picture album – which probably means nothing to readers under the age of 40. Tap the relevant disc and it appears at full screen with the media controls inside it. The music player also comes with full range of EQ settings and produces a rather decent sound. That said, you are stuck with the supplied miniUSB headset, as there's no 3.5mm headphone jack.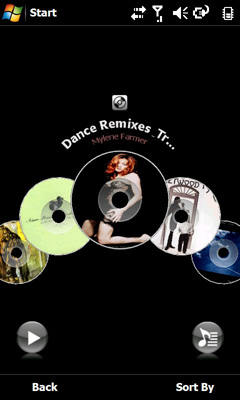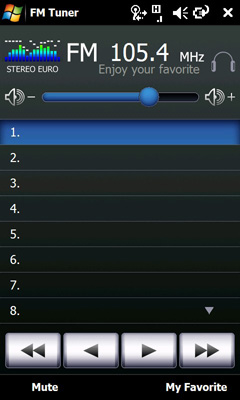 The F900 has a decent music player and FM radio, but no 3.5mm headphone socket
The lack of a video player other then Windows Media Player is bit of a drawback on a device with a 3.8in screen. As always, you can download CorePlayer or similar, but Acer really should supply the F900 with an optimised player that makes better use of all that colourful WVGA screen acreage.
On-board storage is a meagre 256MB, however, the F900 has a microSD card slot that is good for 32GB. We tested it with a 16GB card and it worked perfectly, something that's not always proved to be the case with Windows Mobile devices.
As with other Acer smartphones the F900 comes loaded with a decent array of subsidiary kit and programmes including a voice controller, business card recogniser, media streaming client and Google Maps. You also get the same rather fine SiRF Star III unassisted GPS, as you do on the DX900, together with the same run-of-the-mill 3.2Mp autofocus camera. One thing you don't get is a forward facing camera to make 3G video calls, but that's probably no great loss to most users.
Unfortunately our time with the F900 was marred by a couple of firmware issues. To start with the accelerometer proved a little wayward and refused to work at all with Opera Mobile or the Acer Shell home screen. Secondly, and more annoyingly, on one occasion the WiFi radio suddenly decided it didn't want to launch. A clean boot fixed this, but that also wiped all our data and installed programmes, so it's not a fix we would be happy having to do more than once.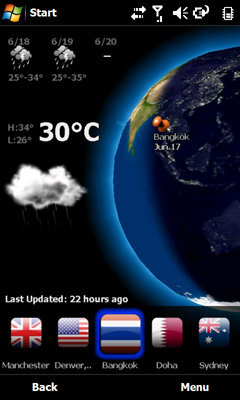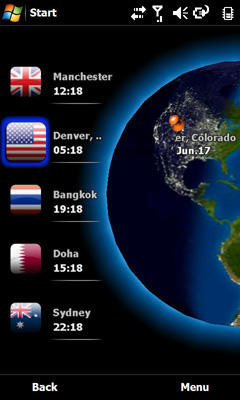 The animated weather and time displays certainly have their appeal
We also couldn't find a way of turning the haptic feedback off, which is not a problem if you like it, but is an issue if you don't. Yet when it came down to basic 'phone stuff,' the F900 performed well. Both incoming and outgoing calls sounded loud and clear and the speaker quality proving above average too. No problems with signal reception either, the handset working well in both 2 and 3G reception areas.
Acer ships the F900 with a 1530mAh battery. As long as you are careful with the WiFi and Bluetooth radios it should be possible to eek out two full days of use before you end up standing around with a power adapter in your hand and a worried look on your face. Even with heavy use of all the bells and whistles, a full charge should see you through a busy working day.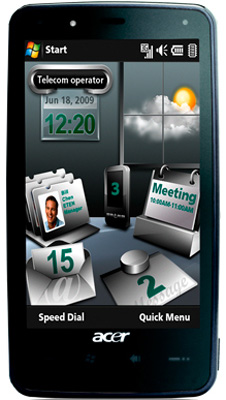 Not bad for the price, although perkier with Spb installed
In the absence of network-subsidised deals on the high street, the one advantage the F900 does have over the Touch HD is price. We found the unlocked F900 for a shade under £400 from a number of suppliers, a good £100 less than the Touch HD.
Reg Hardware spoke to Acer and it confirmed that it is talking to several UK mobile telecos about carrying the Tempo range, but it wouldn't confirm which ones or when they will become available. So, in the meantime, if you want one you'll just have to go to one of the specialist suppliers.
Verdict
If cost was not an option and we had to choose between the F900 and HTC's HD we would have to pick the latter. It's better looking, the screen is more reactive and the OS runs faster due to it having more available system memory. That's not to say the F900 is hopeless though – if you install Spb's latest Windows Mobile UI you will have a perfectly decent and usable phone on your hands and its a fair bit cheaper than the obvious competition. ®
More Phone Reviews...
| | | | |
| --- | --- | --- | --- |
| HTC Touch Pro2 | Apple iPhone 3G S | HTC Magic | LG Arena |