Original URL: http://www.theregister.co.uk/2009/07/01/palm_pre_v_iphone_3gs/
iPhone v Pre - the celebrity smartphone deathmatch
Every feature unearthed, every quirk revealed
Posted in Personal Tech, 1st July 2009 02:08 GMT
Review Two top-of-the-line smartphones were released in June: the Palm Pre and the iPhone 3GS. If you're eyeing them, you'll have to choose one or the other - no one in their right mind owns more than one smartphone. So which one is worthy of your pocket or purse?
To answer this question - and since it can be easily argued that I'm not in my right mind - I got one of each. For the past couple of weeks, I've been bouncing between them, hammering on their hardware, slapping about their apps, and generally using them as their designers intended: as phone-call handlers, email senders, message messagers, webpage viewers, pocket-sized entertainment centers, and the like.
And now I'm ready to tell you which one you should buy.
But first a bit of business to ward off enraged fans of the BlackBerry Storm, HTC Magic, Nokia N97, Samsung Omnia, LG Viewty, and others - or, for that matter, even connoisseurs of a finely aged Motorola MicroTAC. Yes, there are other fine phones in the world, but this article isn't about them. This is a point-by-point smackdown: the Palm Pre versus the iPhone 3GS.
Some features of the two phones are so similar that it's hard to prefer one over the other. In other particulars, one phone clearly holds an advantage. And other characteristics can't be graded. They're simply a matter of taste. A black Palm Pre isn't inherently better than a white iPhone 3GS, for example.
So let's start from the outside of the two devices and work our way into their core-OS souls, layer by layer by layer.
Hardware
Size and weight: No surprises here if you've seen photos of the two phones: the Pre is a bar of soap, the iPhone is its soapdish.
Physically, their stats are as follows:
Palm Pre:
Width: 2.3 inches (59.5mm)
Length: 3.9 inches (100.5mm)
Thickness: 0.67 inches (16.95mm)
iPhone 3GS:
Width: 2.4 inches (62.1 mm)
Length: 4.5 inches (115.5 mm)
Thickness: 0.48 inch (12.3 mm)
Despite their size differences, they weigh exactly the same: just under four 4.8 ounces (135 grams).
Some have complained that the Pre is too thick to be comfortably pocketable. Comments like that merely show that the complainer's pants are too tight. Both phones fit well into a pocket, and both fit comfortably in your hand.
Size and weight advantage: A tie
Fit and finish: No contest. The Pre's plastic body is imperfectly molded, its slide-out keyboard tray is a mite wobbly even when closed and has a fiendishly sharp bottom edge (more on that keyboard in a moment), and its pop-off-with-your-fingernail micro-USB port cover is a pain to remove and just begging to be torn off. The Pre feels cheap and breakable.
The iPhone 3GS, on the other hand, is built like a brick with every contour perfectly molded and fitted. It feels expensive and solid.
Fit and finish advantage: iPhone 3GS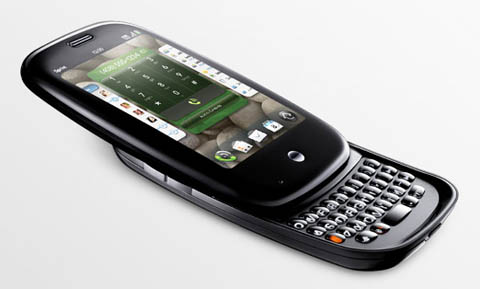 The Pre's keyboard slides out to frustrate your typing and threaten your fingers with its sharped-edged tray
Keyboard: When the iPhone was first released, reviewers - and many users - howled about its screen-based keyboard. And for good reason: They were comparing it with the quality physical keyboards of RIM's BlackBerries.
The Pre is not a Blackberry. Its tiny keys are recessed beneath interfering ridges above and below. They give little feedback and are hampered - as are most physical keyboards - by needing a command key to access symbols and numbers, a task that the iPhone handles by changing the entire keyboard when, for example, you want to type a series of numbers.
I hate the Pre's keyboard - but I'm the first to admit that I'm not the most delicate of men, fingertip-wise. I brutalized them by playing bass guitar for many years and by spending my baseball days behind the plate as a catcher. My fingers are as insensitive as keilbasa.
So I asked an array of friends, family, and colleagues to try out the Pre's keyboard. Some were BlackBerry users, some were iPhone users, some used neither. Not a single one of them liked the Pre's keyboard. In fact, one of my nimble-fingered testers expressed strong disliked for her iPhone's keyboard - but thought the Pre's was worse.
Also, the Pre's keyboard is far enough away from what you're typing that it's hard to keep checking your mistakes - and, I guarantee you, you'll make them. When you do, don't expect the Pre to help - its predictive spelling is laughably rudimentary - it'll change "teh" to "the," but that's pretty close to it.
More keyboard contempt
One last dig at the Pre's keyboard. Having a physical keyboard prevents apps that require it from being rotated into landscape mode. Neither the Pre's Memos nor Mail apps can rotate. That's not a problem for Memos, but it would be good to be able to rotate some email messages to be able to more easily read those with images or in HTML. Not possible. You can't type sideways.
The soft keyboard on the iPhone may take some getting used to, but you'll soon be typing away at a decent clip - if not at BlackBerry speeds. However, with predictive spelling and the ability for the keyboard to change contents contextually - adding a ".com" key in a URL context, for example - and to grow in width when the phone is rotated, the iPhone's keyboard easily trashes the Pre's Lilliputian loser.
Keyboard advantage: iPhone 3GS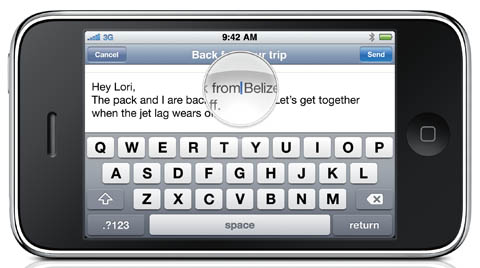 The iPhone 3GS keyboard with magnifying-glass cursor placement is easier to use than the Pre's hardware model
Display: The iPhone's display is only slightly larger than that of the Pre - 3.5 vs 3.1 inches (89 vs. 79 mm) - but that slight difference certainly makes it appear bigger, especially when viewing videos. That said, both displays have a resolution of 320 by 480, so a web page's displayed area, for example, remains the same when viewed full-screen.
Display brightness is essentially equal between the two devices, as is their susceptibility to glare. The Pre's display tries to defeat glare by being ever-so-slightly rounded, but not enough to provide any perceptible benefit.
But the Pre's display is susceptible to two things that the iPhone's isn't: scratches and finger oil. The Pre's display is ineffectively protected by clear plastic, which on one of my test Pre units developed a small scratch even though I babied it shamelessly.
The iPhone's display is effectively protected by glass - you have to work hard to scratch it. The iPhone's display also has an oleophobic coating that does an effective job of keeping it relatively oil-free even after being avidly fingered for hours.
Oh, and you'll notice that a paragraph or so ago I said "one of my test Pre units." Now is as good a time as any to mention that the first Pre that Palm sent me to test was a lemon, with an off-color display that discolored video and photo playback, shaky Wi-Fi connectivity, and shot-by-shot color-cast inconsistencies that bedeviled its built-in three-megapixel camera. Sigh...
Let's hope that Palm gets its quality-control act together before you buy one. If you buy one.
Display advantage: iPhone 3GS
USB drive: When you hook up a Pre to your computer using the supplied USB cable, you're presented with three choices: Media Sync, USB Drive, or Just Charge. The former fools iTunes running on your Mac or PC into thinking that your Pre is an iPod and allows you to use iTunes to load tunes and video (DRMed iTunes tunes are, of course, verboten). Just Charge is rather self-explanatory.
But that middle choice, USB Drive, is a reminder of something that iPods have that the iPhone doesn't: the ability to act as a USB drive. Not only is this a convenient way to carry files between, for example, home and office, but in the Pre's case, it's also an easy way to load songs and videos (see "Video playback," below).
You can turn the iPhone into a USB drive, but you'll need third-party software such as Ecamm Network's PhoneView or DigiDNA's DiskAid to do so.
USB drive advantage: Pre
Battery: Although I didn't run any well-defined benchmark testing, the Pre's battery seemed to poop out under heavy use just a little bit sooner than the iPhone 3GS's, perhaps because it runs background apps.
The one big plus in the battery column for the Pre, however, is that its battery is user-replaceable. Yes, the back cover is a complete pain in the butt to remove, but I'll gladly deal with a broken fingernail in exchange for the ability to replace a battery myself.
Battery advantage: Pre
Hardware and Software
Before I dig into what really distinguishes the Pre from the iPhone 3GS - their software and operating systems - let's take a side trip into where software and hardware combine. For example...
Still camera: Last week, I wrote a comprehensive review of the cameras in the Pre and three different iPhone/iPhone OS combos. It turns out that the Pre I used for that review was borked. I've since done the same tests with a new Pre and discovered none of the color-cast problems that I experienced with the first unit.
The Pre's camera has one main advantage over the one in the iPhone 3GS: an LED flash. Although low-light pictures taken with it are still noisy, it's nice to have in a pinch.
More problematic is the Pre's tendency to aggressively sharpen images. When we asked DXO Labs about the highly sharpened images that their software provides the Pre, they told us that the "choice was made to set the sharpening intensity to a level which does not require the user to post-process the images." There's no user-configurable sharpening control on either camera, by the way.
So it's your call. If you want your pictures pre-sharpened, choose the Pre. If you want them relatively soft, and sharpen them they way you want in Photoshop or elsewhere, choose the iPhone 3GS. We're guessing that most casual users will prefer the pre-sharpened Pre.
One last camera note: The iPhone's closing-shutter animation is a welcome indicator of camera activity, especially in loud, bright environments where the Pre's less-obvious blinking off of the camera controls and both camera's shutter sounds are not enough.
Still-camera advantage: Pre
Still-image playback: Both phones display images in rich color and at the same level of brightness, both store them in easy-to-navigate folder structures, and both allow you to easily flick through a folder image-by-image. Images on the Pre, however, consistently take a brief moment to transform from pixelated preview to sharp final - the iPhone doesn't have that problem. Also, the iPhone offers a slideshow capability, which the Pre lacks.
Still-image playback advantage: iPhone 3GS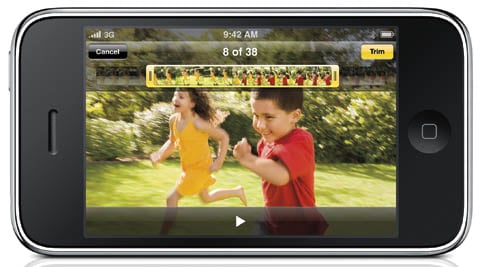 The iPhone 3GS's video editing may be basic, but it's better than the Pre's, which is nonexistant
Video camera: This one's easy - the iPhone 3GS can capture video, the Pre can't. The iPhone's video camera may not be capable of capturing finely detailed and subtle images, but at least it exists.
Video-camera advantage: iPhone 3GS
Video playback: Both phones play full-motion video, with the Pre supporting MPEG4, H.263 and H.264, and the iPhone MPEG4 and H.264 in various flavors. As long as the video files are properly encoded, playback goes without a hitch - I used Apple's QuickTime Pro to export video in iPhone .m4v format, which worked fine on both phones.
The iPhone 3GS plays video you shot using its camera in its Photos app - a bit counter-intuitive, but it works just fine - and videos you bought or loaded into it over iTunes through its iPod app. The Pre plays video through its more-logically named Videos app. You can load videos either in Media Sync and USB Drive modes, as mentioned above.
Both phones play YouTube videos, but the Pre can't mark favorites, do one-touch emailing, rate videos, flag them for inappropriate content, or read or add comments. Frankly, who cares?
Video-playback advantage: A tie
Audio recording: Another easy one, seeing as how the iPhone 3GS includes a Voice Memos app and the Pre doesn't include any recording function whatsoever - although it's safe to assume that such an app may very well appear from an enterprising third-party developer once Palm gets its software SDK act together.
Audio-recording advantage: iPhone 3GS
Out iPodding the Pod
Audio playback: You'd think that the inventor of the iPod would provide a better mobile-music experience than the inventor of the PDA - but you'd be wrong.
The iPhone's iPod app and the Pre's Music app organize audio content Artists, Albums, Songs, Genres, and Playlists. The iPod app adds Composers, Podcasts, Audiobooks, and Compilations to its list of categories and includes among its playlists Just Added and Recently Added content, plus On-The-Go and Genius playlists - should you be one of the rare birds who use those two capabilities.
Both phones offer easy access to all the tunes you've loaded onto them, both display album art where appropriate, and both ship with unimpressive-yet-serviceable earbuds. The Pre adds a nifty way to scroll through an album's song to choose while playing, and the iPhone has better song-length and volume indicators and controls.
One less-important point. Although the Pre's internal speaker - a relatively impressive 15mm grill on the back of the device - certainly appears as if it should sound better than the iPhone 3GS's paltry bottom-mounted slit, it doesn't. The iPhone is distinctly louder and richer when playing through the speaker - a trait that shows through again when using the devices as speakerphones.
It's the Pre multitasking capability - more on that in a moment - that edges its music player over that of the iPhone. Unlike essentially all other iPhone apps, the iPod app runs in the background, leaving you able to listen to music while performing other tasks - although in an undocumented feature, to silence an iPod tune you can double-click the home button, then either choose to tap the "shut up" pause icon, open the iPod app, or exit with no changes.
The Pre's Music app, like all Pre apps, runs on its own in the Pre's multitasking world. Not only can you continue to work in other apps while listening to tunes, to access the Music app you need merely to tap a small musical-note icon in the lower right corner of the display, and music-transport controls appear. Tap to pause, and you're done - and you never left the app you were working in. Nice.
Audio-playing advantage: Pre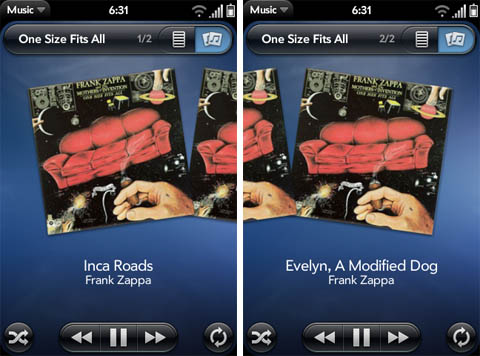 In the Palm Pre's Album view, just flick from one song (left) to the next (right)
Phone operation: You've read well over two thousand words of this smackdown tome, and finally, we're getting to how these two phones actually work as phones. That's either a tribute to how rich these handhelds are, or a knock on your humble author's organizational abilities.
Simply put, as phones, both the Pre and the iPhone 3GS work just fine. Call quality is good, and connection quality is more a function of their carriers than of the phones themselves - and a discussion of the Pre's Sprint versus the iPhone's AT&T is a can of worms we'll open on a different day, thankyouverymuch, except to reiterate that The Reg is none too pleased with AT&T's inability or unwillingness to yet support the iPhone 3GS's MMS and internet-tethering capabilities.
The dialing displays for the two phones are similar, although I prefer the straightforward button labels of the iPhone over the Pre's tricky icons - an extremely minor matter, to be sure, but a style point.
Where the Pre falls down is its nearly inexplicable lack of a "Favorites" capability for frequently dialed numbers, which the iPhone not only supports, but allows you to access through two clicks of its main button. You can kludge your way around this Pre limitation by using your call log, assuming that you call your faves on a frequent basis, but as Gertrude Stein might have said, a kludge is a kludge is a kludge.
Voicemail is also a big win for the iPhone. Its Visual Voicemail - supported by most if not all carriers - allows you to pick and choose which messages you want to listen to, delete, or return. After you've used it, the Pre's old-fashioned linear "to erase, press seven" style voicemail is sooooo 20th century.
To wallow in the trivial for a moment, the Pre's ringtone selection is an embarrassment, with 10 boring tones to the iPhones 25 - of which, admittedly, only half or so are reasonable. More importantly, the Pre's ringer simply isn't as loud as that of the iPhone 3GS - if you carry yours buried deep in your purse, you may very well not hear it at all. And then you'll have to dig through that 20th century voicemail system because you missed your significant other's call.
Phone-operation advantage: iPhone 3GS
Software
Before we dig into how software - both apps and OS - is the true distinguishing aspect between the two phones, one overarching caveat: Palm's webOS, although Linux-based, is a whole new ballgame, while the iPhone's OS is not only already on version 3.0, but is also a subset of Mac OS X.
In other words, you should cut webOS a bit of slack for being a version 1.0 (well, 1.03 and 1.04 in our testing), while also assuming that iPhone Software 3.0 is rather set in its ways and may very well not have any major surprises up its sleeve in future versions.
Which, if true, is too bad, because Apple has a few things to learn from Palm when it comes to software.
Multitasking: The Pre's webOS is a full-fledged multitasking OS. With the exception of such niceties as the iPod app's background operation and push notification, the iPhone is a one-app-at-a-time device.
webOS uses a card metaphor to let you move among different apps that are running on the Pre - when you choose to minimize an app, its display shrinks to about one-third size and moves off to the left when you open a new app.
Most apps, even when minimized, remain alive. Rotation still affects minimized photos and web pages, for example, although videos stop running in the background and web pages stop loading.
Of course, loading up a lot of apps into the background eats up both RAM and processing power, but in my testing, the Pre was more efficient at handling multiple apps than I feared. I could easily launch a half dozen apps without a noticeable slowdown, and with a dozen up and running things were a bit jumpy, though tolerable
Multiple iterations of the same app can also be minimized when appropriate - multiple webpages, for example. However, my Pre would warn me after ten or so webpages that it wasn't in the mood to open any more - but then it would allow me to open another half dozen. And although it greyed-out ones that I had first opened, they came back to life with a tap. Performance, however, suffered greatly with a dozen open web pages.
This ability to run multiple apps simultaneously gives the Pre a significant advantage over the iPhone, and as more apps become available for the Pre, that advantage will grow. Certainly, many iPhone apps retain their states when you exit them, and then when relaunched, they open to where you were when you last left them - but many do not.
That's not a problem with the Pre. You don't close an app, you merely leave it running, move on to another, and when you return to the first one, all is as it was - each and every time for each and every app, in my experience.
Multitasking advantage: Pre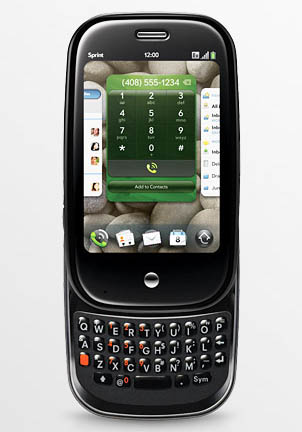 When running in the background, an app on the Pre minimizes into an "activity card"
User interface: The Pre's overall UI scheme takes a bit longer to learn and adapt to than does the iPhone's. At core, the iPhone has three controls: its main hardware button, multitouch gestures, and on-screen buttons and controls. The Pre adds to those an off-screen Gesture Area between its hardware button and the bottom of the display.
Without going into too much detail about how the Pre's controls interact - after all, what are user manuals for? - suffice it to say that knowing when to use the Gesture Area and when to use an on-screen flick can be a bit confusing at first.
More problematic is the Pre's touchscreen. Although it adds one bit of genius - a pebble-in-the-lake ripple effect when you touch the display - items such as hyperlinks take a disconcerting split second to light up after being touched. They also seem to be harder to select than the same links on the iPhone - and not merely because they're smaller due to the display's smaller size. Perhaps the iPhone uses a better proximity-sensing algorithm.
Finally, the iPhone's UI simply seems better thought-out. Using the Pre, I often found myself asking, "Now how to I get out of here?" or "How do I get this thing to do such-and-such?" while searching for buttons and navigation options that weren't there. Apple has been building highly intuitive UIs for years, and their expertise shows.
User-interface advantage: iPhone 3GS
Now it gets weird
Searchability: Here's where things get a bit weird. The iPhone wants you to browse to find things - although the new Spotlight search supplements that method of navigation. The Pre, on the other hand, wants you to search for stuff. (Ars Technica, by the way, has an well-reasoned article on the philosophical underpinnings of these two approaches).
The iPhone's search is a straightforward utility that you access by flicking to the left of the home page. You type in your query and are presented with whatever matches - be it a contact, app, email sender or subject, or calendar event.
The Pre introduces two concepts that affect its searchability: Palm Synergy and Universal Search. The problem with the former is that it's marred with version 1.0 wrinkles, and the problem with the latter is that it isn't - universal, that is.
Palm Synergy attempts to meld all of your contacts from disparate sources - Facebook, Google, Exchange, iCal, and Address Book, for example - and mash them up into a single über-contact list. When Pal Synergy finds duplicates, it attempts to meld them into single entries, combining the data on each into one record.
And it does a pretty good job. However, if you - like I - have well over a thousand contacts, "pretty good" doesn't feed the bulldog. You can delve into the Pre's Contacts app and manually combine Synergy-missed duplicates into single records, but doing so is tedious and time-consuming.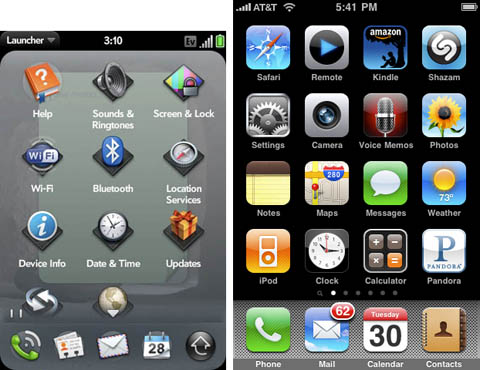 Few apps can be seen on one of the Pre's three Launcher screens (left), compared with many more on one of the iPhone's 11 home screens (right) - so search, don't browse
What's worse is that there's no way to separate contacts imported from one account from contacts imported from another. Your Facebook contacts, for example, sit right next to your Exchange contacts in the aforementioned über-contact list.
You'd think that combining all those contacts into one megalist would create one long, difficult-to-scroll-through list - but it's actually worse than that on the Pre.
Contrast the Pre with the iPhone's contact list, which includes the alphabet running down the right side so that tapping a letter in that list jumps you to contacts beginning with that letter. The Pre's contact list, even though it's composed of everyone in your known universe, has no such shortcut.
The Pre doesn't want you to scroll. It wants you to search. To find a contact, you can scroll if you want, but the Pre would prefer that you begin typing on that benighted keyboard, and it will immediately narrow the list down to contacts that match your entry. The iPhone will do the same, but it also offers the opportunity to use that alphabet UI.
This search-not-browse attitude suffuses the Pre experience - which leads us to Universal Search.
Whenever there's no active app - either none has been launched or all have been minimized - typing on the keyboard begins a Universal Search. Universal Search will then list all the contacts and apps that begin with the typed letters, contacts who work for companies that match the letters, even contacts whose first and last names begin with two typed letters.
For example, typing "in" will bring up the app named Device Info, contacts who work for Intel, plus Ingmar Bergman, Izzy Neustein, and Robert Indiana. What it won't bring up, though, are any email messages with "in" in their subject or sender field, nor calendar events with "in" in their subject lines.
Search-not-browse also points to why there are no Favorites in the Pre's dialer, and why there are only three screens in the Pre's application Launcher, each of which can only display nine app icons and names before you have to scroll to see more. The Pre wants you to find both contacts and apps by searching for them using Universal Search.
The iPhone allows you to search for apps using its Spotlight search function, but it also gives you up to 11 home screens of 16 apps each, none of which needs to be scrolled to allow you to see more.
Universal search may be powerful, and with some refinements it should become even more so, but I prefer the iPhone's "have it both ways" attitude towards finding what I want.
Searchability advantage: iPhone 3GS
Finally, the apps
Supplied apps: Both the iPhone and the Pre do a fine job of supplying you with the apps you need to take advantage of their hardware, and in most cases the differences between them are slight.
Their browsers, for example. Both the Pre's Web app and the iPhone's Safari are built on top of WebKit and are essentially equally snappy.
When the iPhone accesses a site that provides a mobile-formatted page, it'll use that page, but the Pre won't. Even if you enter a wireless-specific address such as IBM's or Cisco's, the Pre will render it as it would for a web page, not a handheld.
Oddly, Palm supplies the Pre with six built-in bookmarks, and five of them do load with mobile-optimized pages: ESPN, Amazon, Sprint, MySpace, and Facebook. The sixth - Palm - doesn't. Go figure.
Both the Pre and the iPhone provide the ability to save a web page into the Pre's Launcher or the iPhone's home page, where it will be then accessible by Universal Search or Spotlight. The Pre adds that capability to contacts.
The iPhone one-ups the Pre in that Safari's address field will auto-complete URLs, while the Pre instead sends you off to your choice of Google or Wikipedia.
The Pre's Calendar app has a couple of advantages over the iPhone's. For one, you can view by week or - even better - view by day and then side-scroll through the full week. The iPhone can do neither. Also, the Pre compresses unused hours into an accordion-pleat pattern, thus saving precious display space.
Multi-account emailers will appreciate the fact that the Pre's Mail app includes the ability to stock a Favorites list with often-used folders from different accounts, making them all easily accessible in one place.
In my testing, both apps handled images, audio, and video well, and both have the hideous shortcoming of forcing you to select each message individually before deleting it - a true pain if you have a hundred or more messages crowding a neglected mailbox.
Since it's a multitasking machine, the Pre has no problem whatsoever letting you know what's going on in other apps. This capability is best exemplified in Notifications, small messages at the bottom of the display that let you know, for example, if an email message has come in, who its from, and what its subject is; whose call you just missed, whether you have voicemail; from what number; and who's texting you and what's on their mind. If these notifications clutter your display, flick them off the the left to delete them - a gesture used to delete most list-based items.
The iPhone has alerts, as well, in the form of little red numbered circles on an app icon to tell you when some info has been added to that app's collection. Although these alerts carry less information than do Pre's Notifications, they're also less intrusive. iPhone Software 3.0 also allows developers to add more-intrusive alerts to their apps. We'll see how that works out when those apps start to appear in sufficient numbers.
Finally, as mentioned before, the Pre's Universal Search doesn't search Mail or Calendar apps as does the iPhone's Spotlight. Sounds like version 1.0 to me.
Supplied-apps advantage: A tie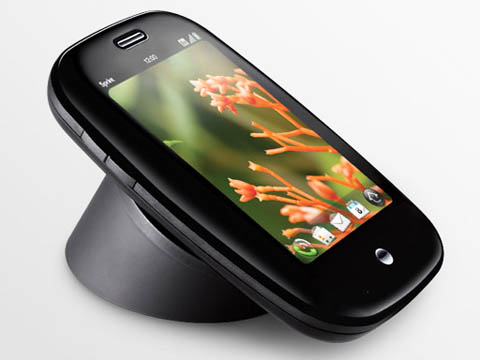 One of the few Palm Pre accessories now available: the nifty Touchstone wireless charger
Third-party apps: Don't make me laugh. Okay, make me laugh. "Bwah-hah-hah-hah-hah!"
Now that that's over with, let's admit that there's no competition in this category. The iPhone has over 50,000 third-party apps available in the iTunes App Store, and Palm hasn't even released a Pre SDK yet.
And, yes, many of the 50,000 apps in the App Store are crap, but many are great as well. Some companies are even creating their own in-house iPhone apps for such corporate fun as sales support and documentation. Medical uses are also appearing. Not every iPhone app farts.
Palm and its developer-support group have a long, long way to go before they even come within shouting distance of the apps available for the iPhone/iPod touch platform. And if they ever do, they're also going to need to spend some time rethinking Pre's App Catalog. It'll be browseable for a couple of hundred apps, max - not that the iTunes App Store is a walk in the park.
I'll be anxious to see how intelligent Universal Search will prove to be when accessing the App Catalog of the future.
Third-party-apps advantage: iPhone 3GS
The Bottom Line
In the 18 categories above, the iPhone 3GS came out on top in 10, the Pre in five, and three ended in a tie. But to give the iPhone the victory in this smackdown strictly based on the number of categories in which it rules would be doubly ludicrous.
Ludicrousness number one: Not all categories are equal. The Pre's multitasking capability is obviously more important than the iPhone 3GS's ability to record voice memos.
Ludicrousness number two: As I said at the beginning, webOS is in version 1.0x. Expect the Pre to gain in capabilities as its operating system matures - and expect updates to be free, as have been the iPhone's.
That said, if you're in your right mind you're going to buy only one smartphone. And today is today, and not a probable tomorrow when Palm works out the kinks in Palm Synergy and Universal Search, updates the Pre's UI to make it more discoverable, and nurtures a healthy and creative third-party ecosystem for not only apps but also accessories.
And who knows what advances the iPhone will embody during that time? Maybe even multitasking with a Mac OS X-esque Exposé interface.
So, if you're choosing between a Pre and an iPhone 3GS today, buy the iPhone 3GS.
But as Scarlet O'Hara foresaw, "Tomorrow is another day." ®