Original URL: https://www.theregister.co.uk/2009/07/01/gadget_udm/
In-car gadget mount sprouts arms
Simultaneously holds three gadgets
Posted in Personal Tech, 1st July 2009 09:36 GMT
What do you get the portable gadget nerd who's got an iPhone 3GS, satnav and portable media player? Why a Universal Device Mount (UDM), of course.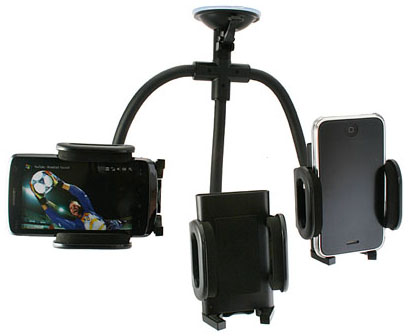 The Universal Device Mount holds three gadgets
Thanks to its trident design, the UDM allows its lucky owner to simultaneously attach their three favourite portable gadgets to their car's windscreen.
Cue visions of drivers bombing down the M25 while watching movies on their Archos and texting from their mobile phone, all the while being directed by their satnav.
Each gooseneck can be twisted into view, while each of the three gadget holders can be rotated between portrait and landscape mode. Each gadget will need to measure between 45 and 115mm wide, 30mm deep and 100mm high.
The Universal Device Mount is available to buy online now for $30 (£21/€18). ®