Original URL: http://www.theregister.co.uk/2009/06/30/review_storage_network_buffalo_linkstation_quad/
Buffalo Linkstation Quad
Nas simplicity and versatility, but at a price
Posted in Personal Tech, 30th June 2009 08:02 GMT
Review While most low-price NAS products tend to target domestic use separately from serious small office installations, the Buffalo Linkstation Quad attempts to straddle both these markets, albeit, with a price hike. Yet it offers home users a faster, beefier file store and media server, together with RAID redundancy, Internet-wide data access and high-capacity backup to satisfy office environments.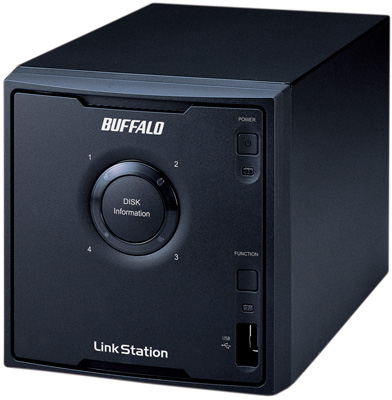 Buffalo's Linkstation Quad: appears imposing, but is small and unobtrusive
The device is a gigabit Ethernet NAS server – supporting 10, 100 and 1000BaseTX network connections ¬– and contains a stack of four SATA hard disk drives, all encased in a compact and tough black box sized 150x150x230mm. A quieter-than-expected fan keeps the drives cool.
The Linkstation Quad has two USB 2.0 ports: one at the front and the other at the rear. You can attach a high-capacity USB external drive to either and back up your Linkstation Quad data to it. Alternatively, you can attach any external storage device, such as a portable disk drive, a USB flash memory or a digital camera, and back up all its media files to the Linkstation Quad in one step by pressing the 'Function' button on the front. You can even attach a standard USB printer – although not a multifunctional printer – and share it between Windows clients, using the Linkstation Quad to manage the network print queue.
A 'Power Mode' switch at the back presents two settings: 'Auto' and 'Manual'. With this switch flicked to 'Auto', the Linkstation Quad runs in wake-on-LAN mode, allowing any computer on the network to power up the device remotely. The 'Auto' setting also enables the device to power itself down if it senses no network activity after a set period, and you can set up a schedule for powering the system up and down automatically.
As delivered, the Linkstation Quad is configured to operate the four disk drives in RAID 0. In our test system, that meant four 250GB drives operating as a single 1TB volume. Naturally, this offers no redundancy protection and makes the product uncomfortably expensive: you can buy single-disk 1TB NAS systems for £100 less than this. You would be better off reconfiguring the device as RAID 1 or 10, or RAID 5 (parity) in order to take advantage of the multi-disk arrangement, although this, of course, reduces the effective data storage in a 1TB unit to 500GB or roughly 750GB, respectively.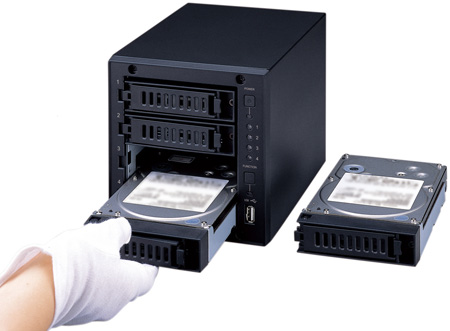 Drives are easy to remove and replace, but are not hot-swappable
Thankfully, the Linkstation Quad makes it very easy to remove and replace the disk drives individually. Unclipping the front fascia reveals four independent drive bays, and you can simply unclip and slide each drive out in its own as required. Note, however, that the drives are not hot-swappable in any RAID configuration.
Performance varies depending upon how you have configured the disks but our tests suggest that overall performance is very good. Random data read/write transfers between a client computer and the Linkstation Quad in a raw RAID 0 setup across gigabit Ethernet were two to three times faster than for equivalent benchmarks run on a high-capacity USB 2.0 drive attached directly to the same computer.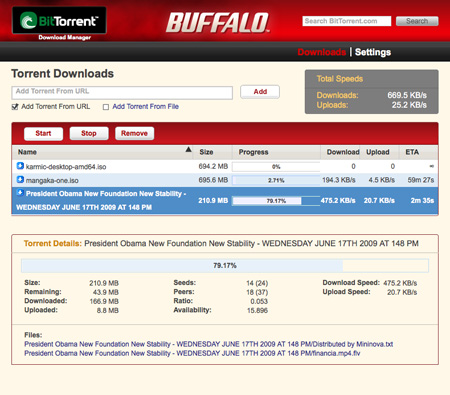 Torrents can be downloaded on the Linkstation without the need to have a PC running
However, the product's strongest attraction is its reasonably straightforward web-based management interface: the screens are big and friendly and are full of information and directions. A separate utility lets you mount shares and optionally assign a fixed IP address from any computer on the network, but everything else can be done using a web browser. User and group management is presented clearly, and setting up shares is fairly intuitive.
A media server is built into the Nas – streaming music and movies to DLNA-compatible players. Our Playstation 3, situated in another room, detected the Linkstation Quad across WiFi within seconds of the media server feature being enabled. HD movies streamed over perfectly.
To this end, the device also provides a built-in BitTorrent client for obtaining and sharing large files. It is a full client, too. You can search for Torrents and initiate downloads right within the web interface, and we achieved more success with it than with any other Nas BitTorrent client we have tested to date. Furthermore, the Linkstation Quad continues managing your Torrents without the need to have any of your computers switched on.
For general file data use, the product works well. With SMB, CIFS, AFP and FTP protocols built in to the unit, you can happily support Windows, Linux and Mac clients, both locally and remotely. You can also set up password-protected shares to be remotely accessible across the Internet via a web browser interface, which actually works rather well – much better than FTP, in fact. The web address for the share can be hosted via your own domain or diverted for free via Buffalo's own name servers.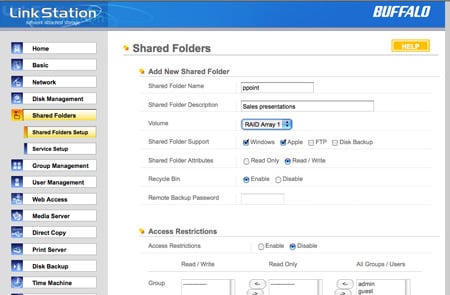 Buffalo's web-based configuration utility makes Nas setup reasonably intuitive.
The one thing we could not do was connect to the device over the web using an iPhone, even though this capability is prominently featured in Buffalo's marketing materials. Nor is this mentioned anywhere in the user manual. Also, in its marketing material, Buffalo says the device is also fully compatible with iTunes – that is, you can keep your music files on the Nas – but this is not mentioned anywhere in the product manual.
To complete the package, Buffalo bundles Memeo AutoBackup software for use with the Linkstation Quad. This is an easy-to-use and blessedly unsophisticated program for scheduling automatic backups from the computers on the network to appropriate shares on the Nas.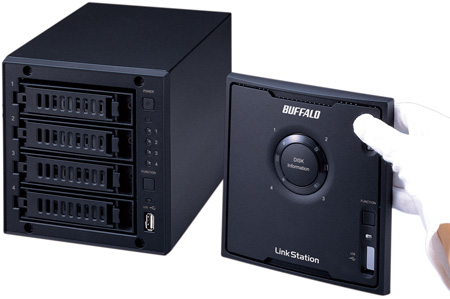 The front fascia is only there to keep the dust out
You can also use the web management interface to establish an automatic schedule for backing up shares on the Nas itself to an external, USB-attached storage device. Mac users will be pleased to note that the Linkstation Quad supports the Time Machine automatic backup feature in Mac OS X 10.5. However, it appears that you can only set it up with one Mac on the whole network. There seems to be no way of linking different shares as Time Machine volumes to different Macs.
Verdict
The Linkstation Quad is a powerful and well-built product that also happens to be fairly simple to configure and manage. Home users wanting high capacity storage options, hardware versatility and a good web-based interface should like the product very much, as will demanding small offices having to deal with large quantities of data. The only drawback is that once you take full advantage of the RAID support, the Linkstation Quad looks expensive next to single-drive consumer Nas drives of similar capacity. ®
More Nas Reviews...

Buffalo
Terastation III

Western Digital
Sharespace

Cisco Linksys
Media Hub

EZY Technologies
MyXerver MX3600