Original URL: https://www.theregister.co.uk/2009/06/30/review_laptop_apple_macbook_pro_15in/
Apple MacBook Pro 15in June 2009 release
Faster and cheaper - whatever next?
Posted in Personal Tech, 30th June 2009 13:03 GMT
Review The recent rapid evolution of Apple's laptop range continues apace this month, with changes to virtually every model. The 15in MacBook Pro – or, to be precise, the 15.4in MacBook Pro – received a major update back in October when Apple introduced its new 'unibody' aluminium design, so we weren't expecting anything other than the occasional speed-bump in the immediate future. However, there's more to this latest model than a simple tweak to the processor speed.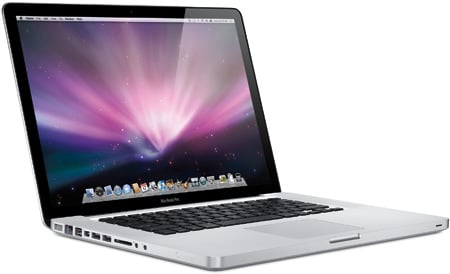 Apple's 15in MacBook Pro
The previous model was available in two main configurations, costing £1399 with a 2.4GHz Intel Core 2 Duo processor, 2GB RAM, and 250GB hard disk, or a rather hefty £1749 with 2.53GHz processor, 4Gb RAM and 320GB hard disk. The 2.4GHz model has now been dropped altogether, while the price of the 2.53GHz model has been slashed to £1299 – although the hard disk on that model has been cut to 250GB and it has just a GeForce 9400M graphics processor, rather than the twin graphics processors found in the other 15" models.
There's also a 2.66GHz model with 4GB RAM and 320GB hard disk that costs £1499, while the new top-of-range model that we test here comes in at £1699 with a speedy 2.8GHz processor, 4GB RAM and 500GB hard disk. All models have a 15.4in backlit LED screen with 1440x900 resolution.
It's good to see that Apple has paid attention to the reviews – including ours – that commented on the rising prices of the new models that were introduced in October. Mind you, anyone that paid £1739 for the 2.53GHz model in October will probably be spitting blood right now.
As expected, our Mac benchmarking tests show that this model is about 10 per cent faster than its predecessor, making it the fastest Mac laptop we've reviewed to date. Like its predecessor, this model is also equipped with two separate graphics processors. For routine computing tasks there's an integrated GeForce 9400M, or you can switch to a more powerful – and power-hungry – 9600M GT for games and other graphics-intensive tasks.

Closed system: the built-in battery can't be swapped out
The 9600M GT produces good performance, hitting almost 120fps in Doom 3, although the 63fps that we got from the less-powerful 9400M wasn't bad either. To really put the machine through its paces we decided to use the Mac's Boot Camp feature to instal Windows Vista and run a few PC benchmarks as well.
Windows running on the MacBook Pro can only use the 9600M GT graphics chip, and this performed pretty well in our tests. It certainly matched most of the PC laptops we've reviewed recently, with the exception of the high-end Toshiba Qosmio X300 gaming laptop, which costs well over £2000 and is equipped with an SLI graphics rig.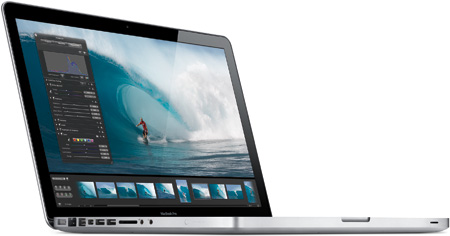 Dual GPUs allow for battery life/performance trade-offs.
The disadvantage of using the 9600M GT is that it knocks about an hour off the battery life, compared to the less power-hungry 9400M. It's also more likely to get the fan running which is virtually unnoticeable, and the unit only warms up underneath, which is typical for Apple laptops. However, the most important new feature of this model is that it now has the same Apple-designed battery that was introduced in the 17in MacBook Pro back in March.
For this model, Apple claims that the new battery lasts for up to seven hours. In practice, we got almost exactly four hours and 30 minutes when playing some H.264 films off the hard disk using the 9400M graphics chip. That's an increase in battery life of 50 per cent compared to the previous model, and you'll get another hour on top of that for more routine tasks such as surfing the web or running Microsoft Office.
That's impressive performance from the new battery, but the downside is that – as with the MacBook Air and 17in MacBook Pro – the battery is sealed inside the unit and can't be replaced with a spare to extend the battery life on a long journey.
Apple's argument is that the new battery effectively allows most people to get a full day's work out of the laptop, making spare batteries unnecessary. There's some merit in that argument but, for some people, the mere idea of a non-replaceable battery will be yet another sign of Apple limiting consumer choice.

An SD card slot replaces the 'unused' ExpressCard 34 interface
Another option that's been taken away is the ExpressCard expansion slot. Apple claims that less than one per cent of MacBook Pro users actually used the ExpressCard interface in previous models. Consequently, it has now been replaced by an SD card slot, which can be used to insert memory cards from your digital camera.
PC Benchmarks
PCMark05 Results
Overall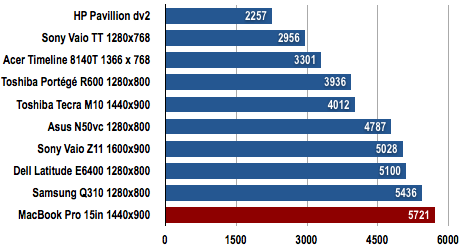 Longer bars are better
CPU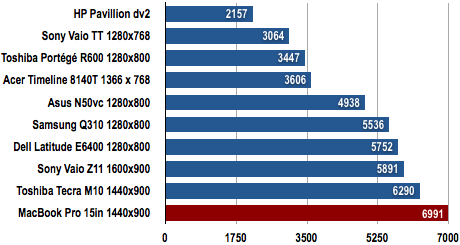 Longer bars are better
Memory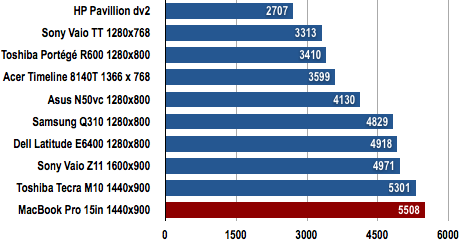 Longer bars are better
Graphics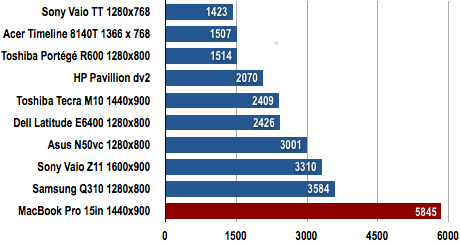 Longer bars are better
HDD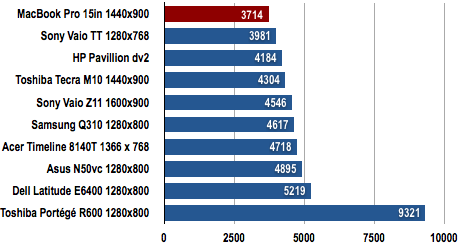 Longer bars are better
3DMark06 Results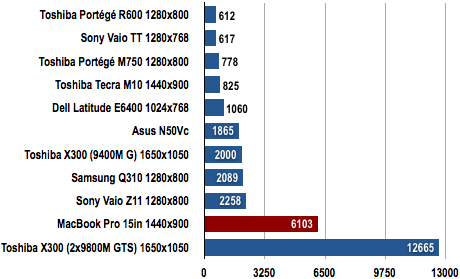 Longer bars are better
Mac Benchmarks
Xbench Results
Overall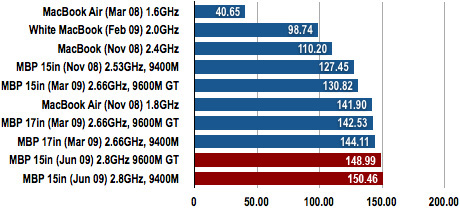 Longer bars are better
CPU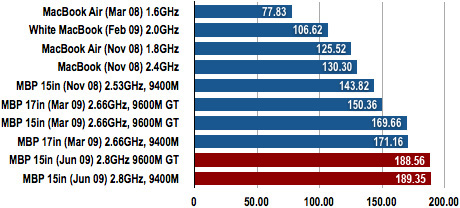 Longer bars are better
Memory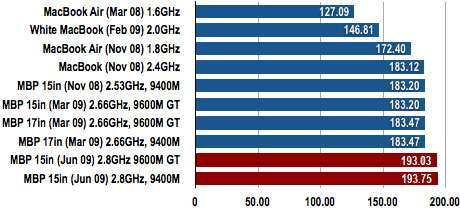 Longer bars are better
Graphics - Quartz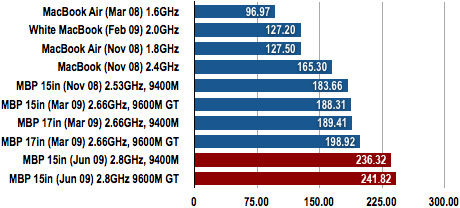 Longer bars are better
Graphics - Open GL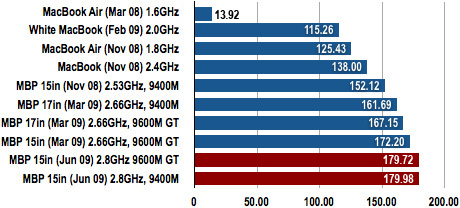 Longer bars are better
HDD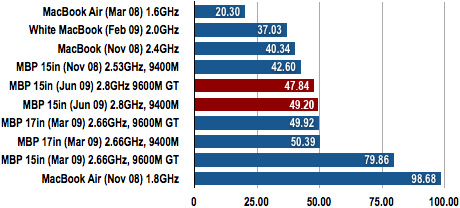 Longer bars are better
The SD card simply appears on the Mac desktop as though it were a USB storage device. You can then just copy files across by hand or set iPhoto to launch automatically when you insert an SD card containing photos. It's also possible to boot the machine from an SD card, which will be handy for on-the-road troubleshooting.

The MacBook Pro now spans a range of screen sizes
Our only minor concern is that the SD card protrudes about 1/3 of an inch from the side of the machine, and there's no automatic mechanical eject when you dump the card into the Mac's trash can, so there's a potential snagging problem there if you forget to remove the card when you're finished.
Verdict
All other features aside, we're simply pleased to see that Apple's pricing on the 15in MacBook Pro is a bit more competitive than it was last October. This 2.8GHz model isn't exactly cheap, of course, but it's powerful enough to handle demanding tasks such as games or video-editing, while features such as the long-lasting battery and twin graphics cards will ensure that it earns its keep when you're on the road. ®
More MacBook Reviews...

Apple
MacBook Pro 17in

Apple
White MacBook

Apple
MacBook Air

Apple
MacBook