Original URL: http://www.theregister.co.uk/2009/06/29/review_printer_samsung_ml_1640_mono_laser/
Samsung ML-1640
No-brainer budget buy
Posted in Personal Tech, 29th June 2009 08:02 GMT
Review There are a good few people who run two printers; an inkjet for all the colour and photo work and a mono laser for quicker, cheaper, sharper black print. Samsung is looking at the home and one-per-desk customer with its ML-1640 mono laser. With a street price around £50, it's close to being an impulse purchase and puts itself in the second printer market, too.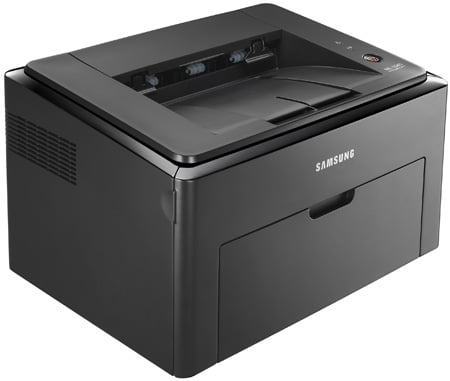 Samsung's ML-1640 mono laser printer
How simple can you make a mono laser printer? Nearly all the engine is in the drum and toner cartridge, so a paper feed mechanism and control electronics are the main extras and the rest is a plastic case. While Samsung's ML-1640 is honed down to the bare minimum, all the essentials are there and, when closed, it has a very small footprint of just 353 x 298mm.
To print, though, the front panel has to be folded down as a paper feed tray and a flap folded out from the top surface to take the output. The tray can take up to 150 sheets of 75gsm paper at a time.
There's no cover for the input tray, so the machine needs to be folded up again at the end of each session, or risk dust and spillages getting on the paper. It may not be a big hassle to put the paper away in a drawer, but rival machines include separate or integrated covers, to avoid this.
Controls comprise a Cancel button, a power and data LED, and a second for low toner. There's a bulge in the case at the back, which takes an IEC mains lead for power on the right and a USB cable on the left. Software comprises a driver and the Dr Printer browser-based troubleshooter.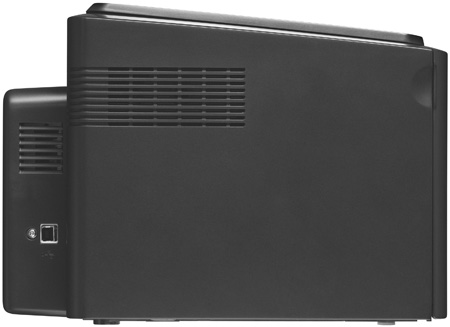 A neat, small footprint, even with the bulge at the back
There are drivers for Windows from 2000 onwards, OS X from 10.3 and a 'Unified Linux driver', which refers to Ubuntu by name, but should work with other variants, too. The driver supports overlays and watermarks and can print up to 16 pages per sheet. There are also instructions for manual duplexing, though no duplexer nor second paper tray is available as an option.
Setup is reasonably straightforward and it should have been even easier on the review sample, as the drum and toner cartridge came pre-installed. We tell you this not as journo trivia, but because when we tried to fire the machine up it reported no cartridge installed. The cartridge includes a long, articulated handle and has to be slid right to the back of the machine, inside, so is more fiddly than most.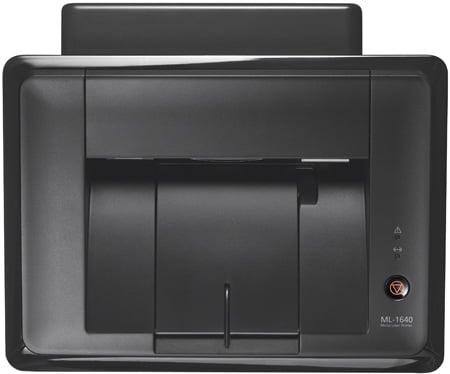 Simplicity itself, but cartridge fitting can be a fiddle
We pulled it out and reinserted it a few times (cut the sniggering at the back) but with the same result. Finally, a call to Samsung revealed that you really do have to push the cartridge very firmly on the left-hand side to get it to locate and register as installed. Wonder how many support calls they get on this?
For such an inexpensive machine, Samsung makes an impressive speed claim. 16ppm for plain paper print is a fair turnover, but when we came to test it we were pleasantly surprised. Our five-page text print took 30 seconds, so a straight 10ppm, but when we increased the run to 20 pages, it completed in 1:24, a speed of 14.3ppm. This isn't far off the spec and very comparable with other entry-level lasers, such as Canon's £75 i-SENSYS LBP3100.
A single page text and graphics page, printed off five times, took 26 seconds, or 11.5ppm. Only one page had to be rasterised, so the increase in speed over the five-page, straight text page job is understandable. Finally, a 15 x 10cm photo printed in 12 seconds at the ML-1640's default resolution of 600 x 1200dpi.
Output quality depends on what you're printing. Straight text prints very cleanly, with no signs of toner spatter. It's hard to tell from black text produced by mono lasers costing a lot more. When it comes to greyscale graphics, though, things aren't quite so good.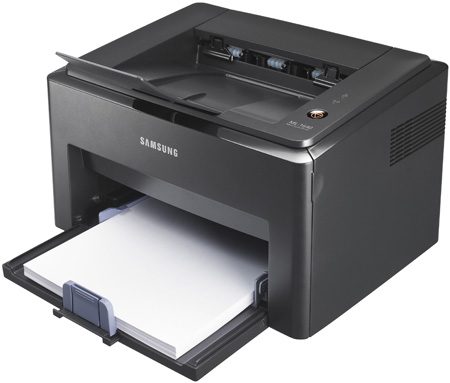 More room is needed when open for printing
Although greys are quite smooth, with only slight visible banding, the range of shades is restricted. Some colours, which normally give discernibly different greyscale tones, produce very similar greys here and some are much darker than the original colour hues, so overlaid black text can get lost.
Paper feed was generally accurate, though on a couple of occasions a page feeding from the machine pushed the top sheet sitting in the output tray, leaving an untidy stack. There's no paper-stop to flip up, to prevent this happening, though we didn't have any pages landing on the desk.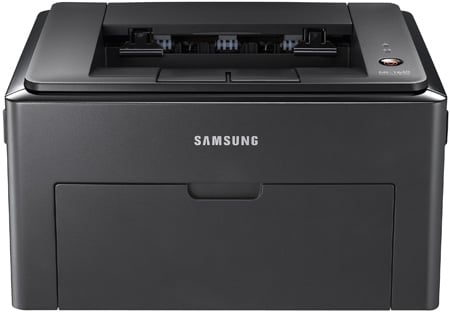 Not the quietest, but a sound choice
Although it's small, this isn't a particularly quiet printer and we measured peak noise levels of 63dBA at half a metre, mainly when feeding paper. Paper pickup is always the noisiest part of the print cycle, in both laser and inkjet machines, and this is as noisy as some heavyweight, workgroup printers.
There's only one consumable in the ML-1640, a drum and toner cartridge rated at 1,500 pages. Running costs depend entirely on the price you can find this for and the cheapest we could turn up was just under £38. This gives a cost per page of 2.35p, which is about average for an entry-level mono laser, and even for those costing up to £100, so you're not paying a premium to compensate for the low asking price of the machine itself.
The pricing of printers and their consumables is a delicate game for manufacturers to play. If they bring the asking price of the printer itself right down, they need to make up income by increasing the price of the consumables. If the consumables cost becomes too high a proportion of the complete machine's, however, they risk customers buying a second printer, rather than a cartridge, when it runs out. This doesn't help balance their books.
With a consumable price of £38 and a printer price typically around £50, Samsung is getting pretty close, but gets around it – as so many other printer makers do – by shipping the ML-1640 with a 'starter' cartridge, good for just 700 pages. This has the double advantage that it makes a second printer less attractive than a full-yield cartridge and that it forces the customer to start buying cartridges sooner in the life-cycle of the printer.
Verdict
While a cover for the paper tray would be a bonus, this is, nonetheless, a well designed, entry-level mono laser printer which, although simple, does everything you could ask for under £50. It's quick, does well on printing text and reasonably well on graphics and costs no more than its competitors to run. ®
More Laser Printer Reviews...
| | | | |
| --- | --- | --- | --- |
| Lexmark T650DN | Kyocera Mita FS-2020D | Canon i-Sensys LBP3100 | Samsung ML-1630W |