Original URL: http://www.theregister.co.uk/2009/06/26/reviews_iphone_alternatives_roundup/
Ten of the best... iPhone beaters
The iconic Apple's hard to swallow? Try these tasty smartphone bites instead
Posted in Personal Tech, 26th June 2009 13:58 GMT
Round-up The iPhone 3G S is now upon us, bringing with it incredible new things like MMS, video recording, laptop tethering, stereo Bluetooth and the marvel of cut and paste. Hang on. Haven't other smartphones been doing this sort of thing for ages?
While iPhone mania shows no sign of dissipating among the faithful, another big difference between the original iPhone and the latest version is that there are now a lot of very credible alternatives out there, all with touchscreens, fancy new interfaces, HSDPA 3G, Wi-Fi, A-GPS and the ability to expand and improve with downloadable apps.
At Reg Hardware we've had a rummage around to bring you ten of the best of these iPhone substitutes. Our ratings are based on comparing iPhone-style features and don't reflect how each phone would be rated in a standalone review.
HTC Magic
Click here for the full review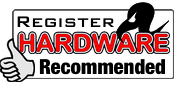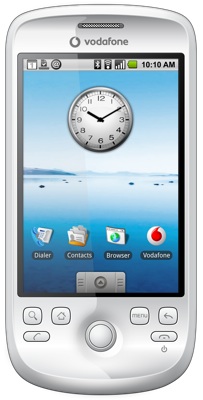 It has that love it or hate it little chin at the bottom (we don't see the point of it ourselves) but otherwise the UK's second smartphone to run on Google's Android OS is one of the most serious contenders for the iPhone's crown. Losing the slide-out keyboard of its predecessor, the G1, makes it considerably more pocket-friendly at 113 x 56 x 14mm and 116g and its 3.2in capacitive touchscreen with 320 x 480 resolution looks great, as does the widget-based UI. You can get Street View with Google Maps and use it with the digital compass to find your way around, but the 3.2Mp camera is nothing special and like the iPhone, you'll be tied to one network, in this case Vodafone. If you can't bear Windows Mobile, Android is shaping up to be OS that's best placed to challenge the iPhone.
Reg Rating 85%
Price £500
More Info HTC
Sony Ericsson Xperia X1
Click here for the full review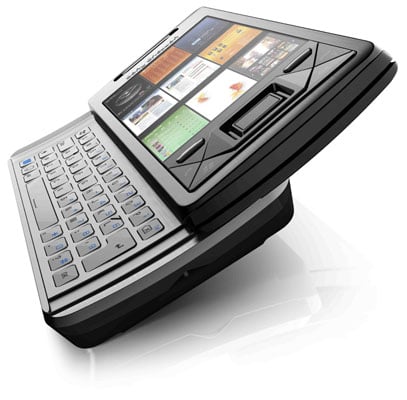 Sony Ericsson's first Windows Mobile touch screen handset was hotly anticipated when it first appeared at the end of last year but quickly disappointed with its lack of user friendliness. The 2.8in, 800 x 480, 65,000-colour resistive touch screen is lovely and the four-line slide-out metallic keyboard is a joy to use, plus you can augment the 400MB of onboard memory with Micro SD card - no Memory Stick! - but the custom-made 'panels' UI is slow, the 3.2Mp camera failed to impress and the complicated X-shaped array of small, fiddly buttons soon got on our nerves. We've got our fingers crossed for the hotly rumoured X2 though. A gorgeous screen and very fine Qwerty keyboard are the best things about Sony Ericsson's first Windows Mobile device.
Reg Rating 70%
Price £420
More Info Sony Ericsson
BlackBerry Storm 9500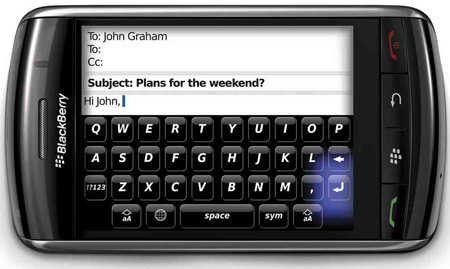 BlackBerry's tried and trusted hard-button keyboard options meant that it resisted the touch screen call until late last year. The 3.3in screen and stylish icon-led menus added to BlackBerry's excellent push email facilities tempted many non-business customers to invest in their first 'Berry, but it struggles a little in this company. Its innovative 'ClickThrough' screen means you have to actively depress the glass cover to activate buttons, making it easy to distinguish between a press and a swipe but the 3.2Mp camera is okay rather than exciting and while it has a nippy HSDPA 3G data connection, there's absolutely no Wi-Fi on board. At 113 x 62 x 14mm and 155g it's a bit of a brick and while BlackBerry's Apps Centre is growing steadily, it's still way behind Apple's. Ideal for email addicts, BlackBerry's expertise in this area is still the main draw for the company's most stylish device.
Reg Rating 70%
Price £400
More Info BlackBerry
Palm Pré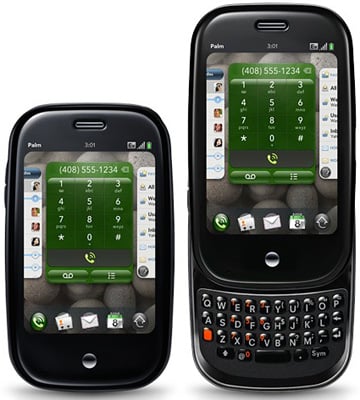 This could be the make or break product for Palm, once a smart phone leader, but more recently failing to keep up with the rapidly advancing competition. It's a slider with four-line Qwerty keypad, which will always beat the iPhone's rather cramped onscreen keyboard for ease of use. The WebOS operating system has a lovely little ripple effect when you touch it and the functions are displayed as cards that you can brush across the 3.1in multi-touch screen. You can multitask with it but navigation by flicking, brushing and pushing takes a bit of getting used to. The Palm Pré's stock of apps doesn't rival Apple's yet, but Palm was always strong in this area in the past, and if the Pré takes off, it's likely there'll be loads. With a Qwerty keyboard and work-friendly apps this could be the new must-have business phone de nos jours.
Reg Rating 80%
Price £450 – UK release TBA
More Info Palm
Nokia N97
Click here for the full review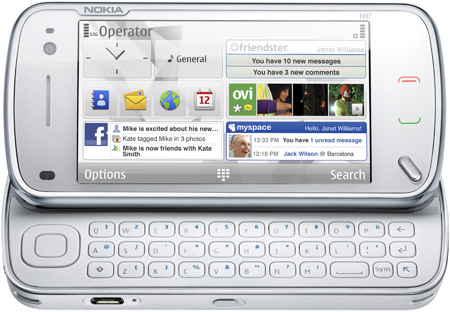 Nokia's much-anticipated first touchscreen device with a full Qwerty keyboard is an odd mix of old and new. It's very similar to a 5800 but with added slide-out keyboard – no bad thing – and features a 3.5in resistive touchscreen with 16m colours. However, the Symbian S60 interface, despite a new widgets facelift, is starting to look a little tired and is certainly no match for the up-to-the-minute graphics from the likes of HTC, Apple and Google's Android. It's got loads of storage – 32GB on board, plus an extra 16GB with Micro SD card, but the three-line keyboard isn't the easiest to use, and the 5Mp camera, despite its fancy Carl Zeiss lens, is only so-so. Another solid smart phone workhorse from Nokia and certainly ideal if storage capacity is your main concern.
Reg Rating 75%
Price £499
More Info Nokia
Samsung i8910 Omnia HD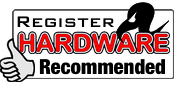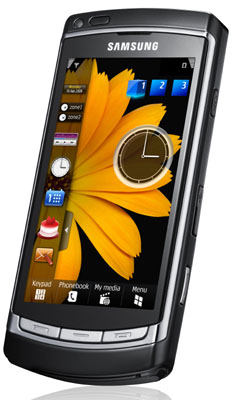 It's a big old chunk o' handset at 123 x 59 x 13mm and 148g but the large 3.7in, 16m-colour, OLED capacitive touch screen and twin speakers make watching movies or TV a joy. The Symbian S60 OS comes with a TouchWiz widget spin and is fun to use but the Omnia HD also features a terrific 8Mp camera with LED flash that can shoot video at an impressive 720p at 24fps. There's also 16GB of memory on-board, plus a hot-swap microSD slot and, unlike most Samsungs, it's got a 3.5mm headphone jack. And like the latest iPhone, it's also got a digital compass. The huge, super sharp, OLED screen makes this an excellent choice for hand-held cinema lovers.
Reg Rating 85%
Price £530
More Info Samsung
HTC Touch Diamond2
Click here for the full review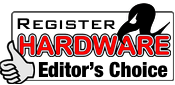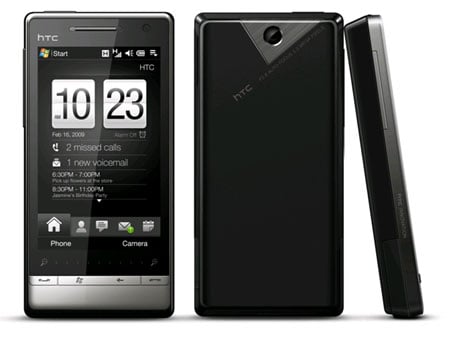 Taiwanese manufacturer HTC has been all but flooding the market with a rich variety of Windows Mobile smartphones these last couple of years, either under its own name or branded versions for various UK networks. The Touch Diamond 2 is smaller and more pocket-friendly than the iPhone, and its only slightly smaller 3.2in screen is only one-touch, but it does have a handy zoom bar, which is great for viewing pics and web browsing. It uses HTC's nifty TouchFlo 3D interface, syncs neatly with Windows, has a 5Mp camera – which puts it firmly in front of the iPhone 3G S's 3Mp – lots of additional Windows Mobile apps to choose from and you can add up to 16GB of memory using Micro SD cards. Sleek, stylish and very capable, this is the one if you want it all.
Reg Rating 90%
Price £400 Click for the best online price
More Info HTC
LG Viewty Smart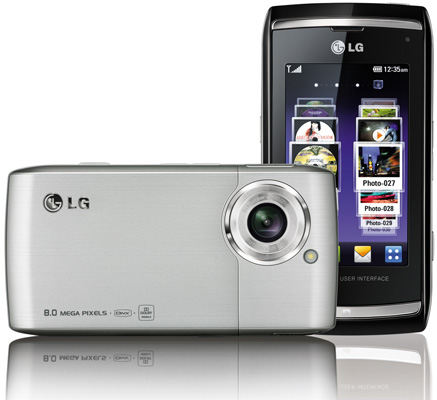 The latest Viewty's look mirrors the iPhone's for simplicity, with just a single elongated button beneath its 3in touchscreen, which operates like the iPhone's home button. It also has an intuitive icon-based interface, which is very easy to find your way around. Yet its main selling point is the rather superb 8Mp camera, which puts the new iPhone's 3Mp effort to shame. It's also one of the very few smart phones that can replicate the iPhone screen's multi-touch capability, allowing you to pinch and zoom into pics and web pages. It can equal the iPhone's 32GB of memory too via Micro SD card, but you'll need to buy it separately. Beautifully stylish minimalism with an excellent 8Mp camera too.
Reg Rating 85%
Price £370
Click for the best online price
More Info LG
LG KF900 Prada II
Click here for the full review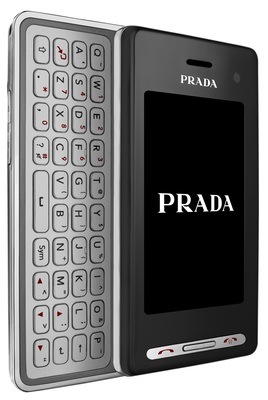 LG's mkII Prada Phone has the style kudos to rival the iPhone, from its metallic good looks to its unique monochrome UI, and spec-wise it shows that it has brains as well as beauty. The 3in, 262,000-colour multi-touch screen looks lovely, all the better to show off the pics from the not-too-shabby 5Mp camera, which can record video at 720 x 480 pixels and 30f/s. The four-line Qwerty keyboard manages the trick of looking good while being eminently practical – using it makes you look like a busy social butterfly, never an office drone. There's no GPS, but there's Wi-Fi, HSDPA 3G, a motion sensor and you can boost the memory to 8GB using Micro SD cards. Effortless cool backed up by a gorgeous screen and an iPhone-bashing 5Mp camera.
Reg Rating 80%
Price £449
More Info LG
Nokia 5800 XPressMusic
Click here for the full review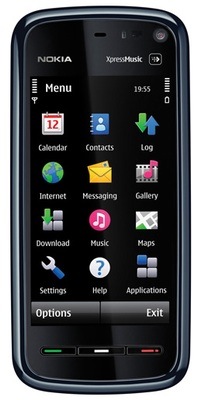 The 5800 focuses on music and puts its money where its mouth is by including Nokia's Comes With Music download service. Yes, it's DRM'd to the hilt, but you do get a year of (sort of) free music downloads from the extensive CWM store that you can play on this phone and one computer – you can change them later if needs be. It's not a great looker, but the 3.2in touch screen offers adjustable haptic feedback, if not the swipe action of the iPhone, and there's also a fine web browser, 3.2Mp camera, Wi-Fi, bundled 8GB microSD card and A-GPS too. Top tunes available on tap from a very reasonably priced handset.
Reg Rating 80%
Price £249
More Info Nokia