Original URL: http://www.theregister.co.uk/2009/06/25/review_desktop_pc_acer_aspire_revo/
Acer Aspire Revo R3600
Nvidia's Ion gives Atom the boost it needs
Posted in Personal Tech, 25th June 2009 08:02 GMT
Review The Aspire Revo is Acer's take on Nvidia's Ion platform so that's a good place to start with this review.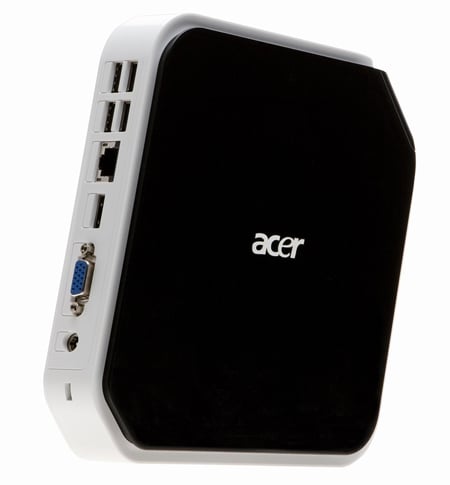 Acer's Aspire Revo: Atom and Ion on board
Ion started life as the GeForce 9300, which is a chipset that connects Intel's Core 2 processors to decent integrated graphics. In our comparison of desktop chipsets with integrated graphics we were quite clear that the GeForce 9300 was better than Intel's G45, specifically in the area of HD movie decoding. If you're building a Core 2-based PC with integrated graphics, we strongly recommend you choose GeForce 9300.
When Intel launched the desktop Atom processor, it made the questionable decision to ally the 4W TDP CPU with the ancient D945G chipset, which has weak graphics and a TDP of 15W.
The combination of Atom and D945G has been responsible for the creation of the market for 'nettop' desktop PCs that offer basic services such as e-mail and browsing the web at a low price. There's no expectation that Atom and D945G can be used for gaming or to watch HD movies, and the graphics are so weak that it's unable to run Windows Vista properly.
Intel could have chosen to support Atom with the G45 chipset, which is a capable piece of silicon, but it didn't go down that route, undoubtedly to protect its higher-value desktop offerings. So Nvidia has leapt in to fill what it perceives as a gap in the market.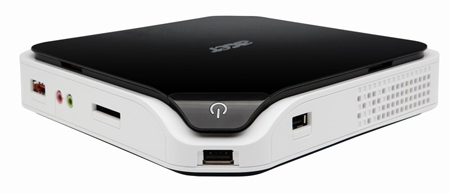 Designed for edge-on operation
The Ion chipset is a rebranding exercise for the GeForce 9300, this time offered with support for Atom rather than Core 2. Nvidia is keen to show that you get better value for money by spending your cash on the GPU rather than the CPU, so it's cockahoop that a manufacturer as big as Acer has rolled out the Aspire Revo.
We have heard tell of a number of variants of Revo, and our review sample of the R3600 model comes with a hard drive loaded with Windows Vista Home Premium but doesn't have the wireless games controller which is part of the more expensive Multimedia version that costs £300. A unit like the one we tested would set you back £250.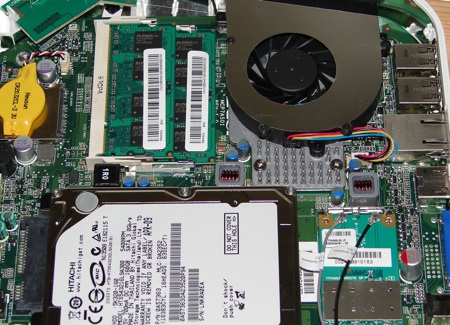 Crammed in: inside the Revo
The Revo is built around a Pico-ITX motherboard and has a tiny lozenge-shaped case that measures 195 x 210 x 37mm. We're told that the volume of the case is one litre. While we reckon it's actually 1.5l, no matter how you measure it, the Revo is absolutely tiny. The case stands on edge and clips on a transparent base that is horribly unstable and which gives the impression that it was an afterthought in the design process.
Since Acer expects the Revo to stand on one of the machine's corners - helped by the stand - talk of the box's top and bottom don't make much sense Most of the ports are on the one edge, where you'll find four USB ports, Gigabit Ethernet, the HDMI and VGA graphics outputs, and the power jack for the small external power brick. There's a Kensington lock slot too. On another side, there are headset jacks, a four-in-one card reader and an eSata port. Then, on the third side, you'll find two more USB ports to bring the total to six.
Tucked away inside there's an Atheros 802.11n wireless adaptor which is worth having if you're using the Revo as a media extender connected to your TV.
Acer supplies a wired USB mouse and keyboard set that are small and white with overtones of Apple. The first impression of these tiny peripherals is that they look cute but it rapidly becomes clear that they are too small to be of much use. Do your hands shrink just because you buy a small PC? They do not.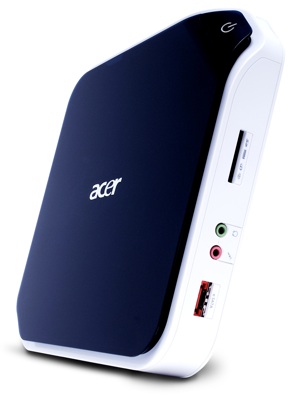 There are stacks of ports all round the Revo
This brings us to a fundamental issue with the Revo. The HDMI output suggests you should connect it to your HD telly while the wired mouse and keyboard make that a tricky proposition. If you plan on using the Revo as a desktop PC you will need to buy an HDMI-to-DVI adaptor to connect it to most TFT displays on the market. If you have an analogue TFT with a VGA input it will work perfectly, but it will take the edge off the picture quality of the HD movies that you plan on watching.
Ah, yes, HD movies. You may have a penchant for watching movies from iTunes or perhaps you have an HD camcorder that records to SD card, but by and large the main source of legit HD movies right now is Blu-ray Disc. The snag here is that the Revo doesn't have an optical drive, let alone a Blu-ray one. You can buy an external Lite-On USB BD-Rom drive, model DX-401S-03C, for a surprisingly modest £64 which will address that problem. Buying the drive raises the cost of the £250 Revo by 25 per cent and also puts paid to the idea of mounting the Revo on the back of your TFT display using the optional VESA mounting kit.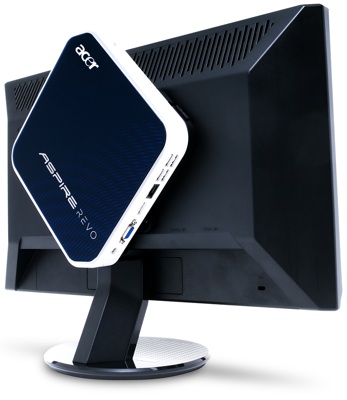 Stick it to the back of your screen
We didn't have a USB or eSata Blu-ray drive to hand so we couldn't watch a Blu-ray movie on the Revo. However, we have previously tested desktop motherboards with the GeForce 9300 chipset and have found the movie decoder to be a gem for this kind of thing.
Although you can undoubtedly use the Revo to watch Blu-ray movies, we doubt many customers will buy a Blu-ray drive, and this brings us to a fork in the road. The Ion chipset has a number of distinct advantages over the Intel D945G in that it can run Windows Vista, it can play games such as Spore and Sims 3, the movie decoder is a good 'un, it supports twin displays and can handle 7.1-channel audio over HDMI.
The problem is that those are mostly theoretical advantages as the Revo doesn't have an optical drive so it's tricky to watch movies or install games, unless you use a web-based service such as Steam, and it doesn't have a DVI connector so its value as a desktop PC is severely reduced.
This is something of a shame as the Revo is impressively quiet in operation.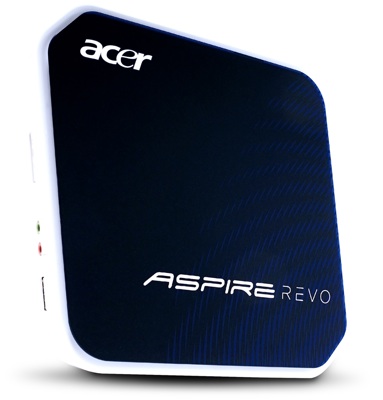 Impressively quiet in operation
The main virtue of the Atom is its low power draw, and the Revo is truly astonishing in that regard, sucking less than 20W at the mains plug. The point here is, of course, that the Revo is mains powered so you don't need to save every last Watt to make the most of your battery as you would with a netbook.
However, we are none too impressed by the slowness of the system. It's hard to be sure whether the blame lies with the Atom processor or Windows Vista, but every time you click an icon or switch windows the Revo pauses for a heart beat or two, and it is really quite annoying.
PCMark05 Results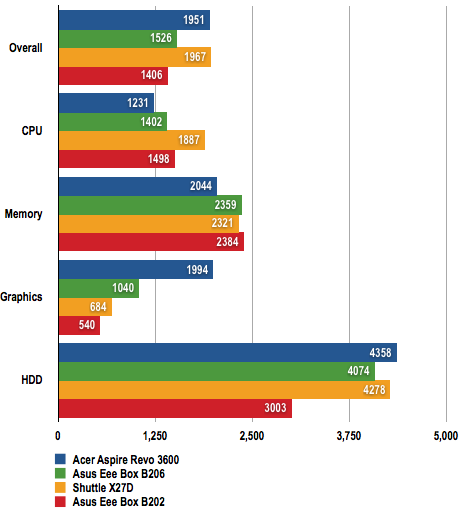 Longer bars are better
Compared to other boxes of its ilk - two of Asus' Atom-based Eee Boxes, and Shuttle's dual-core Atom equipped X27 - leads the way on graphics, but its use of a single-core Atom N230 leaves it well behind the Shuttle. Behind the two Asus machines too, for that matter.
We've pulled together some further test figures from five systems running Atom and the Celeron E1200. Three systems – the Intel D945GCLF Atom motherboard, the Acer Aspire One 751 netbook and the Revo - have a hard drive, while the two Celeron-based systems ran with an Intel SSD. This doesn't affect the graphics, memory and CPU tests, but it does distort the PCMark05 Overall and HDD results.
PCMark05 Results
CPU

Longer bars are better
Graphics

Longer bars are better
3DMark06 Results

Longer bars are better
A quick glance down the figures shows that Atom on Intel D945G has very poor CPU and graphics performance and the Intel GMA 500 graphics in the Aspire One 751 are even slower. We can also clearly see that the Intel graphics in the G45 chipset are no match for GeForce 9300 or Ion. However, we can also see that you get three times the processing power from a Celeron E1200 and feel that a change would result in a superior product.
Verdict
Nvidia's Ion platform makes perfect sense here, but Atom, at least the single-core version, has no obvious place in a mains-powered nettop PC. Still, the Revo is cheaper and sexier than its nearest rival, Asus' HDMI-equipped Eee Box B206. Still too pricey at £250? We say get the £150 one with Linux and an 8GB SSD, while stocks last. ®
More Nettop Reviews...
| | | | |
| --- | --- | --- | --- |
| Shuttle X 5000TA | Linutop 2 | Asus Eee Box B206 | Advent AIO-100 |