Original URL: https://www.theregister.co.uk/2009/06/25/cameraphone_faceoff/
Is your cameraphone an oxymoron?
iPhone 3G v iPhone 3GS v Palm Pre
Posted in Personal Tech, 25th June 2009 04:23 GMT
Pic Review All cell-phone cameras are not created equal - even the three-megapixel cameras in the recently released iPhone 3GS and Palm Pre. And I've got the photos to prove it.
Our recent review of the iPhone 3GS went into some detail about the quality of the camera in Apple's new smartphone. But I also wanted to see how it stacked up against the Palm Pre, how much of an improvement it is over the much-derided camera in the iPhone 3G, and whether upgrading an iPhone 3G from Software 2.2.1 to 3.0 can help that phone's imaging abilities.
So I loaded up four phones and one camera and visited San Francisco's downtown patch of greenery, the Yerba Buena Gardens. There, I took over 200 shots to discover how each performs under ideal conditions: a bright, sunny day.
My test cameras phones were an iPhone 3G running iPhone Software 2.2.1, an iPhone 3G and an iPhone 3GS running iPhone Software 3.0, and a Palm Pre running Palm webOS 1.0.3.
I also brought along an aging Nikon D70 DSLR, just to find out how images from a real camera compare to those from a pocket convenience. I used an AF-S DX VR Zoom-Nikkor 18-200mm f/3.5-5.6G IF-ED lens and set the Nikon to shutter-priority mode at 1/400 of a second. I set white balance to automatic and ISO to 200. And to be even mildly fair, I shot in JPEG, not RAW.
My findings can be summarized as follows:
Upgrading an iPhone 3G from iPhone Software 2.2.1 to 3.0 provides a welcome improvement in image quality. Essentially, image quality takes a step up from "sucks" to "sucks less."
The iPhone 3GS's three-megapixel camera is a noticeable improvement over the two megapixel camera in the iPhone 3G - and the differences are much more than mere megapixelage.
The Palm Pre's three-megapixel camera takes crisp, well-focused images, but it's a finicky little fellow with maddeningly inconsistent white balance.
And here's my "Well duh!" finding: even a five-year-old six-megapixel DSLR could easily out-image any of its phone-based competition, not only in detail but also in overall exposure and color balance.
Let's get down to some example photos - a lot of example photos.
Head-to-head-to-head-to-head-to-head
Starting with the oldest smartphone, here's a gourmet selection of images from my lunchtime shoot in the Garden: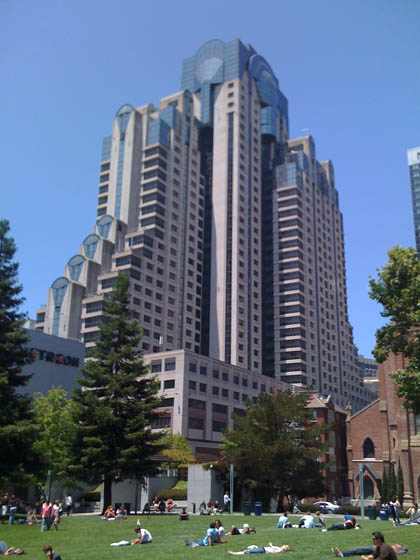 The San Francisco Marriott as seen by an iPhone 3G running iPhone Software 2.2.1
Click for a full-resolution image
"Soft" would be a kind way of describing the quality of this image. "Blurry" might be more accurate - especially at the top of the building referred to here in the cool, grey city of love as the "Jukebox Marriott."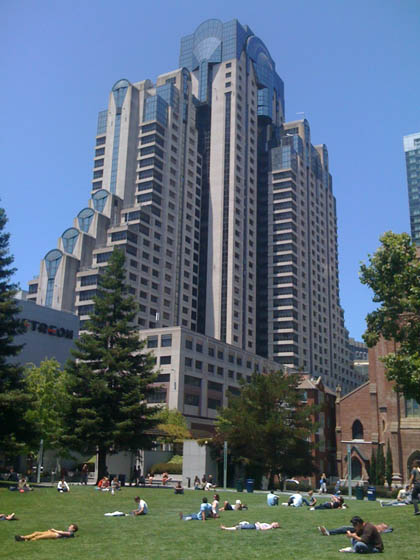 The same hotel and the same iPhone 3G, but with updated software 3.0
Click for a full-resolution image
It's the same camera - trust me - but the 3.0 software update has definitely improved the quality of its imaging. Check out the top of the jukebox to see what I mean. Low-light performance has also improved in 3.0, by the way.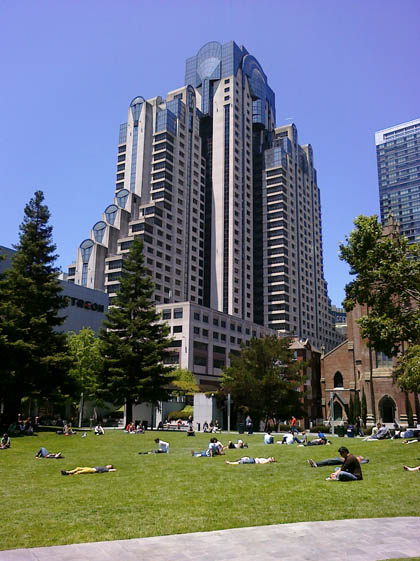 This was my most color-accurate Palm Pre shot, and still the sky's a bit purple
Click for a full-resolution image
Images made by the Palm Pre in well-lit situations are quite crisp, but colors are inconsistent. More on this on-again-off-again problem later.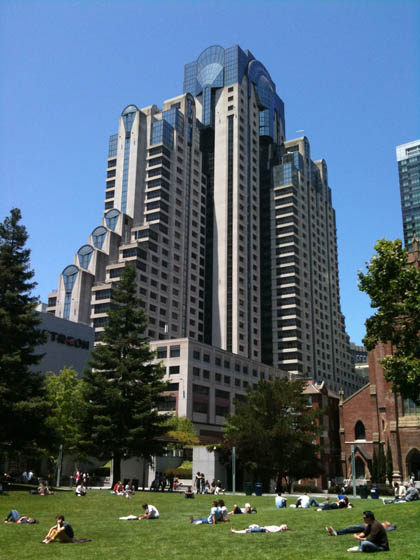 The iPhone 3GS's Marriott is not quite as sharp as the Pre's, but its colors are truer
Click for a full-resolution image
The iPhone 3GS's camera is a great leap over the one in the iPhone 3G - although that's not saying a hell of a lot. I'll have more to say about its exposure and focus controls later on in this article.
Five years ago, the Nikon D70 was the new hotness, but now you can find one for around $250 on eBay. Still, this old digifart can produce a far more well-balanced image than can any cameraphone I know of - so much so that any comparison is simply unfair.
Let's try something tougher
Dark, backlit subjects are difficult for a simple point-and-shoot camera to image decently, but a few of my test shots of this glad-handing bronze businessman ("Shaking Man" by Terry Allen, 1993) came out not half-bad.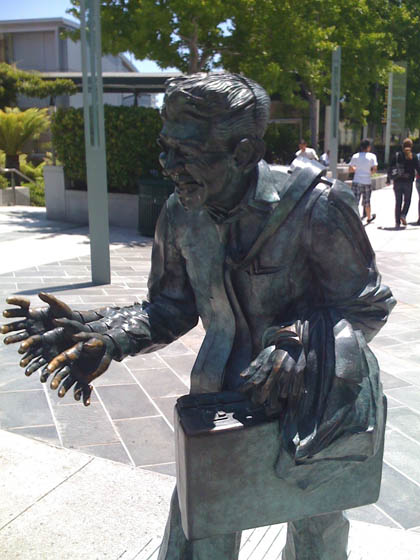 An iPhone 3G with Software 2.2.1, as expected, turned in the worst performance
Click for a full-resolution image
My oldest phone/software combination - the iPhone 3G running Software 2.2.1 - tried its level best, but it just didn't have the chops to pick out detail in both the statue's face and the background. Luckily, it's a free upgrade to Software 3.0.
The difference between an iPhone 3G running Software 2.2.1 and 3.0 is subtle, but noticeable. Check out the improved detail and the sharpness of, for example, the post on the left.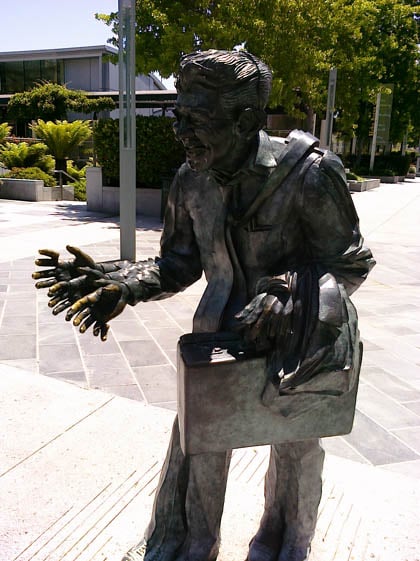 The Palm Pre's sharpness and balance are good, but color is again off a bit
Click for a full-resolution image
Of all the cell-phone cameras I tested, the Palm Pre edged ahead of the others in sharpness and depth of detail. But, then again, "sharp cell-phone camera" is a bit of an oxymoron.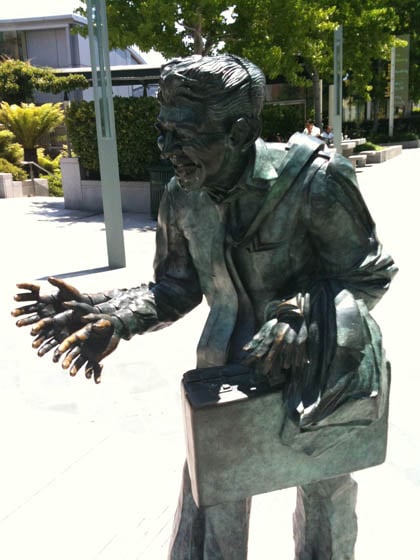 When trying to balance between foreground and background, the iPhone 3GS blew out the background
Click for a full-resolution image
When I used the iPhone 3GS's choose-a-focus-and-exposure-point feature, it was difficult to find a happy medium. Focusing on an edge of the statue and including just a bit of the background, as in the image above, blew out the background. On the other hand, focusing just on the background made statue's face a dark, detail-free muddle, as I detail on the next page of this article.
There's something to be said for using a real camera and not a micro-lensed toy, as are the cameras in even the smartest of smartphones. Even when I let my old Nikon D70 automatically set the exposure based on the Shaking Man's face, it responded intelligently.
iPhone 3GS auto-exposure
The iPhone 3GS allows you to tap on a preview image to choose what part of the scene you want to use to determine focus and exposure. Most of the attention that this capability has garnered has concerned foreground versus background focus. In my testing, however, I found that the variability in exposure levels - especially on a bright, sunny day with tons of light - is far more noticeable.
Here are a few examples that show the 3GS's exposure range, as chosen by taps on its preview display.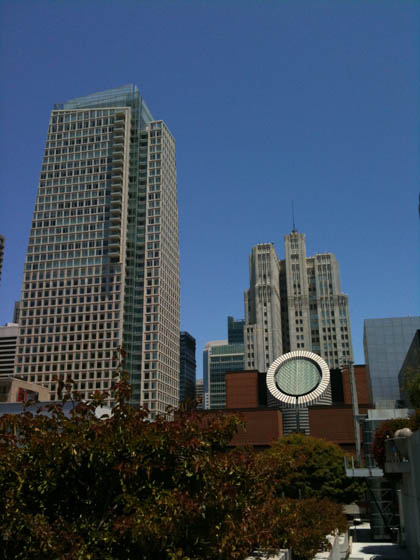 The Museum of Modern Art's circular roof is well-exposed - but not much else is
Click for a full-resolution image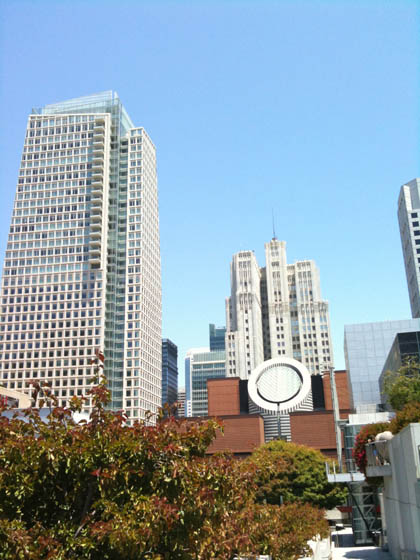 Tap differently, and everything brightens up - although maybe a bit too much
Click for a full-resolution image
In the first example above, I tapped on the roof of the San Francisco Museum of Modern Art's trademark circular roof. It looks great, but the rest of the shot looks like late evening, not high noon. In the second example, I tapped on the foreground bush, which was a mere dark blur in the first example. The entire scene brightened considerably - although distant buildings went a little soft.
Here's the Shaking Man again - you remember him from the previous page. In the first example, I tapped on the bright plaza surface and was rewarded with fine detail of the slate tiles. In the second example, I tapped on the mutant businessman's face - he came out okay, but he could be just as well as standing on a snowbank as on an attractive urban public square.
Funny colors and wavy sidewalks
I'll wrap up this test of brightly lit scenes with two oddities: the Palm Pre's predilection for tossing in oddball color tinges, and the iPhone 3G's tendency to emulate the Great San Francisco Earthquake of 1906.
Color craziness: First a caveat. When I brought to the attention of the good folk at Palm the Palm Pre's odd tendency to toss an occasional color cast over its photos, a spokesperson told me that "the situation you described has not been seen on other devices" - meaning, of course, other Palm Pres, not any other devices in the known world.
Now, this may or may not be true - I don't have a half dozen Palm Pres at my disposal to test to see if the one they supplied me with is a lemon. That said, the color errors and inconsistencies in my test Pre are unmistakable.
Although neither I nor Palm have been able to yet discover the exact reason for the color variability, we both theorize that it's caused by inconsistency in the camera's automatic white-balance settings, which causes shifts in the color temperature - and thus, the overall color cast - of the image.
I also discovered through trial and error that the color variability is affected by the Pre's flash settings. When the flash is turned off, color is relatively consistent from shot to shot - not necessarily accurate, but consistent. When it's set to Auto, things start to get wonky. And when Flash is turned on, some truly wacky results can appear. Not always, but often enough to be a pain.
Check out these three pairs of images, for example: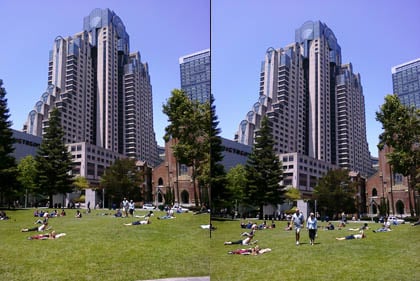 Two Palm Pre shots taken with flash off - consistent, if incorrect, color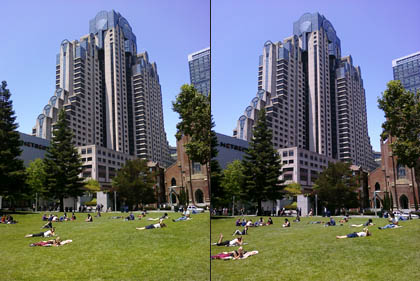 With flash set to automatic, shot-to-shot colors begin to diverge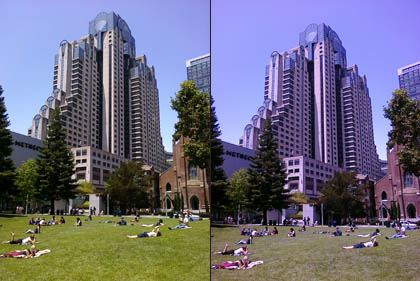 Turn on the flash and turn on wild inconsistencies
A few notes on these tests: First, even though the flash was set to Auto in the second pair of images, it didn't fire for either. Second, the zany pink Marriott Hotel in the bottom-right image is the worst the color cast ever got - I included it merely to demonstrate the range of color craziness I experienced. Third, using a flash is lunacy on a bright sunny day, but I also experienced color variability when using the flash for standard indoor shots.
Again, Palm says that the problem may be confined to my individual test Pre. But, hey, it may exist in yours as well.
Wavy walkways: After taking a boatload of photos with the iPhone 3G, with both Software 2.2.1 and 3.0, I noticed that it would sometimes play havoc with geometry - buildings would wiggle in middle floor, otherwise-rigid pillars would appear more supple than they should, and walkways would bob and weave.
Cases in point (details from larger images):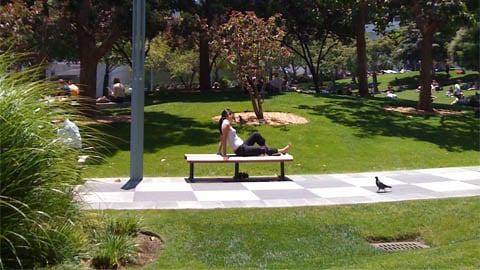 Reality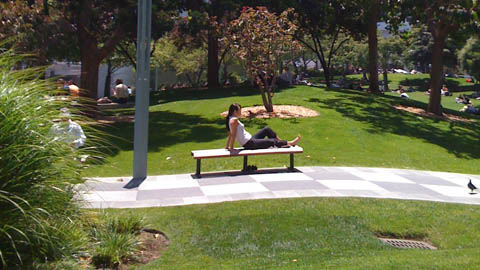 3G-induced fluidity
I didn't encounter this problem with either the iPhone 3GS or the Palm Pre - though perhaps I should spend an afternoon shooting horizontal and vertical grids, just to make sure.
But I'd rather not. Personally, I've got a Nikon D90 on order that should arrive in a couple of days. I'm done with cell-phone cameras.
Cell-phone cameras may have improved greatly in recent years, but they're still essentially toys, useful only for not-to-be-missed surprise moments, unexpected celebrity sightings, surreptitious peeping, and the occasional revolutionary uprising.
Of the cameras I tested, the Pre would squeak by as the winner were it not for its annoying color problems. The iPhone 3GS's tap-enabled exposure could be a boon if used carefully, but the camera didn't prove itself to be as sharp as the Palm Pre. And if you own an iPhone 3G, the camera improvements offered by iPhone Software 3.0 are yet another reason to upgrade.
Bottom line: If you want to take real photos, get a real camera. ®