Original URL: https://www.theregister.co.uk/2009/06/24/tmobile_g1_touch/
UK mobile networks clash following HTC Hero launch
Orange and T-Mobile slug it out for Hero customers
Posted in Personal Tech, 24th June 2009 16:02 GMT
Just hours after HTC unveiled Hero as its third Android-based smartphone, the UK arms of T-Mobile and Orange have both confirmed plans to sell the phone in Blighty.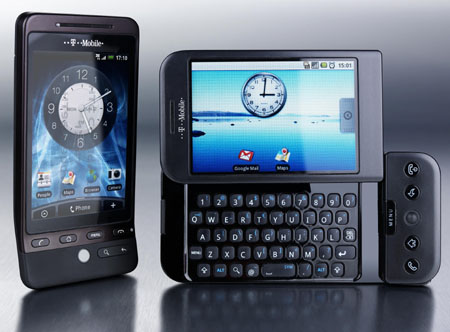 T-Mobile's G1 Touch (left) and the original G1
T-Mobile had already promised to unveil its second Android-based smartphone for the UK this week. And it turns out that the device in question is HTC's Hero, which T-Mobile plans to call the G1 Touch.
Hero will be Orange's first Android-based device, Orange UK's Director of Devices, Francois Mahieu, said. But Orange seems happy to stay with HTC's chosen name for the device.
T-Mobile will release the G1 Touch from mid-July, provided you sign up to a contract worth at least £40 ($66/€46) per month. But Orange has undercut its rival network provider with a £39.15 per month contract, with minimum two-year term.
Orange's contractual obligations also mean buyers get the Hero for free, but the operator's promised to release the phone from early July.
It's also worth noting that while HTC has, so far, only shown the Hero in white, T-Mobile will have an exclusive black model and Orange an exclusive "Graphite" body for Hero.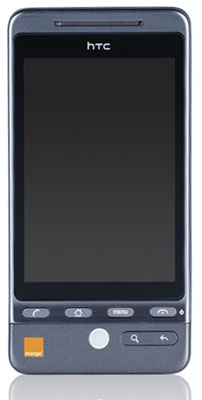 Orange's "Graphite" HTC Hero
Both network operators have been bullish about sales expectations for Android devices in the UK this year. Richard Warmsley, Head of Internet & Entertainment Services at T-Mobile, said: "We expect that one in five T-Mobile mobile internet users will have Android-powered devices by the end of the year."
Mahieu also said that HTC's Hero is the first of several Android-based devices that Orange UK plans to launch during 2009.
For more technical details about the HTC Hero, check out Register Hardware's coverage of the HTC Hero launch. ®