Original URL: https://www.theregister.co.uk/2009/06/24/femtocell_applications/
Femto cells with big ideas
Good for coverage, bad for teenage romance
Posted in Networks, 24th June 2009 10:25 GMT
Femtocell World Summit Visitors to the Femtocell forum in London this week are being deluged with demonstrations showing what a Femtocell application can do, the only problem being that they are all the same, and that none of them work.
Femtocells - very small network base stations designed to sit in the living room connected to the home broadband network - are very good at providing additional network coverage, particularly in buildings. But the manufacturers and network operators are keen to emphasise the huge range of applications that having your own base station offers, which would be more interesting if those applications weren't limited to detecting when a handset enters your house.
Being able to detect phones does provide some functionality: Airvana demonstrated a particularly entertaining "Boyfriend Buster", which reports back to dad (via SMS) when his daughter brings her boyfriend home. It's a nice idea, but only works if the boyfriend in question happens to be on the same network, so beware of gifts from your girlfriend's dad. Intruder detection suffers from the same problem; a Femtocell can be tweaked to detect handsets from other networks, but it can't see the phone number so can't tell friend from foe.
Lots of other applications were variations of that theme, with podcasts automatically loaded onto your phone as you walk into the door, or a Facebook connection that allows thieves to check on-line if you're at home. Most of the applications - like the podcast - are predicated on the idea that networks charge less for data used at home, despite the fact that no network is doing that as yet. There is also a real obsession with getting notifications that the kids are home.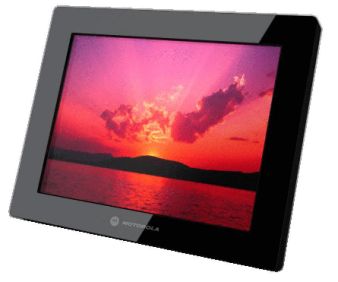 Motorola - packing more functionality than the average Femtocell
Several vendors demonstrated applications that would deliver you reminders as you walk into your house, posted by yourself or friends, which is all very well if you need location-specific reminders - "feed the fish" is fine, but "call your mother" can be delivered anywhere.
To be fair, these are all intended to be examples of the kind of applications that Femtocells enable, and the Femto Forum has launched a developer portal, where it's hoping to create some standard APIs to allow everyone to have a go at creating applications for the technology. The idea is to create standard APIs for both interrogating Femtocells so applications can be deployed across different hardware - if the operators will let them.
And that is the nub of the matter - if you have a nice web API to access phone numbers attached to a Femtocell, you might be tempted to knock up an app that logs how users travel around your office during a fire drill, or one that switches on a bit of Barry White when your loved one walks into the house. But it's pretty unlikely that operators (the only people legally allowed to deploy a Femtocell, even in your house) will allow you to do that kind of thing. They'll want applications that generate revenue, and revenue they can understand, which means Femtocells will remain a technology to extend network coverage - at your expense - no matter how open the Forum tries to make them. ®