Original URL: https://www.theregister.co.uk/2009/06/23/review_motherboard_asus_crosshair_iii/
Asus Crosshair III Formula AM3
Top-notch gaming performance
Posted in Personal Tech, 23rd June 2009 08:02 GMT
Review Asus sent us a Crosshair III Socket AM3 Phenom motherboard to use when we tested the Republic of Gamers OC Station. This seemed like a questionable idea as it meant we were testing a £125 accessory on a £137 motherboard.
To our mind, it made better sense to match the OC Station with the £299 Rampage II Extreme or a £190 Maximus II Formula, but the Crosshair III Formula turned out to be more interesting than we expected.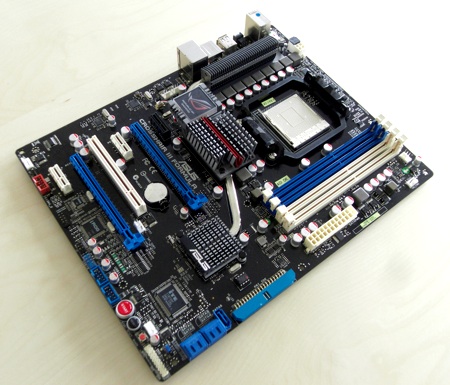 Asus' Crosshair III Formula AM3: more interesting than expected
The original Crosshair supported Socket AM2+ Phenoms with an Nvidia nForce 590 SLI chipset that supports two graphics slots. Crosshair II upped the graphics support to Tri-SLI, thanks to the use of the nForce 780a SLI chipset. It's all change with Crosshair III: the new model uses an AMD 790FX chipset which supports Socket AM3, DDR 3 memory and CrossFire X graphics.
Switching from Nvidia to AMD has enabled Asus to drop the price of Crosshair from £195 to £137, which would seem to confirm the stories that Nvidia charges an eye-watering amount of money for its chipsets.
Asus has included every feature that you could reasonably want yet the layout of the board is very neat and tidy, with plenty of space around all of the major components. The AM3 CPU socket is pushed up towards the top of the board with the 8+2 power system down one side and four DDR 3 slots that support up to 16GB of 1600MHz memory on the other.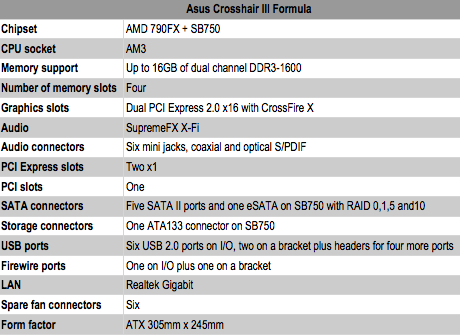 The two power connectors are positioned at the edges of the board, the two PCI Express 2.0 x16 graphics slots are widely spaced, and the ATA-133 and Sata connectors are laid down for easy cable connection. Pedants will note that four Sata connectors are laid down and one stands vertically. Regular folk may wonder about the odd total of five internal Sata connectors. The SB750 southbridge chips supports six Sata connections, and as Asus has specified an eSATA port on the I/O panel, that leaves five available inside.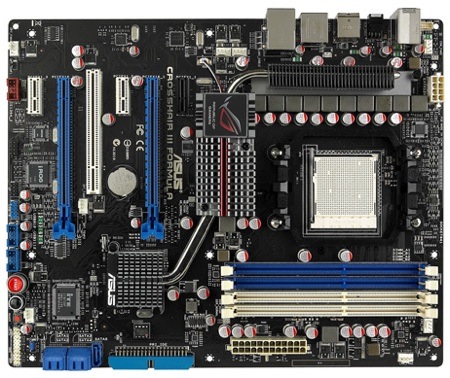 Top down: another view of the board
The Republic of Gamers features include a SupremeFX X-Fi audio card that plugs into the top-most PCI Express x1 slot leaving two PCI Express x1 slots free for further expansion. The SupremeFX card carries six audio mini jacks along with coaxial and optical S/PDIF outputs which leaves the I/O panel looking incredibly bare as it only carries one PS/2 port, six USB ports, a single Firewire, one eSATA and Gigabit Ethernet.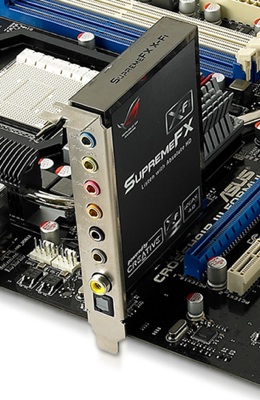 A SupremeFX X-Fi audio card is included
The package includes a bracket that carries two more USB ports and a second Firewire port, and there are headers for four more USB ports on board - handy if you have case-mounted ports.
There are Republic of Gamers extras in the shape of an external Reset button on the I/O panel, while at the foot of the board you get Power, Reset and Clear CMOS micro buttons. Asus also includes its External LCD Poster, which is a small LCD gizmo that plugs into a connection just behind the I/O panel.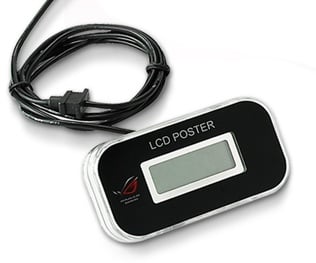 The Poster translates Post error codes into English
The cable feeds out through the I/O shield and is long enough to allow you to position the LCD Poster on top of the tower. In the event that a problem occurs during Post, the LCD Poster will deliver an error report in proper English instead of the usual indecipherable hex code.
3DMark Vantage Results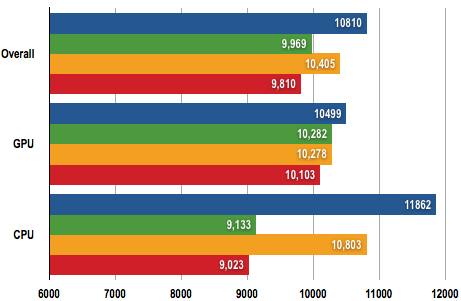 Longer bars are better
PCMark05 Results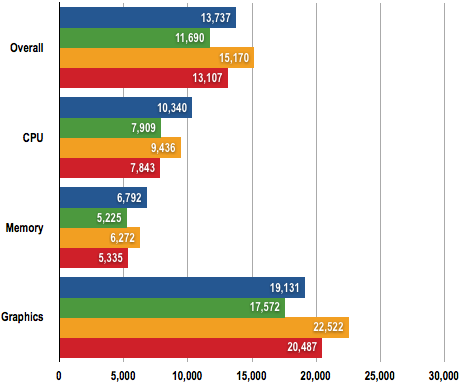 Longer bars are better

Cosmetically, the Crosshair III Formula looks very smart, with passive coolers on the chipset and power regulation hardware that are linked by a flattened heatpipe. During our testing, the coolers remained, well, cool, which is typical of AMD 790FX/SB750 hardware. No doubt Asus would claim that its Pin Fin Thermal Module technology also plays a part by increasing the surface area of each heatsink.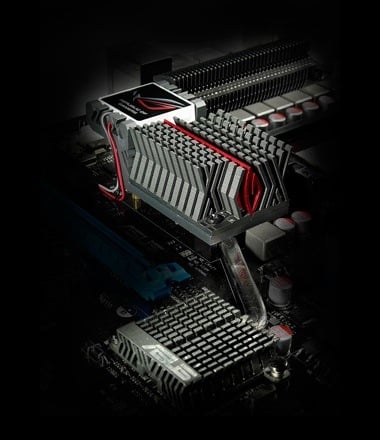 Cool runner: Asus' Pin Fin Thermal rig
The Bios of any Republic of Gamers motherboard is a playground for the enthusiast as it offers enormous scope for overclocking. If you fancy making life easy on yourself you can use the CPU Level Up to select a preset profile to automatically overclock your processor.
In the case of our 2.6GHz Phenom II 810 we were offered three options for overclocking: 2.8GHz, 3.0GHz and 3.2GHz. We went for the fastest speed and saw the clock settings increase from 2.6GHz (13 x 200MHz) to 3.2GHz (13 x 247MHz) and the system was as solid as a rock. It was clear that Asus was being fairly conservative as we were able to increase the speed manually to 3.41GHz (13 x 262MHz) without any trouble.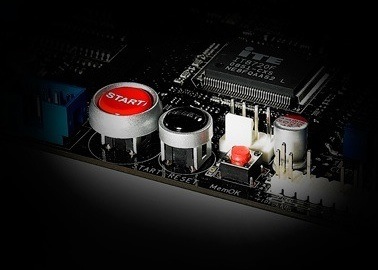 Press to play
Verdict
As Phenom motherboards go, the Crosshair III is very impressive and will do very nicely for most gamers who fancy a decent PC without spending a fortune. You need a contrary nature to choose Phenom II X3 or X4, but if you select your processor wisely you'll find that AMD can offer a decent alternative to the mighty Intel Core 2. ®
More Bits'n'Chips Reviews...
| | | | |
| --- | --- | --- | --- |
| Asus Republic of Gamers OC Station | AMD ATI Radeon HD 4770 | AMD Phenom II Socket AM3 CPU | AMD ATI Radeon HD 4890 |