Original URL: https://www.theregister.co.uk/2009/06/23/review_accessory_asus_republic_of_gamers_oc_station/
Asus Republic of Gamers OC Station control box
Bios tinkering made simple and sweet?
Posted in Personal Tech, 23rd June 2009 08:02 GMT
Review The Republic of Gamers OC Station is an intriguing motherboard accessory that works as a control centre for your mobo without any of that nasty Bios business. It also handles overclocking duties. That's what the OC stands for, see?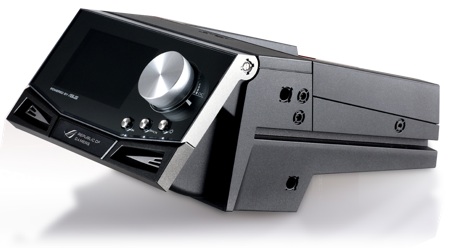 Asus' Republic of Gamers OC Station: inspired by Polaroid - or a car radio?
The OC Station fits into a pair of external 5.25in inch drive bays and connects by cable to a compatible RoG motherboard. That's Rampage II (Core i7 on X58), Maximus II (Core 2 on P45) and Crosshair III (Phenom on AMD 790FX) so you need to think of the OC Station as part of your new PC build rather than as an upgrade for your existing PC. The data cable connects to one of the on-board USB headers and also to a special connector that has been added to the new Republic of Gamer boards.
Plug a four-pin Molex cable in the back of the OC Station to provide power, run the USB driver and you're ready for action.
From a cosmetic stance, the OC Station looks very smart, with three control buttons (OK, Back and Power) arranged under a large aluminium control wheel. When the screen is off, the front panel is dark. Then, when you press the Power button, the 3in mono screen bursts into life. It's bright and clear, with a decent resolution. It can display six options on the main menu that cover Voltage, Frequency, Fan Speed, Temperature, Performance and Setting.
Asus has worked around the obvious problem that many tower cases sit at floor level which would make the screen difficult to read. Press the panel and it swings up through an arc of 30°, sufficient for you to find a good viewing angle.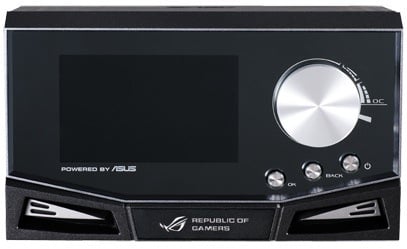 Dial up your Bios settings
Select Voltage or Frequency and you are effectively in the Bios, where you can select and change settings with a spin (or three) of the knob. Scroll down to RAM Voltage, for example, hit Select to choose it, turn the voltage up or down, press the OK button and the change is made. Windows gets confused by dynamic changes to CPU speed and continues to report the old speed, but the CPU-Z utility confirms that the changes we made took effect immediately.
You can also use the OC Station to act as a fan controller and an alarm system to keep tabs on the temperatures inside your case just as you can if you're working with Hardware Monitoring in the Bios.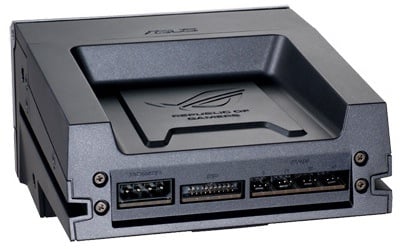 Connect and control your fans as well as the Bios
The Performance option looks as though it should give access to the preset CPU profiles that are part of the Asus RoG Bios. However, with the OC Station connected to an Asus Crosshair III Socket AM3 Phenom motherboard, this section of the menu was empty. This highlights the point that the OC Station is an accessory for a family of motherboards. As a result, it works in conjunction with the combination of hardware and Bios that you have installed inside your PC so you can't be sure how it will work on your set-up until you've seen it in action.
Once you've finished changing settings with the OC Station, you can turn the unit off. It's not necessary to have the screen blazing away at all times.
In our experience, the OC Station is a unique product. It is well made, looks good and functions well with the promise of more to come. The problem is that you can achieve the same functionality with manual changes in the Bios. Neither does it deliver any new features, unless you count the ability to view a slideshow of pictures on the 3in monochrome screen. We don't.
Instead, the OC Station acts as an interface to save the enthusiast owner of an RoG motherboard from the clunky old Bios screen at a cost just shy of £125. The thing is, we have already seen an answer to this particular problem with the MSI P45D3 Platinum, which was updated with UEFI to an interface that responds to pointing and clicking.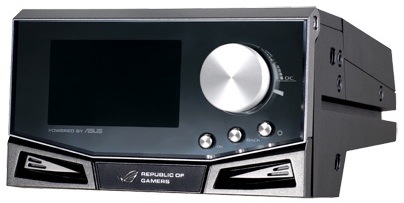 You pay for convenience
We would far rather that Asus went down the same route and made the switch from Bios to UEFI instead of coming up with an expensive piece of hardware that skirts around the issue instead of dealing with it directly.
Verdict
The Asus OC Station is an intriguing piece of kit but it seems like an expensive luxury. Our view: if you're so scared of tinkering in the Bios, just leave it well alone. ®
More Bits'n'Chips Reviews...
| | | | |
| --- | --- | --- | --- |
| Asus Crosshair III Formula AM3 | AMD ATI Radeon HD 4770 | AMD Phenom II Socket AM3 CPU | AMD ATI Radeon HD 4890 |