Original URL: https://www.theregister.co.uk/2009/06/19/raptor_eurofighter_news/
F-22 may live on: Cheap secondhand Eurofighters on offer
Classic jet for sale, one careful owner, hardly flown
Posted in Policy, 19th June 2009 12:21 GMT
Paris Airshow Washington politicians are trying to frustrate the Obama administration's attempt to cease manufacture of the controversial, extremely expensive US ultrafighter, the F-22 Raptor. Meanwhile the Eurofighter - perhaps the second best air-dominance plane in the world - is now to be available second-hand at knockdown prices.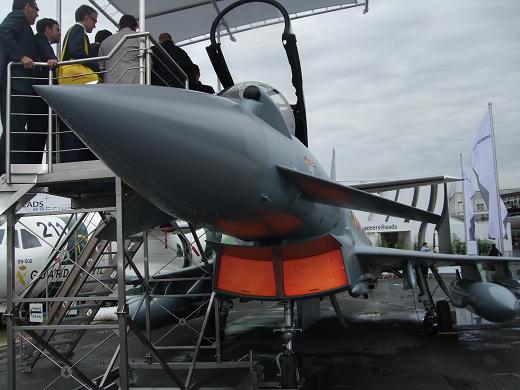 Go on, sir. Sit in it. Sit in it, sir.
Defence Secretary Robert Gates, confirmed in post by the incoming president, outlined sweeping plans for Pentagon reform in April. Gates intends to shift funding from gold-plated programmes like the Raptor into better support for combat troops on the ground in Iraq and Afghanistan, and into cheaper but effective aviation efforts such as drones and the F-35 "affordably stealthy" multirole jet. In particular, Gates wants the America to stop making Raptors as soon as the US air force has 187 of them.
That hasn't gone down well with the US air force, which would like to have a much bigger Raptor fleet and less nasty unmanned drones etc. The previous USAF chief, indeed, was fired by Gates last year in large part due to his open disagreement with his boss on these matters, though airforce blunders in nuclear-weapons security strengthened the Secretary's hand.
The Raptor cutoff is now officially endorsed by General "Norty" Schwarz, the former transport pilot now in the top USAF job. But there are still a lot of people scheming to keep the Raptor production line going. As usual, senators and congressmen from districts where the Raptor is made would like to see the rest of America keep funnelling taxpayer cash into their constituencies; all the more so in tough economic times like these. The House Armed Services Committee has just narrowly voted in favour of overruling Secretary Gates and keeping F-22 production going.
Then there's the global aerospace industry, which is almost united in favour of the Raptor and against the relatively affordable F-35 Lightning II. If the Raptor goes out of production now all the better-off air arms, in the US and around the world, will be more or less compelled to buy the F-35. This will see it made in vast numbers and drive its cost down - creating an effective monopoly of the world's upper-end fighter market and quite possibly putting a lot of other makers out of business. Even Lockheed, makers of the F-35, don't defend it very vigorously as they also make the Raptor.
In theory, a lot of people might choose to buy Eurofighters rather than F-35s, of course. But the Eurofighter doesn't offer Stealth, and at the moment it doesn't offer much of a bomber capability either. It was designed as a pure air-to-air fighter, and so far nobody has been willing to stump up the cost of making it a multirole strike plane like the F-35, though the RAF has what it calls an "austere" smartbombing kit on some of its planes. Tranche 3 examples, some of which may be ordered by the partner nations before the summer break, will be enhanced in this respect. They might also have a new and trendy electronically-scanned radar, the lack of which has also been making the Eurofighter look a bit oldfashioned compared to US-made combat jets.
Classic Cold War fighter jet for sale, hardly flown, one careful owner, lack of hangar space forces sale, all offers considered
However most of the Eurofighter partner nations so far are feeling a bit overstocked with Tranche 1 and 2, principally air-to-air Eurofighters. They'd rather have fleets made up mainly of late Tranche 2 and Tranche 3 aircraft, more useful in the post-Cold War world. The UK has already succeeded in shifting 24 of its planes to Saudi Arabia, though it had to make them newer Tranche 2 ones - and agree to let the Saudis build more Eurofighters themselves. Rumour at the Paris Airshow this week had it that the UK may soon clinch another deal to sell Eurofighters to Oman, though details are sketchy.
Now, in an attempt to get the partner nations to sign up for some Tranche 3 planes before the summer break and elections in Germany, the Eurofighter consortium has agreed that all the participant nations can sell off their existing planes second-hand. Formerly the manufacturers would have opposed this, probably with contractual agreement to back them up, as they would have hoped to make and sell more planes for worldwide export after filling the partner nations' requirements.
But the consortium execs seem to have accepted that they'll have to sacrifice possible future sales to the likes of Oman and Romania if they want to get Tranche 3 developed. It can't help but hurt the Eurofighter's sales prospects to have the market flooded at such an early stage with second-hand planes, many of them scarcely flown and priced to sell.
That said, Tranche 3 Eurofighter should be a much more exportable plane as it will be more useful than the already obsolescent early models now overfilling European armouries. The Euro aerospace execs still have their eyes on the future: by sacrificing a few sales to relatively cash-strapped buyers now, they hope to stay in the game long term.
Meanwhile the effect of Raptor production continuing in the US is to cloud the future of the F-35 somewhat and raise the prospect that the US armed services may not buy the cheaper stealth jet in such large numbers. That could push its price up, and make export Eurofighters look like a better buy. Of course, the House Committee's decision must pass through many other stages before it sticks. Just how strongly President Obama is ready to back SecDef Gates will become apparent as the process moves on.
All in all though, probably a happy week for the global fighter industry: perhaps not such a happy one for the Western taxpayers who have to stump up for these expensive machines. ®