Original URL: https://www.theregister.co.uk/2009/06/18/reviews_colour_laser_printer_xerox_phaser_6280_vdn/
Xerox Phaser 6280V/DN
Page turner – faster than your average duplex?
Posted in Personal Tech, 18th June 2009 12:02 GMT
Review The sales ratio of colour to mono laser printers continues to swing towards colour, and not just in the SoHo market. If you want to buy a colour machine for a small business or a reasonably-sized workgroup, say four or five people, then the Xerox Phaser 6280V/DN certainly deserves a look.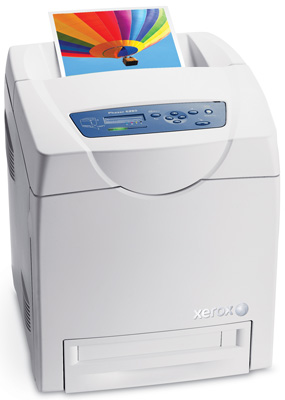 Xerox's Phaser 6280V/DN
Xerox still has a good name in printing, left over from the days when xerography was the only sensible means of getting a plain paper photocopy. Its laser printers are known for good quality print and robust construction. The Phaser 6280V/DN is a colour laser with both duplex print and network capabilities straight out of the box, though it is a substantial box.
Although the printer is large, it manages to maintain a small footprint by having a vertical design. Pull down the large front cover and you can see the four integrated drum and toner cartridges stacked up, one above the other. These are supplied in situ, although you have to remove each one to pull off its sealing strip, before starting to use the printer.
Paper feeds from a 250-sheet tray at the bottom of the machine up to its top surface, which has a deep bay to take substantial jobs. There's also a 150-sheet multi-purpose tray, for special media, but opening up the big front panel to reach it takes up a lot of room and leaves the machine vulnerable to knocks. You can add an optional second main tray, with a capacity of 550 sheets, underneath the printer.
OK, we know we hammer on about it, but a laser printer labelled 'workgroup' which can't take a ream (500 sheets) of paper at a fill is short-changing you. Not only does it mean it needs refilling more frequently, but you'll also have half-used packs of paper lying around, leaving it more susceptible to damp. Much better to transfer a whole ream directly from a new wrapper, each time the paper-out light flashes.

Simple controls, but a clear, backlit LCD display
The printer's control panel is a simply-designed affair with a 2-line by 16-character mono LCD display, a diamond of menu navigation buttons and assorted others for cancelling a print job and waking the machine up from power save mode. Since there's no front panel USB socket for walk-up printing, the wake-up button will probably see little use. There are two status lights, one green, one orange, but with no legends to explain what they mean to the uninitiated.
At the back are sockets for USB and 10/100 Ethernet, both of which are standard. Wireless networking is available as an option – but there's no legacy support for parallel printing – and you can add a 40GB hard drive for local storage. The Phaser 6280V/DN comes with genuine Adobe Postscript Level 3 and PCL 6 in emulation and there are drivers for Windows, OS X and a CUPS driver for Linux.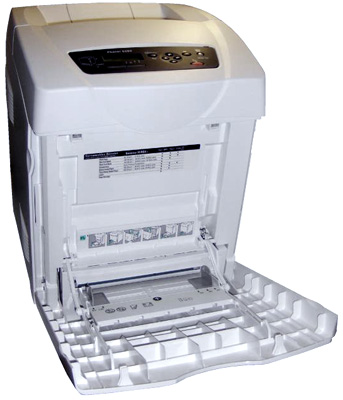 A 100-sheet multi-purpose tray hides behind the large front cover
Xerox rates the machine as a 30ppm black and 25ppm colour printer but, as usual, we didn't see these speeds in our real-world tests. A five-page black text document took 18 seconds to produce, a speed of just under 17ppm and when we increased the page count to 20, the speed went up to 23.5ppm, still some way short of the headline figure.
Interestingly, though, when we sent the same 20-page document as a duplex job, it only took 1:11, which again is just under 17spm. This is unusual, as duplexing normally drops print speed to around half that of a simplex document.
One of the reasons behind this unusually quick duplex speed could be that the printer takes in sheets in pairs, as far as possible, duplexing one immediately after the other. If your print job isn't an exact multiple of four sides, of course, this technique breaks down a little, but for the bulk of duplex jobs the two-at-a-time system appears to pay off in print speed.
Colour print is slightly slower than duplex, with our five-page colour document taking 22 seconds, a speed of 13.6ppm. The final speed test, for a 15 x 10cm photo print on an A4 sheet, completed in 34 seconds. Print quality is generally very good. Black text is sharp and dense, with little sign of jaggies in its 600dpi print and no sign of any misplaced toner.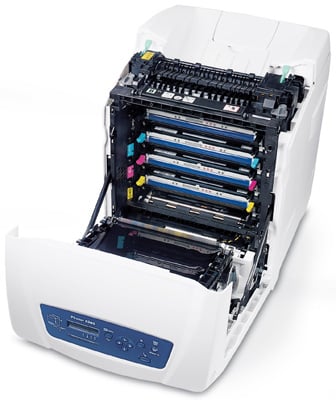 Standard and high-capacity cartridges are available
Colour graphics also look good with bright, sharp graphs and charts and good solid fills, with excellent registration of black text over colour. The four drum and toner cartridges are available in two capacities: 3,000 pages and 7,000 pages for standard and high-capacity black and 2,200 and 5,900 for colour. Using the high-yield consumables, which give better economy, produces page costs of 1.8p for black and 8.6p for colour.
Even a full-colour photo print, normally a hard test for a colour laser, looked better than from many of its competitors. Most suffer from a reduced range of colours and loss of detail in darker areas of an image. Here though, the colour set is more balanced and most of the detail in darker areas can still be seen.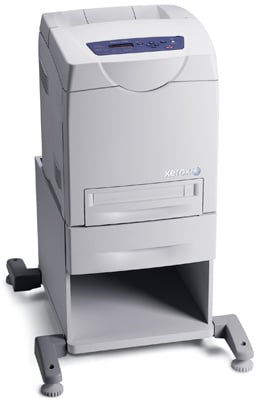 Easy access and storage in this optional pedestal configuration
The black page print cost is comparable with other colour lasers in the same marketplace. Colour costs vary more widely among rival colour lasers, but the Xerox costs are pretty much in the middle of the field. However, there is a trade-off to be had here between the initial purchase price of a colour laser printer and it's consumable costs.
If you're prepared to pay £500 or more for your colour laser, you can get running costs down to under 6p per page, so to make up the difference of around £150 in the purchase price, you're only going to need to print around 6,000 pages on the more expensive printer. For the small office or workgroup, though, that higher initial price may be hard to justify. If so, the Phaser 6280V/DN is well up the field of mid-range, colour machines.
Verdict
If you're looking for a workhorse colour laser printer which can happily handle the output from several people in a workgroup, the Phaser 6280V/DN has few faults. It's reasonably cheap to run, produces good quality print and its duplexer doesn't slow it to a crawl. Just designate somebody to fill its tray regularly. ®
More Laser Printer Reviews...

Kyocera Mita
FS-C5200DN
colour laser

Lexmark
C543DN
colour laser

Kyocera Mita
FS-2020D
mono laser

Lexmark
E260DN
mono laser