Original URL: https://www.theregister.co.uk/2009/06/17/reviews_noise_cancelling_headphones_roundup/
Ten of the best... noise-cancelling headphones
World, shut your mouth
Posted in Personal Tech, 17th June 2009 08:02 GMT
Round-up When we organized a round-up of noise-isolating headphones recently, we were able to get hold of a couple of models that cost as little as £10. However, noise-cancelling headphones are a different kettle of fish. Rather than simply plugging up your ear canal to prevent external noise from getting through, noise-cancelling headphones are packed with sophisticated electronics – including microphones that allow them to analyse background noise and then generate their own sound waves that are designed to counter and nullify that background noise.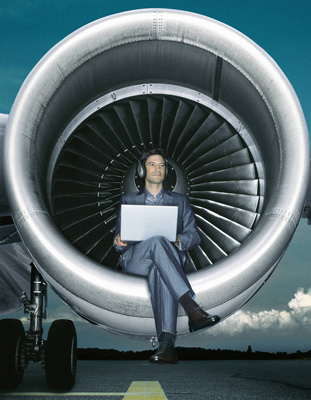 Noise-cancelling headphones - ideal for the frequent flyer
This approach works particularly well with regular, consistent noises such as the drone of an aircraft engine, or the trundling wheels of a train. However, it also means that noise-cancelling headphones are a lot more expensive than conventional headphones. No great surprise that many of these headphones are aimed at well-heeled business users who travel a lot and can afford to pay a price that the average iPod owner would probably baulk at. The best models reviewed here all cost close to £300, although more modestly priced noise-cancelling headphones can be found for £100 or less, if you shop around.
Denon AH-NC732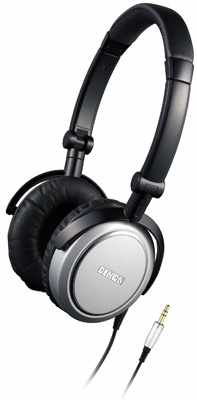 Slipping the NC732 headphones on makes you feel as though your ears have been vacuum-packed in cling-film, so soft and clingy is the padding on the earpieces. They do an excellent job of cutting out background noise, and produce a nice warm sound with lots of detail in the higher frequencies. The bass could be a little stronger – as could the maximum volume level – but they'll be great if you just want to lie back and relax to some soothing music on a long plane or train journey. We've seen online prices for these ranging from £85 to £250, but we'd snap them up for anything under £150.
Reg Rating 80%
Price £250
More Info Denon
Audio-Technica ATH-ANC7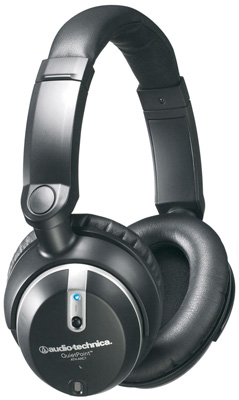 At just over £100, Audio-Technica's ANC7 headphones sit at the lower end of the price range for noise-cancelling headphones, but we were pleasantly surprised by the quality of the sound they produced. Less expensive noise-cancelling headphones sometimes have a slightly muffled sound that is caused by the internal sound-waves that they generate to cancel out background noise. However, the ANC7 produces a very clean and natural sound. Our only minor complaint is that a little distortion does start to creep in on the higher frequencies when you crank the volume up really high.
Reg Rating 75%
Price £109 Click for the best online price
More Info Audio-Technica
Sony MDR-NC500D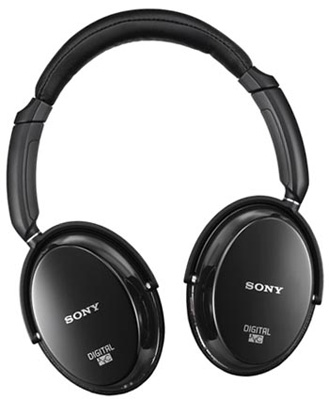 There's no way that the MDR-NC500D headphones cut out the 99 per cent of background noise that Sony claims, but they do a pretty good job thanks to the 'artificial intelligence' feature that analyses the background noise around you and adjusts the headphones to suppress it as effectively as possible. The sound quality is very good, particularly on the higher frequencies. However, the bass lacks punch, which is disappointing in such an expensive set of headphones. There's a built-in rechargeable battery that lasts for almost 15 hours, and you also get an external battery pack that can hold two AA batteries to give you another 10 hours of music if the main battery runs flat.
Reg Rating 75%
Price £270
More Info Sony
Philips SHN9500D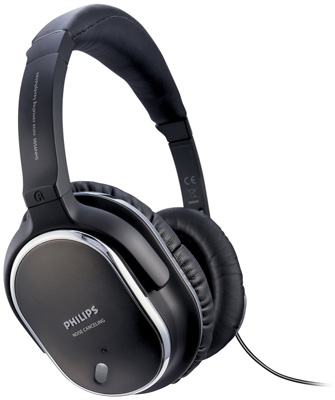 Philips doesn't make any extravagant claims about cutting out 99 per cent of background noise with its SHN9500 headphones, instead settling for a more realistic '85 per cent less external noise'. The noise-cancelling feature works well, especially as the thickly padded earpieces give a little extra help to the internal noise-cancelling electronics. Unfortunately, the sound quality is no more than average. The headphones do capture a good level of detail, but they suffer from the slightly muffled sound that can sometimes be caused by the internally-generated sound waves that noise-cancelling headphones create to nullify external noise.
Reg Rating 65%
Price £135
More Info Philips
Bose QuietComfort 3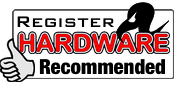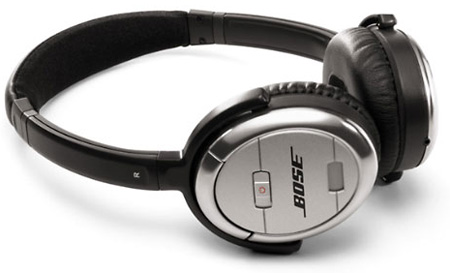 With a price approaching £300, Bose's QuietComfort 3 headphones are very much aimed at jet-setting international business travellers. Yet we have to admit that they work damn hard to justify that price. The sound is a delight – very full and warm across the entire frequency range. Some people might find the bass a little heavy, but that's how our philistine ears like it. Bose also deserves brownie points for the accessories it throws in. You get two rechargeable batteries that are good for about 20 hours each, and an extensive set of international mains adaptors for when you need to recharge. It's just a shame that you need to have an MP's expense account in order to afford them.
Reg Rating 85%
Price £299
More Info Bose
JVC HA-NC250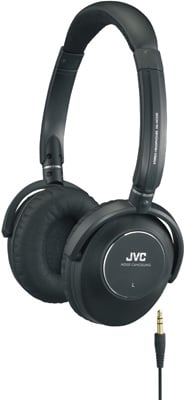 JVC's HA-NC250 headphones are compact and light, so they're a good option if you want a set of headphones that are easy to carry around when travelling. They're reasonably priced too, although the sound quality wasn't quite as good as we had hoped for. Lower frequencies work well, producing a nice warm sound, but higher frequencies sometimes have a slightly shrill edge that's a bit harsh on the ear. It's not a major flaw, but means that the HA-NC250 will probably work best with more laid-back sounds that won't jar too much.
Reg Rating 70%
Price £150 Click for the best online price
More Info JVC
Sennheiser PXC 450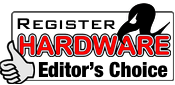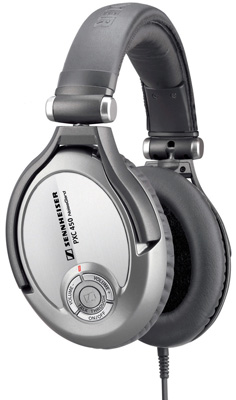 Sennheiser's PXC 450 headphones won't win any awards for elegance. They're bigger and bulkier than any of their rivals, and the button that activates the noise-cancelling feature is in a stupidly awkward position. It's also disappointing that such an expensive set of headphones doesn't even include a rechargeable battery. However, Sennheiser's NoiseGard technology was designed to protect the hearing of professional airline pilots and does a fine job of cutting out background noise – certainly coming close to the 90% reduction that Sennheiser claims. The sound quality is firm and strong, with plenty of detail, and they didn't falter or start to distort the sound when we cranked up the volume on a few old Phil Spector 'wall of sound' epics.
Reg Rating 90%
Price £300 Click for the best online price
More Info Sennheiser
Altec Lansing UHP805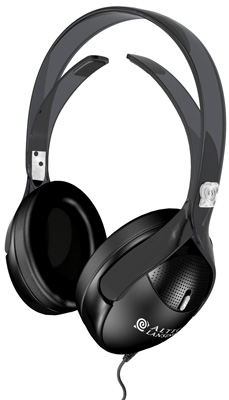 The UHP805 headphones are nearing their 'end of life', which is how manufacturers quaintly refer to their old stuff. However, you can still pick them up at various online stores for less than £50, so they're worth considering if you want a set of noise-cancelling headphones that don't require you to take out a second mortgage. The noise-cancelling features work well, and the phones produce a nicely detailed sound. However, we would have liked a little more raw volume – especially on the higher frequencies – which could sometimes be a bit overwhelmed by the slightly bass-heavy sound.
Reg Rating 60%
Price £30
More Info Altec Lansing
Panasonic RP-HC500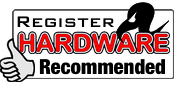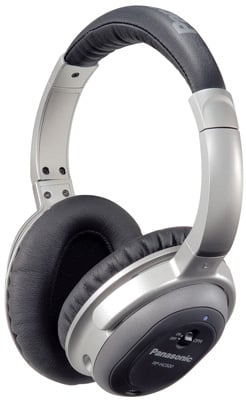 There's nothing fancy about Panasonic's HC500 headphones. They're a big fat set of phones that produce a big fat sound. The noise-cancelling feature isn't the most effective in this group, and Panasonic admits that it's really only effective with quite low-frequency sounds, such as the rumble of an airplane engine. However, the headphones produce a nice, punchy sound that works well with rock music. More expensive rivals such as Denon and Bose produce a more finely detailed sound, but the HC500 is a good choice if you're on a budget and you just want a nice loud set of headphones with a noise-cancelling option.
Reg Rating 75%
Price £148
More Info Panasonic
Audio-Technica ANC3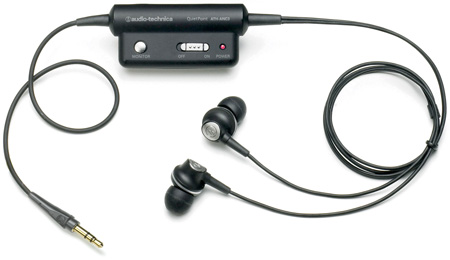 We've indulged Audio-Technica with a second review as we don't see many noise-cancelling – as opposed to 'noise isolating' – in-ear headphones. Of course, jamming the rubbery earpieces into your ear canal provides an additional element of noise-isolation too, with the result that the ANC3 does a very good job of cutting out background noise. The sound quality was pretty good too, especially on higher frequencies where you could hear all the layers of vocal harmonies on some of those old Queen epics. We also like the little 'monitor' button on the cable, which allows you to quickly mute the audio when – as happened to us – someone stops you in the street and asks for directions. ®
Reg Rating 80%
Price £75 Click for the best online price
More Info Audio-Technica