Original URL: https://www.theregister.co.uk/2009/06/17/iphone_3_first_look/
iPhone 3.0 - born on schedule...
...and (mostly) healthy
Posted in Personal Tech, 17th June 2009 21:57 GMT
Lightning Review Apple's iPhone 3.0 Software update went live Wednesday at around 10:00 a.m. Pacific Daylight Time. After a few hours of reviewing its flagship features, I can report that all - well, most - seems to be in order.
After a half-hour download of its 230.1MB bulk over a sputtering DSL connection, I fired up the installation process. Thirteen minutes later, my iPhone 3G was upgraded and its free space had shrunk marginally from 614MB to 605MB.
After my iPhone self-started, I took a trip through Settings, where I discovered a few changes. As widely expected, enhanced parental controls in Settings > General > Restrictions now provide finer-grained control over what Junior can download from both iTunes and the App Store - although a quick survey of the App Store shows that a majority of developers have not yet age-tagged their apps, as Apple's iPhone software chieftain Scott Forrestall asked them to do during the Worldwide Developers Conference keynote last Monday in San Francisco.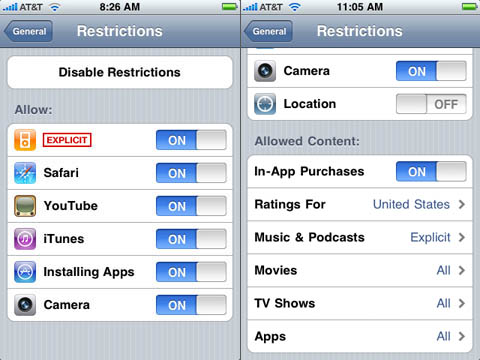 iPhone 2.2.1 (left) had blunt-instrument restrictions; iPhone3.0 (right) is more refined
Interestingly, my first trip to Settings > General > About showed that I had zero songs and zero videos on my iPhone - and there had been plenty there before I upgraded. I launched the iPod app to check whether they had, indeed, evaporated, but they were still there. I then went back to About, and the songs and videos were now correctly enumerated. By the way, there's also a new line in About that tells you how many apps you have installed.
The addition of the new Voice Memo app - more on that later - to the first home screen caused a bit of a pain in the butt by moving one of my previous first-screen apps to a new second screen, all by its lonesome. Simply moving that bumped app to the third screen, however, caused the second thus-emptied screen to disappear.
The promised Spotlight search - accessed by swiping left from the first home screen - finds text strings in Notes, Mail, Contacts, Calendar; iPod-tune artists, song, and album names; and more - although you can narrow the areas searched in Settings > General > Home > Search Results. A tap on a document listed in the search results launches the app and opens the doc. Be forewarned, though, that the search includes Mail's Trash. If you haven't cleaned yours out in a while, you will now.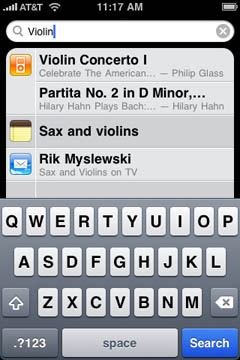 Notes, messages, contacts, events, tunes - it's all searchable
In addition, Spotlight conveniently find apps by name and launches them with a tap on their icon - a blessing to geeks like me with around 100 apps.
But Spotlight doesn't find text in documents created by third-party apps - I tested Hog Bay Software's WriteRoom (iTunes links throughout) and ShapeWriter Inc.'s ShapeWriter Pro, and no dice.
The much-ballyhooed cut-copy-paste abilities do indeed work in some third-party text-entry applications - cut-copy-paste worked just fine in WriteRoom but not in ShapeWriter.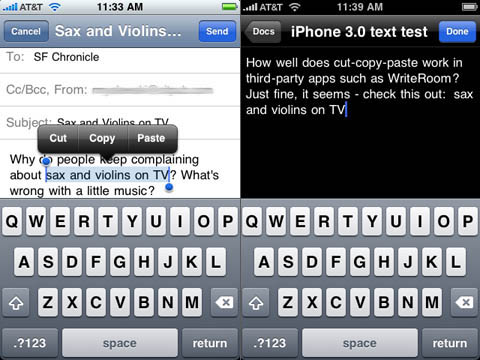 Text from Mail can be pasted into WriteRoom - and vice-versa
However, I found cut-copy-paste to be a finicky, touch-and-go affair. Admittedly, I'm as ham-handed as they come, but after an errant deletion or two, I found myself searching for the Undo button. Couldn't find one. [UPDATE 3:45 PDT: A number of readers have pointed out that an Undo dialog can be invoked by shaking the iPhone. So it can - but that's a dumb UI, IMHO.—RM]
And although cut-copy-paste worked just peachy in Safari, I wish it also worked in apps that simply present rather than edit information - but, alas, I was unable to cut-and-paste Sammy Sosa's steroid-infused 2003 stats from Bulbous Ventures' Baseball Statistics into an email to baseball commissioner Bud Selig.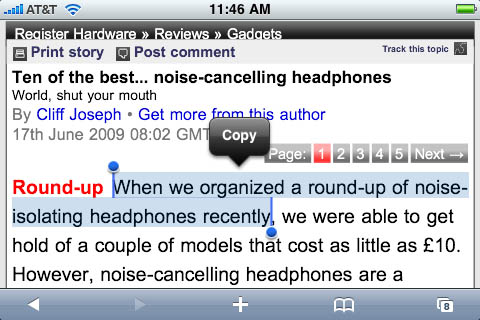 Even when zoomed in, cut-copy-paste works well in Safari
Movies, voice recording, auto-fill, and more...
As promised, you can now buy or rent movies, TV shows, and music videos from the iTunes store. And for those of you who want to improve your minds and not merely download a copy of 1974's The Taking of Pelham One Two Three to see how much better it was than today's remake, there's free educational video content available from iTunes U.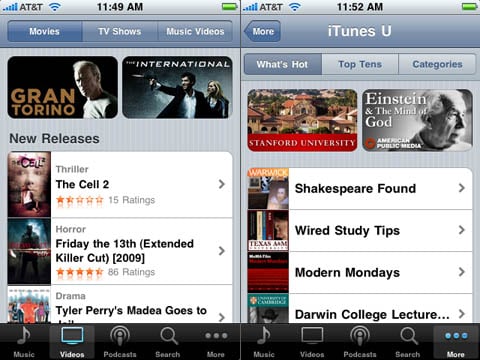 Spend your money on video rentals (left) or get smarter for free at iTunes U (right)
The Voice Memo app is a nice addition - though, I'm sure, not a welcome one to the developers of Polar Bear Farm's Record, Patrick O'Keefe's Voice Record, or other existing recording apps. I wouldn't suggest using Voice Memo to record the fine and delicate acoustical purity of, say, your next string-quartet concert, but it works just fine for voice-jotting a quick brainstorm or three and emailing them to your boss.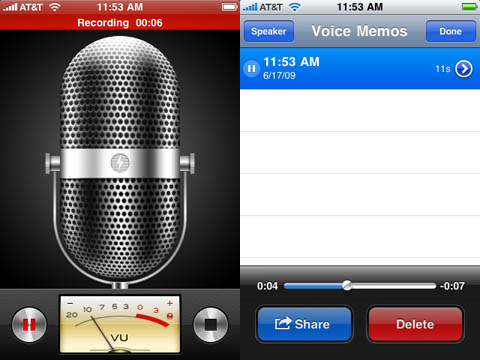 Record your brilliance (left) then tap Share and send it in an email (right)
Landscape typing does indeed work in Apple apps such as Notes, Mail, and Contacts (it's always worked in Safari), but I couldn't get the keyboard to go into landscape mode when I tried to enter text into Calendar, nor did it appear when I landscapified the brand-spanking-new Spotlight search.
Safari's performance doesn't seem noticeably faster, and I couldn't get its AutoFill function to work until I discovered that I had to go to Settings > Safari > AutoFill and provide Safari with the needed permission and info. Then, after I allowed Safari to AutoFill a PCConnection checkout web form, it botched the job - as any auto-fill is wont to do - but it was a simple tap 'n' type matter to correct its mistakes.
Among other improvements, the Stocks app is nicely updated with landscape charts - useful if you're a fiscal masochist grooving on the Meltdown - and the shake-to-shuffle feature in the iPod app is functional, if a bit silly.
Of course, we here in the States will have to wait for AT&T before we can test such 3.0 niceties as MMS and tethering - all the while envying users all over the rest of both the civilized and uncivilized worlds as they send photo-enhanced text messages and use their iPhones as wireless-broadband modems.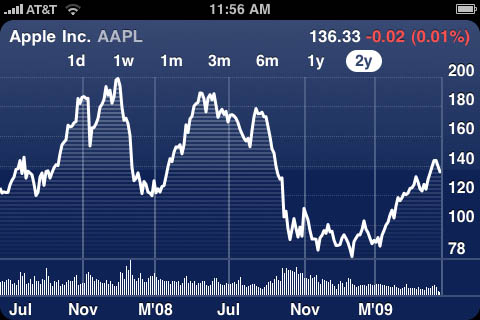 Roller-coaster rides are more exhilarating in landscape mode
We'll wait until later to test MobileMe-enabled functions such as Find My Phone and Remote Wipe file deletion, plus stereo-Bluetooth connections, in-app purchases, phone-to-phone Bluetooth communication, and a few other enhancements such as smart communication with hardware accessories.
At first blush, iPhone 3.0 appears to be a solid upgrade, free for iPhone owners and $10 for iPod touch owners - and if that ten bucks sounds like Apple is nickel-and-diming those iPod owners, remember that there are between 15 and 20 million iPod touches out there. Those nickels and dimes will add up to a hefty take for Apple. ®