Original URL: http://www.theregister.co.uk/2009/06/16/review_storage_usb_blockmaster_safestick/
BlockMaster SafeStick hardware-encrypted USB drive
Tough enough?
Posted in Security, 16th June 2009 12:02 GMT
Review It may make its money shelling shedloads of its security centric USB Flash drives to organisations like the NHS, but Sweden's BlockMaster believes the rest of us likewise need memory sticks with a high level of data protection built in.
Leaving aside for a moment the question of whether you really want to keep confidential personal information on a gadget that's so easy to misplace, it's certainly the case that if you do lose a USB key, you don't want whoever finds it to have a nose through your files.

BlockMaster's SafeStick: small, metal clad and with integrated encryption
Enter BlockMaster's SafeStick, a compact black metal USB Flash drive with on-board hardware encryption which won't mount its storage space until you've correctly entered the password.
Insert it for the first time, and up pops a read-only partition containing the password entry program. Our review unit had had a password pre-set, but it proved easy enough to change it to something with more than eight characters and with at least one captial letter and one number.
Run manually or automatically, SafeStick's access app is a lightweight utility that, beyond opening up the drive's storage and allowing you to change the password, will let you re-lock the SafeStick, reset it to factory state and set an idle period after which it'll lock the storage space automatically. The latter's handy for folk who're likely to unlock the stick and then wander away from the computer they're using, and it's enabled by default.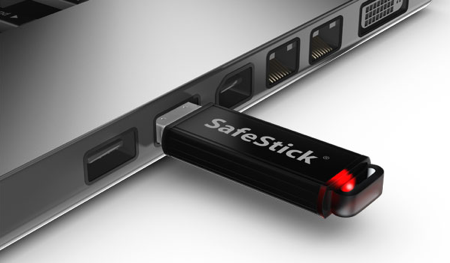 Handy size for crammed USB ports
The app resides entirely on the SafeStick so there's no need to install any code on the machines you'll be plugging the stick into. Removing the SafeStick from a USB port automatically locks it.
With a password in place, you're ready to add files to the stick. BlockMaster offers versions of SafeStick with as little as 1GB of storage or as much as 64GB, though the latter's slightly larger than the weeny 56 x 18 x 6mm 32GB model we tested. It weighs 9g and edge on takes up barely more space than the USB port itself.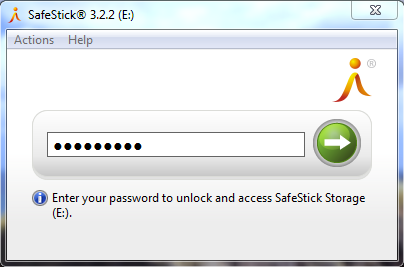 The on-board access app is straightforward
The drive is wrapped in a metal shell. There's the customary lanyard in the box, which attaches to a loop the end of the SafeStick. BlockMaster missed a trick here: the loop is made of plastic but should have been formed from the same metal that makes up the case. It'd be rather less likely to break then.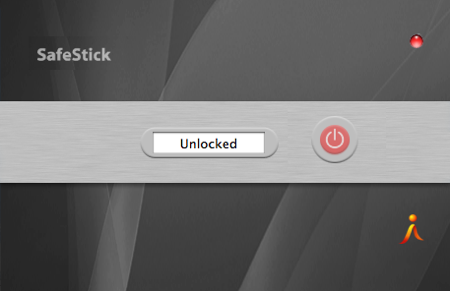 There's a Mac version too, but Linux support is some way off
The metal shell affords more protection than your average USB Flash drive provides, but it's not as solid not as all-encompassing as the one on, say, the IronKey, though that makes it lighter and smaller. The IronKey's sealed-in design would prove a real challenge for anyone attempting to open up the drive and extract the chips. We're not sure we can say the same for the SafeStick.
Within the stick, alongside the storage formed from what BlockMaster claims is the "highest quality NAND Dlash available on the market", is an Intel 8051 encryption chip. This automatically encrypts data on the drive using 256-bit AES.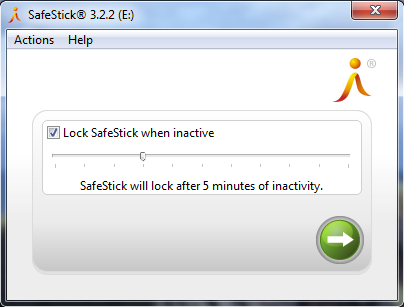 Auto-lock your storage if it's not being used
Trying the SafeStick out on an Acer Aspire One running Windows 7 RC1, we were able to access the drive's contents in seconds. It wasn't so quick with a freshly installed Mac OS X version of the access app - which also lacks the reset, lock-out timer control and password change facilities of the Windows version - but not unusably slow by any means. There's no Linux version now, alas, but BlockMaster's looking to have code out by the end of the year.
To test the SafeStick, we copied across a 2GB file then duplicated it on the drive itself. We also used the open source utility TrueCrypt to create a 256-bit AES encrypted file space on a 16GB PNY Attaché USB Flash drive. We then performed the same copy and duplication operations. Both devices were hooked up directly to a MacBook Air's USB 2.0 port.
We repeated the tests this time using a folder containing 100 10MB files - 1GB in total.
2GB File Transfer

Time in Seconds (s)
Shorter bars are better
In each case, the SafeDisk proved much quicker than the combination of TrueCrypt and low-cost Flash drive. But then the latter is a lot cheaper. You pays your money, as they say.
100x 10MB File Transfer

Time in Seconds (s)
Shorter bars are better
And you do pay a lot of money for the SafeStick. A decent 16GB USB drive will set you back around £35 - or a lot less if you opt for a generic product, though it may be slow and contain poor-quality Flash chips - but we saw the 16GB Safestick advertised by a variety of online retailers for between £130 and £208. That's a hefty markup for a security chip.
Opt for the 32GB version and you're looking at shelling out £250-416, depending on who you buy it from. Shop around. At the other end of the scale, the 1GB SafeStick costs £35-44.
SafeStick also has the benefit of better physical protection, though that's likely to be more of a concern to BlockMaster's big-business customers - how many partners are going to saw into a Flash drive to see if their other half is stashing pr0n on it?
Verdict
The SafeStick has all the right credentials to satisfy folk obsessed with security and file-transfer performance. Data copies quickly, and it's locked down tightly, physically as well as digitally. But you can make your own version using free software for a fraction of the price, and with no appreciable reduction in data security. ®
More USB Storage Reviews...
| | | | |
| --- | --- | --- | --- |
| Clickfree Traveler SSD | Freecom ToughDrive Sport | Samsung S1 Mini | Freecom USBCard |