Original URL: http://www.theregister.co.uk/2009/06/16/review_ipod_dock_yamaha_tsx_130/
Yamaha TSX-130 iPod dock
Quality player?
Posted in Personal Tech, 16th June 2009 08:02 GMT
Review Back in 2006, Yamaha established a special R&D department to look at desktop products. The thinking behind this was to utilise some of the company's high-end AV know-how and apply it to a new range of products further down the food chain.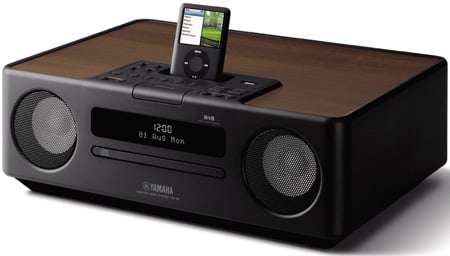 Yamaha's TSX-130 iPod dock includes CD player, DAB radio and alarm clock
From this initiative comes the sleek TSX-130 iPod docking station featuring a CD player and DAB radio. At £349 it's not cheap, but this does have to be seen in the context of both the target audience and the level of functionality. Think middle-aged couple wanting a quality solution for the study or bedroom. Indeed, it even features a clock with an easy to program dual alarm and you can pick a favourite song to wake up to.
At around 4kg, the build quality feels solid and the unit features a wood veneer top, with a soft touch coating on the round edged sides. Available in a dark wood with black facia or light-coloured wood with white facia, both are subtle in approach, with the lighter version having the edge. The button array is clearly marked and simply laid out, with all the functions on show and easy to access. There is also a full function two tone remote and a generous FM/DAB antenna.
Powering on reveals a blue display, which is not the fastest we have seen. There is a little bit of juddering, but no problem with blurring, and all the information is displayed clearly and quickly. The DAB set up – Band III, there is no band L reception – is fast enough with a complete scan of stations achieved in under a minute.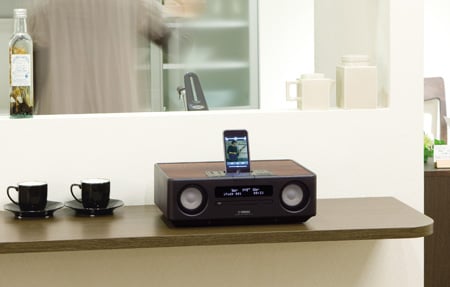 The unit's own display aids remote control distance viewing
The TSX-130 always provides a useful amount of information, with display options in DAB mode including DLS with station type, bit rate, audio mode (stereo/mono), date/time, channel/frequency and signal quality. All food for the terminally curious, who can delight in discovering that Radio Sussex Gold transmits a stereo signal at 128kb/s in the MP2 format. Just don't dwell here for too long, you know it makes sense.
Station search and switching is fast and the DAB platform can store a generous 30 stations, all easily programmable and accessible. During tests, the DAB stations delivered a strong and clear sound with no pops or drop-outs – something that our reception often suffers in this region. With its ability to deliver a natural sound, the TSX-130 performs better still with FM, producing plenty of warmth and sonic detail on Radio 3 and 4. Thoughtfully, 30 presets FM stations can be stored too.
Yamaha has a lot of experience in building platforms for discs, so you would expect the CD deck to be pretty good and you would not be wrong. Reading from CD, including CD-R/RW, is quick and, again, the information displayed is plentiful. To kick things off with the CD testing, we decided to give a few tracks from Audioslave a spin. Lots of rumbling base, vocal pyrotechnics and attacking rock guitar offered a decent challenge.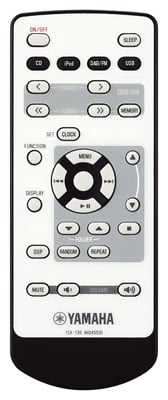 Easy access to iPod functions from this remote
Now you could argue that the band themselves never really gelled as a unit, so the mix can feel a little disjointed and unfocused, especially with weaker systems. However, the TSX-130 has the punch needed to carry the music and recreates a surprisingly wide sound stage with good depth. The unit can achieve a 30W output from its 15Wx2 amplifier, delivered through its twin 8cm speakers. Indeed, it can go surprisingly loud with very little distortion, helped along by two rear-mounted bass ports.
The product also gets some brownie points for providing non-iPod owners with a top mounted USB port. There's no 3.5mm audio input socket. Instead, the TSX-130 can read from USB storage devices and players. We plugged in a Samsung MP3 player from the company's YP range and opted for a bit of Little Fluffy Clouds by the Orb. Again a wide and detailed sound stage was produced, although not on the same level as the CD player. Still, the machine does a decent job of maximising the sonic capabilities of MP3 files, and will also play WMA files.
The TSX-130 is compatible with the iPod touch, iPod from 4th Generation (Click Wheel, including iPod classic), iPod nano and iPod mini, iPhone and iPhone 3G. However, you do have to source your own adapter. The unit will also charge all iPods. Again, audio reproduction is strong. An iPod Nano with a bit of Eight Miles High by the Byrds came across with most of the required wispy Californian atmosphere and spiky guitar intact.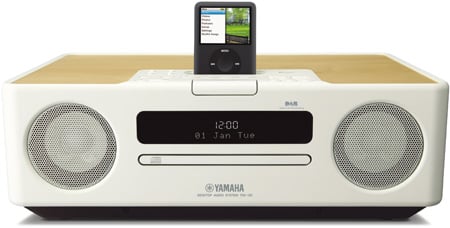 USB storage can be used for playback, but there's no audio input
From the remote control, the TSX-130 offers close to full control of the iPod range. The layout mirrors that of the iPod, so Apple owners will feel at home right away – it also has a decent six-metre range and good level of sensitivity.
By default, the main unit's screen shows song number and elapsed time. From the remote, further information can be called up for display such as remaining time, song name, artist name and album name are also available for iPod touch, iPod classic, iPod 5th gen or later, iPod nano and iPhone 3G. However, Yamaha does not guarantee the TSX-130 will display all of these categories, as it is dependent on the iPod software version in use. In tests, we didn't experience any problems, so just keep your iTunes software up-to-date and your iPod should be OK.
Verdict
Agreed, it isn't cheap and some movement in the price might be necessary for this dock to make a big splash. However, the TX-130 delivers enough functionality, control, information and sound quality to hold its own and marks an interesting new chapter for Yamaha. ®
More Speaker Set Reviews...
| | | | |
| --- | --- | --- | --- |
| IntelliTouch EOS100T1RB | Altec Lansing M812 Octiv Air | Logic3 Valve80 | Edifier Luna 5 |