Original URL: http://www.theregister.co.uk/2009/06/15/review_hd_tv_toshiba_37av615db_lcd/
Toshiba Regza 37AV615DB
Big screen, small price
Posted in Personal Tech, 15th June 2009 12:02 GMT
Review Many of you will no doubt throw up your hands in horror at the thought of buying a mere 'HD Ready' television, rather than a 'Full HD' model. However, the fact of the matter is that most owners of HD televisions still spend most of their time watching ordinary SD television programmes or DVDs, so it doesn't make a huge difference whether their set offers the HD Ready 720p resolution or Full HD at 1080p.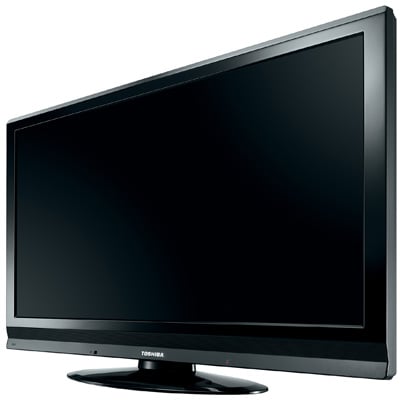 Toshiba's Regza 37AV615DB LCD TV
Of course, you don't want to buy a set that will need to be replaced in a couple of years time if Blu-ray or Freeview HD really start to hit mass-market adoption levels, but a 720p set can still provide good HD picture quality even when converting 1080p content down to 720p. So if all you want is an affordable flat screen TV to replace an aging CRT, then an entry-level model such as Toshiba's Regza 37AV615DB could fit the bill nicely.
Priced at £500, the 37AV615DB is the largest model in Toshiba's AV61 range, and browsing a few online retailers confirms that it is, indeed, one of the cheaper 37in screens currently on sale. Toshiba has also launched 26in and 32in versions as well, priced at about £350 and £399 respectively, with all three models sharing the same 1366x768 resolution.
It doesn't make a great first impression as you lift it out of the box. The plain black plastic panelling looks fairly nondescript, but seems rather lightweight and flimsy. However, it did survive being dropped off the back of the van when it was delivered to us, so the build quality can't be that bad.
A quick look around the back of the unit reveals a Freeview TV tuner, two HDMI interfaces, component video, two SCARTS, and VGA interface and audio input for connecting a PC – although we hooked up our Mac Mini easily enough using a DVI-to-HDMI adaptor. There's a third HDMI interface on the left-hand edge, along with composite video and stereo inputs, headphone socket and CI slot for Pay-TV cards, while the right-hand edge holds a simple control panel for turning the set on and off and selecting channels.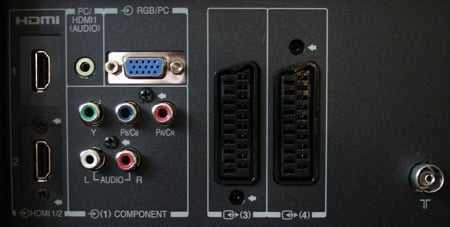 The usual sockets: additional interfacing is available from the side panel
That array of connectors should be adequate for most people, and we had no problems hooking up our test rig of TV aerial, Sky+ box, HD-DVD player and Mac Mini. The initial set-up process could have gone a little more smoothly, though. The manual indicated that an 'Initial Setup' menu should appear automatically when you turn the set on for the first time. Unfortunately, all we got was a message telling us to 'please scan for channels', without indicating how to begin the scanning process.
A little experimentation with the remote control allowed us to locate the relevant on-screen menu and it didn't take long to tune into the various Freeview channels. However, we never did locate the Initial Setup menu and less experienced users who prefer to follow the instructions in the manual might struggle a little here.
Things soon picked up once we started to watch a bit of television. We were pleasantly surprised by the quality of standard-definition Freeview channels on the 37AV615DB. This entry-level model doesn't include the Resolution+ upscaling technology that Toshiba has been advertising recently, but it does a very respectable job when displaying standard-definition images.

Nondescript styling – not always a bad thing
Gordon Brown and Peter Mandelson are obviously having a few sleepless nights at the moment, because the 37AV615DB really shows up the bags under their eyes. There's also an adjustable sharpness setting, although we were happy enough with the image quality that we didn't feel the need to use this at all.
Freeview channels displayed correctly, but the signal from our Sky+ box was initially displayed at its standard 576p resolution, which left it with big black borders on either side of the image. We were able to correct this easily enough by using the '4:3 Stretch' option within the on-screen menu. However, the manual brushes over the various menu options and, again, we felt that there could be more help for the less-experienced users who are most likely to buy an entry-level set like this.
High-definition content also looks very good. Our HD tests revealed fine detail on the fur of fox cubs in a nature documentary and Spiderman swooped smoothly across the rooftops. The default colour settings could have been a little more vibrant, but the on-screen menu provides additional presets for colour temperature, such as 'warm' or 'fleshtones', as well as the ability to adjust the individual red, green and blue settings, if required.
While the 37AV615DB handled the brighter cartoon colours of Spiderman quite well, the gloomier world of Gotham City did reveal a weakness in image quality. Darker areas tend to lose detail, and the figure of Batman prowling through the shadows in Batman Begins sometimes became a bit of a murky blur. Sharper contrast would help to display detail in low light scenes more effectively.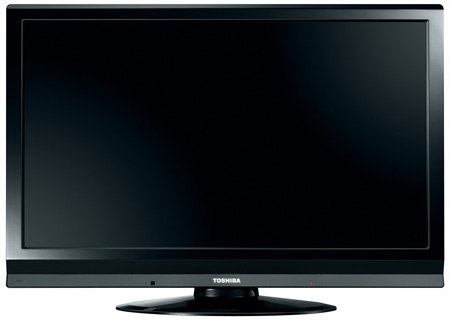 Sonically, less than ideal for media centre use
Although the audio quality is adequate for watching television and listening to dialogue, the built-in speakers are a little disappointing, There's also a virtual surroundsound option that adds a bit of depth – though no real sense of movement – to the sound effects in films.
However, the speakers didn't do too well when we fired up iTunes on our Mac Mini. Their 20W output provides a reasonable level of volume, but the multilayered harmonies on a few old Queen tracks revealed a rather thin sound, especially on the higher frequencies. We'd recommend a set of external speakers if you plan to use the 37AV615DB with a media-centre computer.
Verdict
There's room for improvement on this model – most notably the detail and contrast on darker scenes – but the bottom line is that it provides a good standard-definition image on a big widescreen display, at a competitive price. Home cinema buffs will obviously prefer a Full HD set, but if all you want to do is to watch The Apprentice and the occasional DVD on a nice big screen, then you'll find that the Regza 37AV615DB makes a good upgrade from a bulky old CRT. ®
More HD TV Reviews...

Pioneer
Kuro KRL-37V

Sony Bravia
KDL-37S5500

LG 42LF7700
Freesat TV

Philips Ambilight
42PFL9803H/10