Original URL: http://www.theregister.co.uk/2009/06/12/review_storage_network_buffalo_terastation_iii/
Buffalo Terastation III
The paranoid user's Nas of choice
Posted in Personal Tech, 12th June 2009 08:02 GMT
Review Heading Buffalo's Terastation range of Nas boxes, the new Terastation III is aimed at demanding users and businesses. It certainly feels heavy duty, weighing in at 6.3kg with a locking door to secure its drive bays.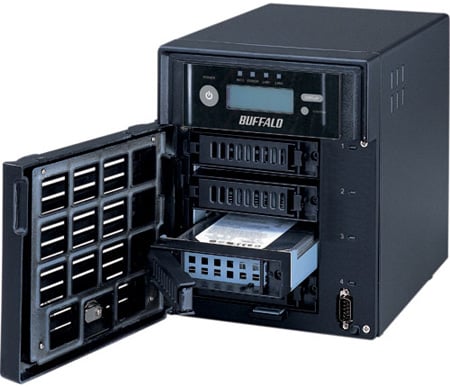 Secure storage: Buffalo's Terastation III
A greyscale LCD on the front reveals a variety of information including disk status, usage, Raid type, Ethernet speeds and host IP address – you can even configure what is displayed using the browser-based control panel. This monitoring feature, together with the two Lan ports round the back, suggest a Nas box intended for serious users.
We tested the entry 2TB model which, like all other Terastation IIIs, comes with four hard drives. In this instance, four 500GB WD Caviar Blue drives. That seems wasteful when you could fit two 1TB drives or even a single 2TB drive, leaving empty bays for future upgrades and keeping energy consumption down. However, hard drives fail. And at a rate of 2-4 per cent per year according to a 2006 Carnegie Mellon University study, with even more drives going to the grave after five years. Reason enough to opt for a Nas with multiple drives.
Indeed, even the most paranoid user will be satisfied with the Terastation III's backup features. Configured in Raid 10, you get a 1TB capacity on the 2TB model. With this setup, two drives can fail and still no data loss. More measured users will opt for Raid 5, which is the Terastation III factory default. In Raid 5, you lose the capacity of one of the drives, but if one drive fails, your data is still safe.
Internal drives can be swapped out without even turning the Terastation III off and external hard drives, as well as printers, can be added using the two rear USB ports – surprisingly, an eSata port is absent. Unlike many other Nas drives, there's an option to share media on USB drives with NTFS and Fat32 drives being accessible without reformatting.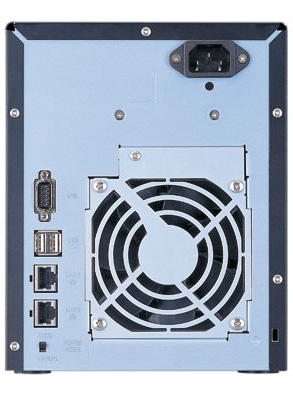 Two Lan ports and USB, but no eSata
Buffalo has included a rich range of applications on CD to supplement the Terastation's own embedded software. PC backup is handled by Memeo AutoBackup, while Mac users can opt for Memeo or Mac OS X's Time Machine. An application to find and configure the Nas drive, called NasNavigator2, is also included.
If you can't physically locate the find Terastation III, NasNavigator2 will prompt the unit to play a short musical tune so you can scamper around, listening out to find where you've put it. Finally, there's an EXT3 reader on the CD, so you can read the Terastation III's hard drives if the Nas dies. However, we couldn't test this feature as it will only read drives connected to a USB port, rather than the internal with Sata drives.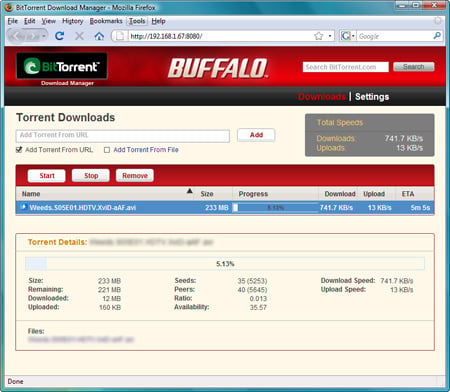 Bittorrent downloads are managed from a browser interface
The firmware supports all the usual file sharing protocols you'd expect from a high end Nas, as well as DLNA and Xbox 360 streaming, Bittorrent downloading and support for 100 simultaneous users. Buffalo has even included SFTP support, something that's not even native to the all-powerful Synology Nas boxes. SFTP uses SSH RSA encryption to keep data safe from prying eyes when transferred over a network, and requires quite a bit of horsepower to perform the encryption/decryption. In tests, SFTP slowed read and write speeds to 3.09MB/s and 0.94MB/s respectively.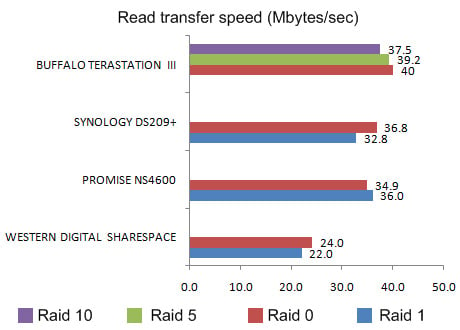 Read speeds are top notch, outclassing many other drives
Buffalo doesn't advertise it much but, the Terastation III includes a decent dynamic DNS service in a section labelled WebAccess under the Extensions web configuration page. All you have to do is pick a name and password for your Nas and, once you've clicked save, you can access your files from www.buffalonas.com. We found the process was much easier than most other Nas boxes, although in the Windows world, Lacie remains king in the gateway DNS area, with its PC application that'll work through the process for you.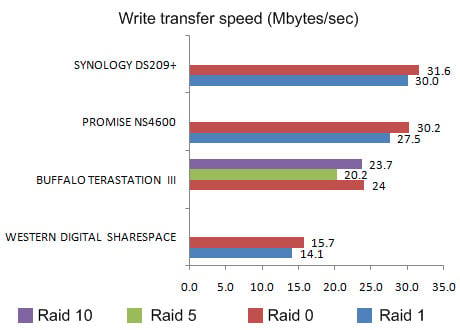 Write speeds were average, perhaps due to juggling four drives
To test real world file transfer speeds, a 901MB file was copied in Windows Explorer across a gigabit router with jumbo frames disabled. With four disks present, the Terastation III can create Raid 0, Raid 5 and Raid 10 arrays, and all modes were evenly matched for speed. The obscure sounding 800MHz Marvell Vault 78100 processor, with 512MB Ram, powers the Nas and ensured excellent read speeds and average write speeds.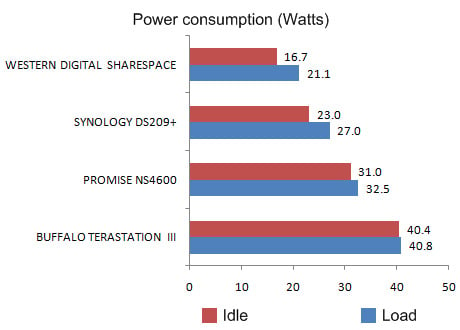 Buffalo stance: power consumption tops the charts
Power management appears, at first glance, to be excellent. The hard drives are spun down and a scheduled sleep function lets you turn the Nas off and on again to limit noise and energy consumption. A switch on the back of the Terastation III can be set to manual – in which case the sleep schedule is observed – or automatic. In automatic mode, the sleep timer is ignored and the TeraStation will turn itself on when it sees a computer awake on the network and go to sleep once all network computers have shutdown.
The Terastation III draws 14.3W during sleep, down from the standard 40.4W, which is put to shame by some Synology, Thecus and Netgear Nas boxes that draw just half a watt during their sleep modes. We also found the Terastation III's internal clock, which the sleep timer uses, to be rather buggy. Every time the Terastation awoke or restarted, the time moved forward by several hours.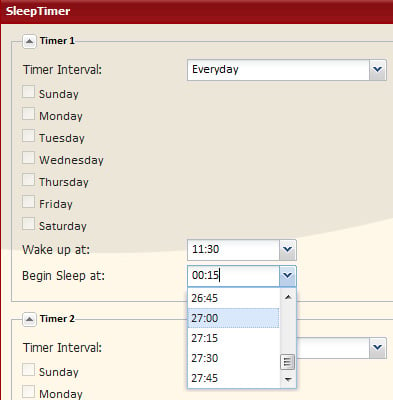 28 hour clock anyone? It'll make you younger
However, leave it on automatic time – linked to a time server – and this issue is resolved as the internal clock is kept updated. If like us, you set the time manually or simply selected 'use local time' – where the time is grabbed from your PC – then the time shoots forwards a few hours after a restart. Stranger still is the timer's 28 hour clock. Presumably, if you select 27:45 it'll actually turn off the following day at 3:45am or perhaps the setting will just be ignored altogether. It's yet another weirdness surrounding the TeraStation III's clock.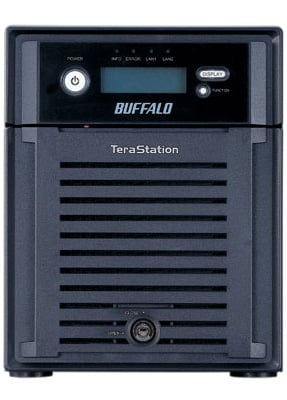 Time out: use a network time server until a firmware fix appears
If the TeraStation III spends 12 hours awake and 12 hours asleep, you're looking at running costs of £26 per year, which is less than the Promise NS4600 and more than Nas boxes with a more effective sleep mode. Running costs are peanuts to the £700 price tag though, which seems a lot compared to most four bay Nas drives. But if you need a Nas to connect to two networks and want a secure FTP server, Buffalo's got the goods.
Verdict
The Terastation III's price tag is a step above most other Nas boxes, but its features are a step above too. While the lack of eSata interfacing seems a bit remiss, the SFTP support, dual Lan ports and comprehensive applications for both Mac and PC, suggest this Buffalo has enough beef for power users to chew upon. ®
More NAS Reviews...

Promise
Smartstor NS4600

Western Digital
Sharespace

Cisco Linksys
Media Hub

EZY Technologies
MyXerver MX3600