Original URL: https://www.theregister.co.uk/2009/06/12/cybersecurity_huawei/
Chinese firm hits back at cyberspy claims
Huawei welcomes UK.gov backdoor probe
Posted in The Channel, 12th June 2009 09:44 GMT
Exclusive Chinese networking giant Huawei is battling suggestions it could be in collusion with the Beijing government and could cause massive disruption to UK communications in a future cyber conflict.
Concerns have been raised at Cabinet level by senior intelligence officials over the presence of the firm's equipment at the centre of BT's 21CN network backbone upgrade. They particularly fear an undetectable "kill switch" that could disable critical communications if relations with China seriously deteriorate.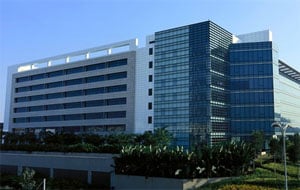 Huawei's research headqurters
Similar cybersecurity disquiet has recently frustrated Huawei's progress in India, a massive and growing market for networking equipment. Reports also emerged last year that the Australian intelligence establishment was investigating the firm's involvement in national broadband upgrade work.
Official fears over Huawei's equipment are typically founded on the firm's origins. Cybersecurity hawks point to its unusual private ownership structure and opaque accounting as evidence of its alleged government ties. The firm was founded in 1988 by Ren Zhengfei, a former People's Liberation Army technology research chief.
Today, in an email exchange with The Register, Huawei pointedly hit back at suggestions of a link. "Huawei provides commercial public use telecoms equipment," it said. "It has NO financial and research links to the Chinese military and government."
The firm has more than 87,000 employees, and says more than 40 per cent of them work in research and development.
It continued: "The allegation is totally unfounded. Huawei is a 100 per cent privately held global company owned entirely by its employees. No government or government-linked-organizations have any ownership stake in the company.
"Like other top vendors, Huawei participates in government's open biddings, and Chinese government related sales accounted for only 0.5 per cent in 2007."
Nevertheless, Whitehall concerns over BT's Huawei equipment recently received political backing from David Blunkett. The former Home Secretary told The Register he planned to press ministers for an ongoing programme of government security auditing. Blunkett's office today said the meeting had gone ahead, but declined to discuss its outcome ahead of the government's forthcoming cybersecurity strategy.
A spokesman for the Cabinet Office also declined to comment. BT does not publicly discuss the security of its infrastrucure.
A well-placed source in the UK broadband sector scoffed at suggestions officials could feasibly monitor potential threats hidden inside Chinese equipment. "Huawei kit is everywhere," he said. "It's about a third of the cost of their competitors, who make theirs in China anyway."
The enemy is everywhere
Huawei's BT 21CN contract award in 2005 effectively shut down British rival Marconi. The multi-billion-pound deal was approved by then-Trade Secretary Patricia Hewitt, who is now a non-executive director of BT.
Huawei now competes globally against Silicon Valley-based Cisco and Juniper Networks on similar massive IP networking upgrades.
The firm also lists Orange, Vodafone, T-Mobile and O2's Spanish parent company Telefonica as major customers. Its main competitors in the mobile market are Alcatel-Lucent, Ericsson, Nokia-Siemens and Nortel.
The source added that BT had conducted an extensive and "industry leading" security investigation of the equipment, but said this had not satisfied intelligence officials.
Asked how the the security of its products compared to rivals, Huawei said: "Our customers, including top operators, audit Huawei in all aspects on an ongoing basis. We are confident about the safety of our equipment and the many long term partnerships formed with our customers is the best proof."
Dr Richard Clayton, a security researcher at the University of Cambridge, said that no programme of testing could guarantee security from a remote attack based on covert vulnerabilities. "It's no win for Huawei," he said. "Proving the absence of a backdoor is essentially impossible."
Asked if it would allow intelligence agencies to inspect its source code, the firm said: "Huawei is confident that its solutions meet the requirements of its customers and is open and willing to engage with relevant authorities to address their security concerns."
While industry and academic opinion suggests intelligence agencies' concerns over Huawei are moot, history shows they cannot be dismissed as paranoia. Foreign governments have been exposed as co-opting IT manufacturers to provide remote access to equipment before, although the culprits were not Chinese.
In the 1990s stories emerged that the US National Security Agency had for decades allegedly rigged the products of Swiss encryption firm Crypto AG. It was reportedly able to effortlessly decode secret diplomatic and military messages as a result. Similarly, the Israeli government - which probably has closer ties to its commercial technology sector than Beijing does - was accused in 2000 of spying via backdoors in wiretapping equipment supplied to US law enforcement by Comverse Infosys.
Both those firms have continued to thrive despite their alleged sidelines in espionage. For Huawei, the stain of an alleged association with the Chinese military is not likely to vanish. Yet with rapidly growing sales of more than $23bn last year, and increasing global market share, past experience suggests that perhaps it need not care.
For UK intelligence officials, meanwhile, the issue cannot be so easily dismissed. The equipment is already out there, relaying billions of our trivial and our important communications every day. If a backdoor is out there too, they are unlikely to discover it - until, perhaps, it's already too late. ®