Original URL: https://www.theregister.co.uk/2009/06/11/review_media_player_o2_joggler/
O2 Joggler family organiser
More PMP than parental PDA
Posted in Personal Tech, 11th June 2009 08:02 GMT
Review The knack in marketing a product that can perform a multitude of tasks is obviously picking the right ones to focus on but, at the same time, not forgetting to mention anything really interesting. O2 has decided to pitch its new Joggler primarily as an interactive digital calendar for the busy modern family but, after a thorough nose around this oddly named device, we are not entirely sure O2 is focusing on its best side.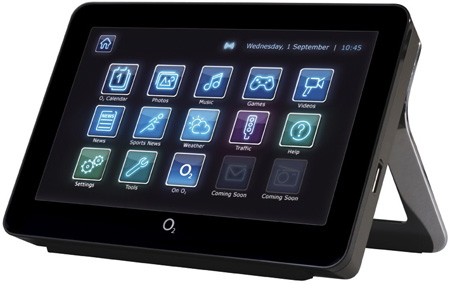 O2's Joggler: silly name, but clever device
In appearance, the Joggler is nothing too out of the ordinary – looking half PMP, half digital photo frame. The body of the device measures 115 x 180 x 25mm and it stands propped up at around sixty degrees by its fixed and non-removable metal stand. The front is of the unit is dominated by a 7in 800x480 LCD screen and, rather unusually, it is completely devoid of controls, buttons or logos.
Without any sort of on/off switch you just plug the Joggler in and wait for it to spring into life whereupon you will be presented with a pleasant green/blue hued home page with fifteen on-screen buttons that provide access to the Joggler's various functions. These include your O2 calendar, photos, music, videos, games, news – current affairs and sports – weather and traffic information.
The remaining buttons take you to a 'what's new/important from O2' page, settings, tools including calculator, alarm clock and memo pad, and a help page. OK, that's only 13. The last two buttons are currently blanked out but, at some point following a firmware update, they will enable access Internet radio stations and messages – presumably e-mails rather than texts.
The current top ten news headlines are sourced from Sky, as is the local three day weather forecast. Traffic data comes from Trafficmaster and simply shows reduced speed warnings on congested roads nationwide. Alas, you can't set the traffic map to show your local area as the default. So, every time you use it you have a drag the map to the right area, which gets a little tiresome after a while.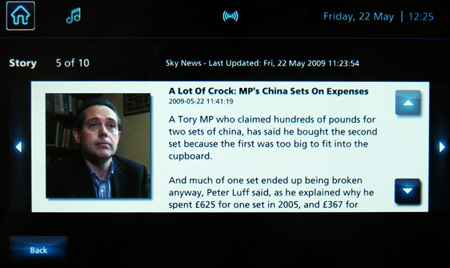 Current affairs and sports news are provided by Sky
Navigating around the Joggler is eminently straightforward. Just tap the icon or file title you want to launch and away you go while an omnipresent image of a house in the top left corner takes you directly back to the home page. When on standby, the Joggler switches to a large and clear display of the current time and date.
O2's big sell for the Joggler is based on its calendar features. The idea is you set up a calendar or calendars on-line, then access and update them via the Joggler. The calendar can be set to send reminder text messages to family members at predetermined times, alerting them to significant events.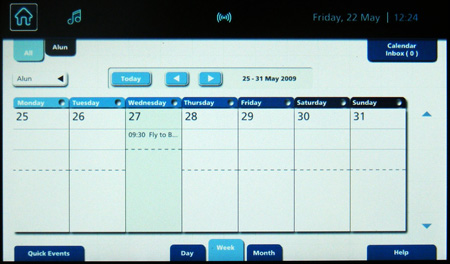 Calendar events can be viewed and updated
SMS messages are free, but only to O2 numbers. Those same users can also send free text messages to any of the calendars set up and associated with their phone number to discover if anything is afoot on a certain day. If so, the Joggler will then send back a text telling them where they need to be and when.
The virtual keyboard takes care of data entry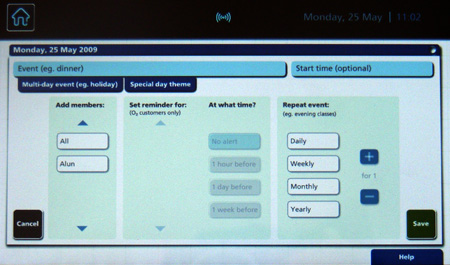 Calendar entries are simple to create
In use, the calendar is very straightforward, with clearly labelled tabs and various colour code options. There are differing levels of access too, so little Johnny can't erase the family plans for the next month. Yet, we can't quite shake the feeling that it's answering a question nobody has asked. After all, if a family is so disorganised that it needs the Joggler's calendar to keep it marching in step, then it's probably too chaotic to use it in the first place.
The Joggler's connection ports reflect the fact that it is aimed at the technically illiterate. All you get is an Ethernet port, 3.5mm audio out, power socket and a USB port. The USB port is simply for plugging in media loaded onto memory sticks and not for hooking up the Joggler to a PC. When we tried to connect the Joggler to a Windows PC, it didn't even appear as a USB storage device. One thing we would have liked to see is an SD card slot – having a USB stick dangling out of the side is not particularly elegant.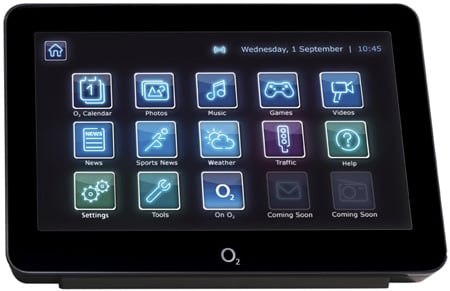 Handles most content and replays streaming media
The two small stereo speakers at the back of the Joggler sound tinny, sharp and generally unpleasant. They just about suffice for watching a movie, but you wouldn't want to listen to music through them for any length of time and we suspect most users will connect their Joggler to some powered speakers via the 3.5mm socket.
The Joggler's capacitive screen supports a very good touch interface. That's not good as in 'good but not Apple good', but good – period. Commands can only be imputed by taps, rather than swipes or multi-touch gestures, but both the reaction time and sensitivity are excellent, as is the virtual keyboard design. The UI's performance is helped by the fact that the Joggler's Linux-based operating system is powered by a pretty manly chip – an Intel Atom clocked at 1.1Ghz, to be exact.
In the absence of a comprehensive spec sheet we tried an assemblage of media files on the Joggler and found that it supports MP3, WMA, Ogg Vorbis and WAV audio files though not FLAC or AAC. On the video front we had luck with WMV, H.264, MPEG-4 and Xvid/DivX files, along with JPEG images. The Joggler can cope with video resolutions well beyond its native screen resolution - while it struggled with a 1080i DivX file, a 1280x720 example played faultlessly, as did 960x720 H.264 and WMV files.
As far as video playback is concerned the Joggler is right up there alongside the Archos 7 in terms of clarity, colour and definition. While it may lack many of the finer settings and tweaks you find on dedicated PMPs, it nevertheless managed to play every video we tried in the correct aspect ratio with a simple tap taking the image to full screen.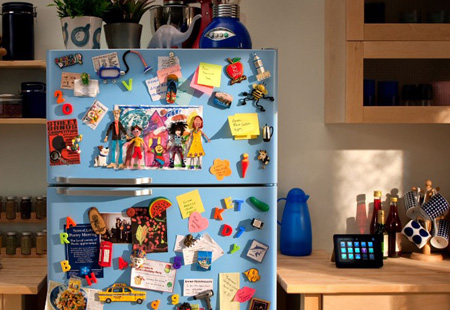 The fridge magnet alternative
Though we can't prove it, from the looks of things we suspect that the screen supports a 16m colour palette. Sadly there's no DRM support though, so you won't be able to watch your iPlayer downloads.
Audio quality was also better than we expected from a device with no EQ, bass, treble or sound modification settings. We loaded up a selection of music and plugged in our reference Sennheiser HD-25s. Playback delivered a well-focused and balanced sound, solid bass and good stereo separation, with plenty of volume on tap too.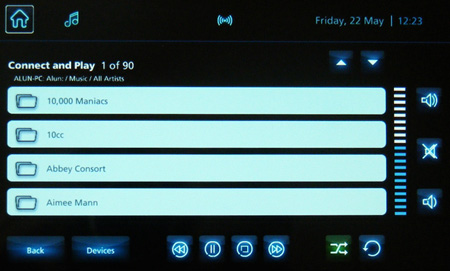 Tinny speakers, but audio sounds good through headphones
If the Joggler has a failing as a media player, it's the lack of anything in the way of a progress bar or FF/REW button which makes skipping to a specific part of an audio or video file impossible. The absence of ID3 tag support may irritate some users too.
As a digital picture frame the Joggler is difficult to fault. Just slot in a USB stick full of images, set the image duration time and press play. It's as simple as that, with the displayed images being both colourful and sharp.
The Joggler has only 1GB of internal storage, but that's not quite the drawback it could be. To start with, you can use the USB interface to play media from a memory stick but, being also UPnP compatible, you can also stream media from a computer hard drive or Nas.
In our view the Joggler's ability to work as a stand alone wireless media streamer rather overshadows its calendar functionality. Hook the Joggler up to a cheap and cheerful Nas box like the EZY Technologies MyXerver we looked at recently and you have 24/7 access to your media from your bedside or kitchen table.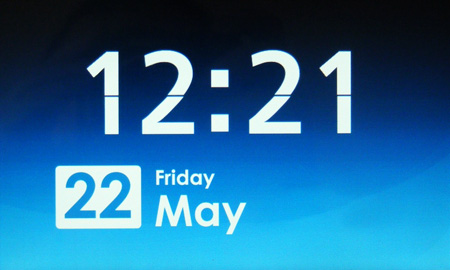 The timely standby screen
Streaming aside, the process of filling that 1GB of storage has been tailored so that even the most PC-phobic should be able to manage. Simply plug in a USB stick, touch the 'USB' button when it lights up then tap the check boxes next to the files you to wish to add to the Joggler then tap 'next'. Not allowing users to add and remove content via Windows Explorer does strike us as taking the whole 'simple to use' ethos just a bit too far though.
The most glaring omission from the Joggler though, is a web browser. It's an omission thrown into even sharper relief by the excellent screen, fine virtual keyboard and lovely touch UI. Fingers crossed, some day soon O2 will see fit to provide a version of the cracking Opera browser that Archos ships with its 5 and 7 Internet PMPs. Incidentally, our Joggler came loaded with just one game, the housewife's favourite, Sudoku. Presumably, more will be available as downloads from O2 in due course.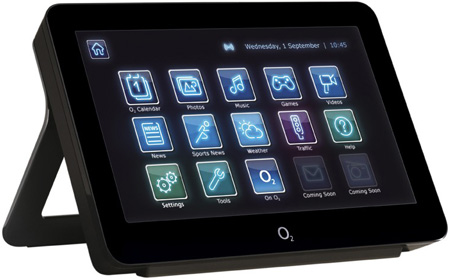 Brimming with features, but browserless
On a final note, the firmware in our review device wasn't as robust as perhaps it could have been. On one occasion the audio output gave up the ghost, while on a few others it dropped the connection to Windows Media Server when left to idle for an hour or so. It refused to re-connect even though the Wi-Fi signal was fine. Both problems were solved by a quick 'reset'. In the absence of an on/off or dedicated reset button, this involved yanking out the power plug, which felt a bit barbaric.
O2 are pricing the Joggler at £150, which is pretty fair value for such a versatile gadget but it is also available free of charge in lieu of a handset upgrade to O2 contract customers and we reckon that makes it the bargain of the year.
Verdict
We can see no good reason for O2 locking the device down quite so comprehensively and not letting users load content onto the Joggler via Windows Explorer. After all, the Joggler is better seen as a handy, network-enabled media player, ideal for those who run their media from an always-on Nas box, so just forget all that calendar malarkey. The weather, traffic and news features are useful, with Internet radio and e-mail access due in the not too distant future. Indeed, it has lots of handy subsidiary functionality built-in but, if it had a web browser too, it would surely be the ultimate on-line, bedside companion. ®
More PMP Reviews...
| | | | |
| --- | --- | --- | --- |
| Sony X-Series Walkman | iRiver P7 | Samsung P3 | Archos 7 |