Original URL: https://www.theregister.co.uk/2009/06/11/review_cpu_intel_core_i7_975_extreme/
Intel Core i7 975 Extreme
Nice - but the cheaper, updated i7 920 is nicer
Posted in Personal Tech, 11th June 2009 12:01 GMT
Review Intel launched its new Core i7 975 Extreme on the first day of Computex and now it's time to put this über processor through its paces.
The old Core i7 965 Extreme has a clock speed of 3.2GHz (24 x 133MHz) and the new 975 Extreme runs a tad faster, 3.33GHz (25 x 133MHz), so we're looking at a four per cent increase in performance. The rest of the features remain unchanged, including the 130W TDP, so the 975 is a drop-in replacement for the 965 if you're prepared to spend £800 to get an extra 133MHz.

Intel's Core i7s: stepping up from the first release
We ran the 965 and 975 back-to-back on an Asus P6T SE motherboard with 3GB of Kingston DDR 3-2000 memory, an AMD ATI Radeon HD 4890 graphics card and an Intel X25-M SSD, all operating under Windows Vista Ultimate Edition.
The short version of the review is that the 975 does indeed deliver four per cent more performance than the 965 but with a slightly higher power draw. We are all in favour of higher performance but in this case the extra grunt is just about the least interesting thing about the new chip.
Whenever Intel has introduced a new CPU in the Pentium III, Pentium 4, Core 2 or Xeon series, it has followed a tried and trusted formula. The new super-fast processor sits at the top of the range and is priced at $999 in batches of 1000. This means that it typically retails for £650-800. The rest of the processors in the range shuffle down, with the price of the second fastest CPU dropping by 30 per cent, the next by 15 per cent and so on. Very few people will be persuaded to buy the new super-fast, super-expensive model but they may well be tempted by one of the mid-range models that has just become cheaper.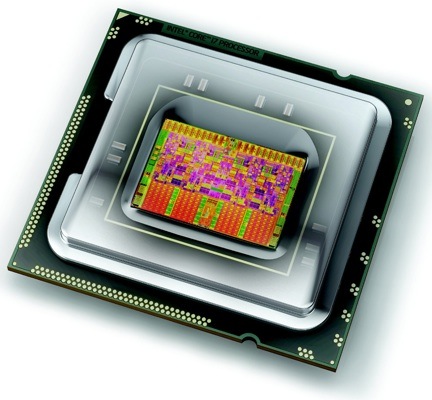 If only they really looked like this...
When it comes to Core i7, Intel has chucked away this particular rulebook and we think we know why. At launch the Core i7 family only had three members:
Core i7 920 2.66GHz at £270
Core i7 940 2.93GHz at £493
Core i7 965 Extreme Edition 3.2GHz at £881
We found that all three processors would happily overclock to the same speed of 3.8GHz or 3.9GHz with air cooling and modest amounts of power. The exact speed depends on your motherboard and memory, but, broadly speaking, an overclocked Core i7 920 delivers the same performance as an overclocked Core i7 940 or 965 Extreme.
Anyone in the market for a Core i7 would be out of their mind if they considered any model apart from the 920, so Intel couldn't follow its usual plan. If it brought in the 975 Extreme at the top of the range and reduced the price of the 965 Extreme, 940 and 920 it would effectively be throwing away profit.
So it has replaced the 965 Extreme with the 975 Extreme and further down the range the 2.93GHz 940 has been replaced by the new 3.06GHz 950. The Core i7 920 remains in place at the same 2.66GHz speed.
At the time of writing the prices of the five models are:
Core i7 920 2.66GHz at £228 OEM, £240 retail
Core i7 940 2.93GHz at £425 OEM, £431 retail
Core i7 950 3.06GHz at £446 OEM, £485 retail
Core i7 965 Extreme 3.20GHz at £770
Core i7 975 Extreme 3.33GHz at £802
You may be wondering where Intel found the extra 133MHz for the new 950 and 975 Extreme models and the answer lies in a revision to the stepping. The three original models were all released on Stepping C0: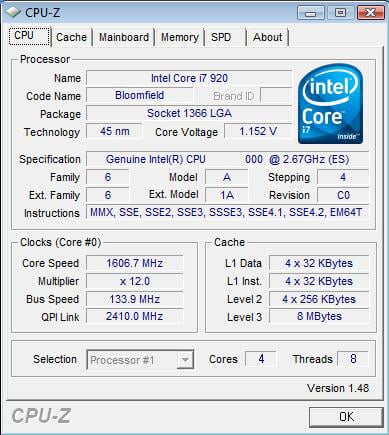 The new 975 Extreme has moved to Stepping D0, and we're told that the new 950 also uses D0: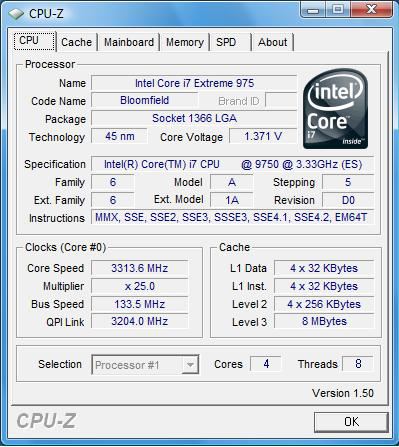 We had a word with Intel and were promised a 920 on Stepping D0 that would do wonderful things in the overclocking stakes. We duly received a new 920 and it had exactly the same performance as our existing 920. CPU-Z identifies it as a Stepping C0/C1: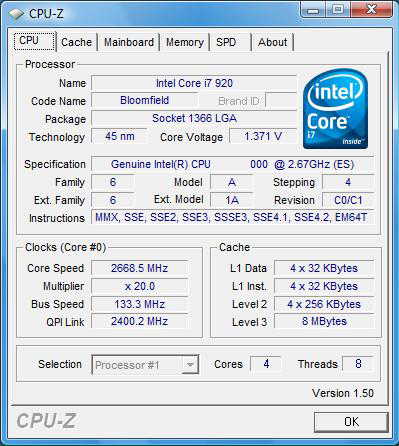 so we guess it's actually a C1. We then received another package and this time it was indeed a Core i7 920 D0: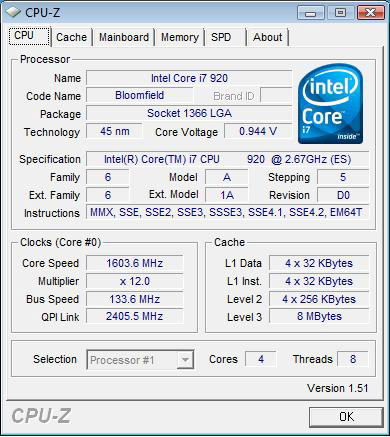 PCMark05 Results
CPU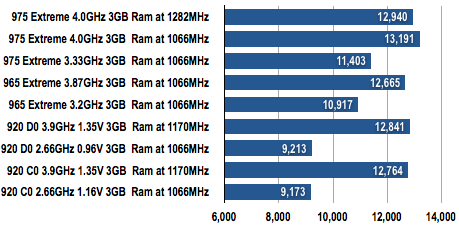 Longer bars are better
Memory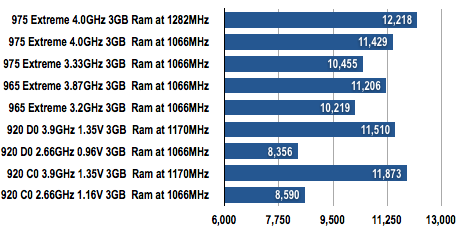 Longer bars are better
Overall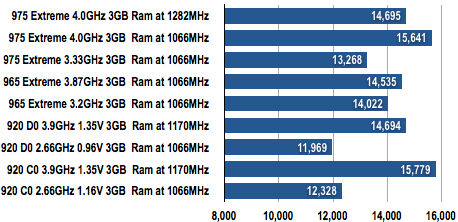 Longer bars are better
DivX 7 350MB Video File Conversion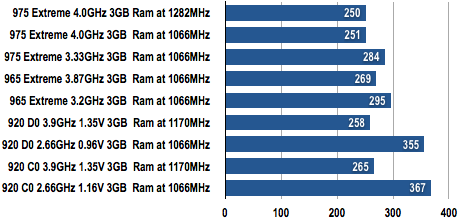 Conversion time in Seconds (s)
Shorter bars are better
POV-Ray Rendering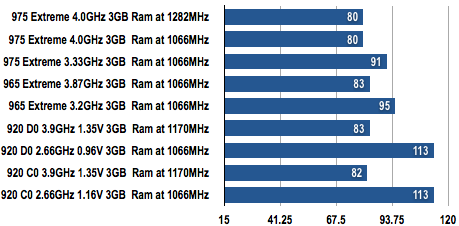 Rendering time in Seconds (s)
Shorter bars are better
Cinebench 10 Rendering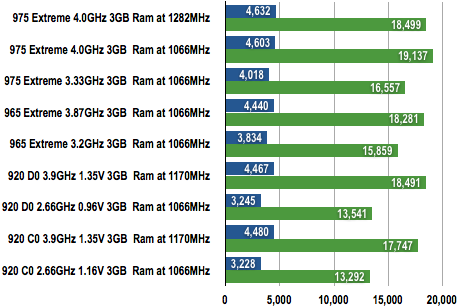 Longer bars are better

SiSoft Sandra Results
Memory Bandwidth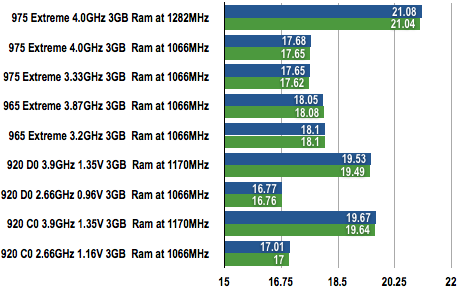 Bandwidth in Gigabytes per Second (GB/s)
Longer bars are better

Memory Latency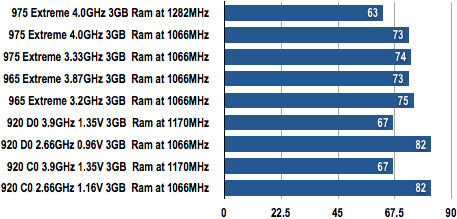 Memory latency in Nanoseconds (ns)
Shorter bars are better
At the stock 2.66GHz speed, the D0 draws 15W less power than the C0. When we overclocked it to 3.9GHz (20 x 195MHz) using a core Voltage of 1.35V, the difference in power draw increased to 55W in favour of the D0. This was looking very promising, and we fully expected that the 920 D0 would go even faster but things didn't work out that way.
Power Draw Results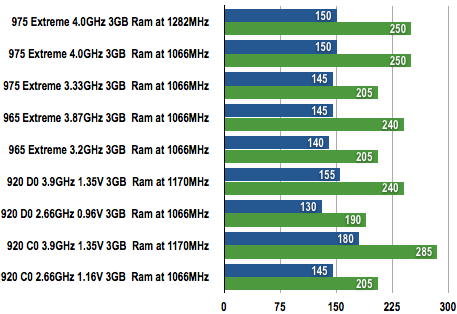 Power draw in Watts

We could overclock to 4GHz (20 x 200MHz) on 1.35V but the system crashed repeatedly while encoding files in DivX 7. When we fed the 920 D0 1.40V and bumped the speed further to 4.1GHz (20 x 205MHz), it became even more flaky.
The power draw of the D0 at these increased speeds was still lower than the overclocked C0 but the performance simply wasn't there. We can't comment on the performance of Core i7 950 as we have yet to see one but we suspect it will follow in the footsteps of the new Core i7 920 and will be slightly slower than the new 975 Extreme.
You have to ask yourself why Intel brought out the 975 Extreme and the only logical answer is that it doesn't want to be seen as a company that rests on its laurels. Instead, it constantly strives to make progress and keep ahead of that pesky AMD.
No matter what the reason, the D0 Stepping is a success. But let's face it, you're not going to spend £800 on a new desktop processor and you probably don't know anyone who will. You should, however, cough up the necessary for a new Core i7 920 for which the D0 Stepping is the key to a world of gaming goodness. It overclocks superbly well and the reduced power draw is quite remarkable.
Verdict
Intel has given the Core i7 family a buff and wax with the new D0 Stepping, and the reduction in power draw is deeply impressive. ®
More CPU Reviews...
| | | | |
| --- | --- | --- | --- |
| Intel Xeon W5580 | AMD Phenom II Socket AM3 | Intel 'Nehalem' Xeon 5500 | Intel Core i7 'Nehalem' |